The SEC-enforced period on underwriter research on PBF Logistics LP (NYSE:PBFX) will come to an end on June 3, 26 days after the firm's May 8 IPO.
The conclusion of the quiet period will allow the IPO underwriters to publish research reports on PBF Energy's crude oil logistics assets, likely leading to at least a temporary increase in the price of PBFX shares.
After PBFX's IPO priced at $23 per share, well above the expected range of $19-$21 per share, the stock enjoyed a 20% first day return, and has since held steady between $27 and $28 per share.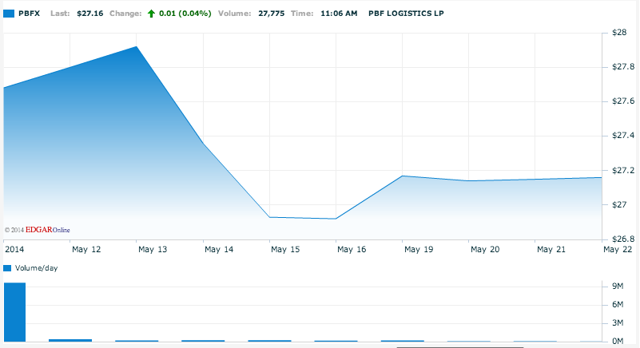 (Nasdaq.com)
The IPO underwriters, including Barclays Capital Inc., UBS Investment Bank, Credit Suisse Securities (USA) LLC, Citigroup Global Markets Inc., Deutsche Bank Securities Inc., Wells Fargo Securities LLC, and Morgan Stanley & Co. LLC, will attempt to push PBFX to new heights with a release of positive research reports with the expiration of the quiet period.
Research Findings Support Price Increase Post-Quiet Period
Both recent academic studies and the past two years of our own research have generated empirical evidence of a correlation between the number and visibility of IPO underwriters and a rise in the price of shares as the quiet period expires.
Share prices usually begin to increase several days before the quiet period ends as investors purchase shares in anticipation of the underwriters' research reports, realizing that the underwriters will only publish positive reports on recently-underwritten firms. These early buys create a perception of rising demand, leading to a rise in share prices before the quiet period has actually come to an end.
Recap of PBF Logistics' Business
PBF Logistics is a master limited partnership formed by PBF Energy to own, acquire, operate, and develop crude oil logistics assets including pipelines, terminals, and storage facilities to support PBF Energy's trio of refineries in Delaware City, Delaware, Toledo, Ohio, and Paulsboro, New Jersey.
PBFX's initial assets include a crude oil truck unloading terminal at the Toledo refinery and a light crude oil rail unloading terminal at the Delaware City refinery. The firm charges fees for the movement and handling of crude oil to generate income, providing some insulation from fluctuations in the market for oil. Substantially all of PBFX's revenues are generated through long-term agreements with PBF Energy and its subsidiaries.
For additional details on PBFX, see our prior article.
Leadership Highlights
Thomas J. Nimbley serves as the CEO of PBFX's general partner and as the CEO of PBF Energy Inc.
He previously worked as a Principal for Nimbley Consultants LLC, as Senior Vice President and head of Refining for ConocoPhillips' domestic refining system, and as Senior Vice President and head of Refining for Phillips Petroleum Company.
Mr. Nimbley also held various positions with Tosco Corporation.
Conclusion
PBFX has performed satisfactorily in its first weeks on the market, and we believe that the firm will continue to see at least medium-term success.
The firm's connection to PBF Energy should guarantee continued business and minimal competition, since PBFX's assets are specifically oriented towards the support of PBF Energy's operations.
Potential investors should consider taking advantage of the upcoming quiet period expiration to purchase shares in PBFX.
We invite readers wishing to join the discussion on IPO quiet period expirations to click the +FOLLOW button above the title of this article.
Disclosure: I am long PBFX. I wrote this article myself, and it expresses my own opinions. I am not receiving compensation for it (other than from Seeking Alpha). I have no business relationship with any company whose stock is mentioned in this article.