American International Group (NYSE:AIG) has held up well so far in 2014. The stock has posted gains in the first five months of the year. (See Chart).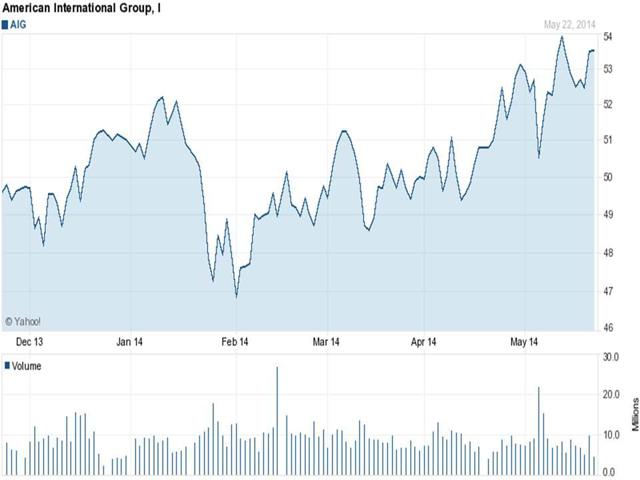 Click to enlarge
This is somewhat surprising given the market has not gone the way most pundits were predicting to begin the year. Insurance stocks were supposed to be bolstered as interest rates continued their rise from the second half of 2013. Rising interest rates improve the performance within insurers' investment portfolios, a major component of their earnings. Instead the yields on ten year treasuries have declined from the just over 3% level they began the year at to just over 2.5% currently. The stock's performance is somewhat impressive put in that context.
Economic growth is supposed to accelerate for the rest of the year after being flat in Q1. A good portion of that dismal performance was due to the horrid winter conditions throughout most of the country this year. This economic acceleration should boost interest rates for the rest of the year which should be good for the insurers.
AIG is also cheap at these levels. The stock sells for less than 80% of book value. Competitors like Travelers (NYSE:TRV) typically sell at 1.1 to 1.2 times book value currently. AIG should narrow if not close out that valuation discount over the coming years which should bolster the equity significantly in and of itself.
The stock is also cheap on an earnings basis as AIG currently goes for just over 9x trailing earnings and has a low five year projected PEG (1.09) for a large insurer. The sentiment is starting to get better on this insurance concern recently. Nomura recently boosted its earnings estimates for both FY2014 & FY2015. In addition, Goldman Sachs upped its outlook on AIG in a big way this week; moving its price target from $50 a share to $63. S&P has a "Buy" rating and a $62 a share price target on the shares.
The company is still working its way out of its near death experience during the financial crisis. The company is executing strongly against its recovery plan. AIG is buying back some ~$1B in stock a quarter and has a small dividend of 1% currently. I expect that payout to climb significantly in the years ahead as other insurers typically pay 2% to 3% dividend yields. Over the next 6 to 12 months, I believe the S&P's and Goldman's price targets are achievable. Longer term, I think the stock can move still higher as it gets back to book value which is growing in the high single digits annually. ACCUMULATE
Disclosure: I am long AIG. I wrote this article myself, and it expresses my own opinions. I am not receiving compensation for it (other than from Seeking Alpha). I have no business relationship with any company whose stock is mentioned in this article.