Company Description:
MedCath Corporation (NASDAQ: MDTH) is a healthcare services provider, focusing on high acuity conditions, specifically the diagnosis and treatment of cardiovascular disease. In March 2010 MedCath announced a strategic alternatives review to explore the sale of the entire company or the sale of individual hospitals and other assets. Since beginning the strategic review process, MedCath has announced the sale of the majority-owned Arizona Heart Hospital for $32 million and their minority stake in Avera Heart Hospital of South Dakota for $20 million. The sale of their minority stake in Avera is expected to net approximately $16mm after taxes and closing costs.
MedCath's operations are broken into two operating segments, the Hospital Division and MedCath Partners. The Hospital Division owns an interest in and operates seven (excluding those entered into sales agreements) hospitals in six states. All majority owned hospitals are licensed acute-care facilities with emergency rooms and 24-hour operations. MedCath currently has three hospitals listed on the Thomson Reuter's Top 100 list. The Hospital Division accounts for approximately 96% of operating revenues. MedCath Partners accounts for the remainder of revenue and provides cardiovascular care services in diagnostic and therapeutic facilities through mobile cardiac catheterization labs.
The recession has impacted MedCath's operations significantly. Operating income in fiscal 2009 declined to $12.9 million from $41.7 million the previous year, and MedCath experienced a $1.7 million operating loss for the first three quarters of 2010. MedCath's stock price has correspondingly declined, and aside from a brief spike following the announcement of the strategic review, continues to languish near multi-year lows. This dismal stock price performance and what I believe is a misunderstanding of MedCath's balance sheet has created an investment opportunity.
Stock price over previous 5 years (click to enlarge):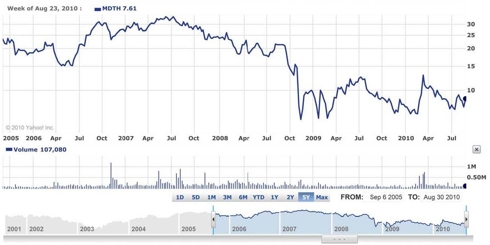 Investment Thesis:
The value of MedCath is not dependent on an operational turnaround, though I anticipate their operating metrics would eventually normalize. The value in MedCath lies in its balance sheet. On page 50 of their annual report there is a reference to Intercompany Financing Arrangements (Intercompany Loans) which describes how MedCath corporate provides secured real estate, equipment, and working capital loans to its majority-owned hospitals. As of September 30, 2009 the aggregate amount outstanding on these loans was $305.6 million. The Intercompany Loans are secured with a lien on the borrowing hospital's real estate, building, equipment and other assets. The real estate loans generally mature within 2 to 10 years, and the equipment loans are payable in monthly installments of interest and principal over terms of 5 to 7 years.
Per the 2009 annual report:
The Intercompany Loans are subordinate to each hospital's mortgage and equipment debt outstanding, but are senior to our equity interest and our partners' equity interests in the hospital venture and are secured, subject to the prior rights of the senior lenders, in each instance by a pledge of certain of the borrowing hospital's assets.
These loans do not show up on MedCath's balance sheet due to consolidation:
Because these intercompany notes receivable and related interest income are eliminated with the corresponding notes payable and interest expense at our consolidating hospitals in the process of preparing our consolidated financial statements the amounts outstanding under these notes do not appear in our consolidated financial statements or accompanying notes. Information about the aggregate amount of these notes outstanding from time to time may be helpful, however, in understanding the amount of our total investment in our hospitals. In addition, we believe investors and others will benefit from a greater understanding of the significance of the priority rights we have under these intercompany notes receivable to distributions of cash by our hospitals as funds are generated from future operations, a potential sale of a hospital, or other sources. Because these notes receivable are senior to the equity interests of MedCath and our partners in each hospital, in the event of a sale of a hospital, the hospital would be required first to pay to us any balance outstanding under its intercompany notes prior to distributing any of the net proceeds of the sale to any of the hospital's equity investors as a return on their investment based on their pro-rata ownership interests. Also, appropriate payments to us to amortize principal balances outstanding and to pay interest due under these notes are generally made to us from a hospital's available cash flows prior to any pro-rata distributions of a hospital's earnings to the equity investors in the hospitals
MedCath's total economic interest in its majority owned hospitals is therefore understated, and in the event of a sale of their hospitals, the total cash proceeds should exceed the equity consideration by a significant sum. Based on the number of shares outstanding as of early August, the value of Intercompany Loans per share is approximately $15.
Intercompany Loans as of 9/30/09: $305.6

Shares out as of 8/5/10: 20.5

Per share value of Intercompany Loans: $14.91
This ascribes no value to the equity interest MedCath holds in its majority-owned hospitals, minority-owned hospitals or the MedCath Partners division.
Assuming MedCath's equity interest is accurately stated on the balance sheet, we can use book value as a proxy for the equity interest in majority owned hospitals (as well as for the minority-owned hospital interests and MedCath Partners). This seems plausible given the write down of goodwill that was taken in the 4th quarter of 2009 and the property and equipment impairments that were taken in the 2nd and 3rd quarters of 2010. However, in the interest of being conservative, I've applied a 50% discount to book value. Using this approach, I estimate MedCath's total value per share at about $22.
MedCath book value as of 6/30/10: $301.7

Less: 50% discount to book value: $150.8

Intercompany Loans as of 9/30/09: $305.6
Total value: $456.5
Shares out as of 8/5/10: 20.5
Total per share value: $22.27
Conclusion:
MedCath's share price closed at $8.69 on September 1st, and had I posted this piece on Sunday, August 29th when I initially thought about it I would look brilliant given the ten percent rise since Friday's close. That's not to say the price can't decline again just as quickly though. MedCath's stock price is quite volatile, and any potential investor should recognize this fact. However, volatility does not equate to risk, but instead provides opportunity. MedCath's intrinsic value does not fluctuate as wildly as its stock price would imply, and due to the strategic alternatives review and recent asset sales, there is a catalyst for investors to realize the intrinsic value, making this opportunity all the more appealing.
Using back of the envelope math I arrive at $15 as a conservative estimate of intrinsic value. This estimate implies a forty percent margin of safety at the current price, and results in a potential return of seventy-five percent from migration to fair value. If this estimate proves too conservative returns could be significantly higher. What is of crucial importance is that it's difficult to envision a scenario where the company is worth far less than it currently trades for, ensuring the return of capital as well as the chance for return on capital.
Disclosure: Author is long MDTH