I expect Mentor Graphics (NASDAQ:MENT) to continue its steady performance given the health of the electronic design automation space. The company's verification and IC Design to Silicon products will be the key revenue drivers within their product lines. Mentor's software is protected by network effects and the company continues to create new products in order to respond to the increasing complexity of silicon chips and electronic systems.
Mentor will also benefit from key industrial and geographic partners in maintaining a defensible position relative to key competitors. The company recently increased their quarterly dividend from $0.045 to $0.050, a positive sign indicating Mentor's level of stability and long-term growth prospects. As the company prepares to release its Q1 earnings for FY 2015, investors should look for the stock price to dip headed into the summer and steadily rise through Q4. This corresponds to a historical trend that I identified based on previous earnings and the methodology that Mentor uses to generate and recognize revenue.
Mentor has been trading at the $20 level, a low level that could potentially correspond to my suggested entry point for short- and mid-term investors. Though most technology stocks are decidedly not value plays, Mentor presents a situation where investors could see a good return on the stock as well as enjoy a nice dividend yield. For long-term investors, Mentor is in a period of secular growth following the financial crisis and can provide a stable albeit cyclical asset for portfolio diversification.
Background
Mentor Graphics is a major player in the electronic design automation software space. Their products are used to conceptualize, design, emulate, and test various electronic systems and components. Put simply, the company creates software that allows engineers to create semiconductors among other electronic systems and components (though according to the company, well over 50% of their business is in semiconductors). I determined that the company has three internal revenue drivers and three external drivers.
Internally, Mentor's revenue is driven by the number of new accounts generated (along with the lifetime value of these accounts), the firm's level of R&D spending, and the number of renewals from existing clients. The firm's external drivers are the overall health of the key industries from which it draws most of its clients (e.g., semiconductor, transportation, and defense), the level of corporate spending on IT services (specifically software) by these firms, and the availability of key raw materials for these firms.
Mentor Graphics is the oldest company in the electronic design automation space with Synopsys (NASDAQ:SNPS) and Cadence Design Systems (NASDAQ:CDNS) serving as their main competitors. These three firms make up three-fourths of the EDA space, while the rest are privately held companies. Without this kind of software, products such as iPhones, tablets, computer chips, and automobile instruments would not be as technologically advanced.
Mentor's strategy focuses on areas with the largest market share and best capabilities. Customers include Tata Motors, GE, Boeing, Toshiba, Honda, and Airbus. According to Mentor's CEO, the reason the company does so well is due to the advent of new semiconductor products and their continued technological advancement. Certain companies need specialized software to conceptualize, manufacture, and test their products. Mentor's flagship product is a verification system that conceptualizes the design of a product and verifies whether the design will work or not. Mentor is also the leading designer of printed circuit boards which are laminated boards that are infused with electronics; these items are used in products such as a mobile device, automobile, or airplane.
Explanation
My rationale for investing in Mentor Graphics rests on a few key points: First, I expect the firm to maintain its dominant position in the EDA space relative to its major competitors. Of these competitors, Mentor is the most profitable of the "Big Three" based on their GAAP operating income margin as of each of their most recent fiscal years: Mentor leads with 15.83%, Synopsys with 12.56%, and Cadence Design Systems with 12.94%. Mentor also has a strong presence in key Asian markets, specifically China and India.
They also have less exposure to a weakening Japanese market relative to their main competitors based on their respective geographic revenue percentages. This is particularly important given that Japan's GDP is expected to dip in Q2 2014 with only a mild recovery to approximately 1.6% quarterly growth through Q2 2015. In contrast, China and India are projected to continue their modest pace of around 7.37% and 5.33% quarterly growth, respectively.
Click to enlarge images.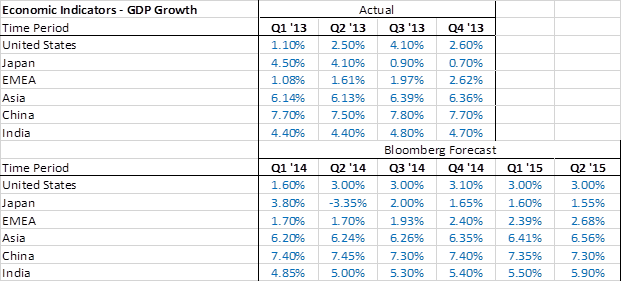 Source: Bloomberg.
These facts lead to my next point as to why I expect Mentor to continue performing well: Their relationships with clients in a diverse set of industries, particularly the defense and aerospace industry. This industry made up four of the 10 major contract renewals for Mentor in Q4 2014, with the semiconductor and transportation industry serving as other top industries for the company. Based on the historical trend in product contribution (which were determined from historical "percentage of revenue" figures) and what I expect moving forward for players in the EDA space, I posit that Mentor's flagship design software will continue to serve as the company's main revenue driver, but that the company will shift their focus to software created to serve particular industries. Their clients' increasing reliance on simulation and verification for building and implementing advanced chip designs has led to Mentor's recent surge in Q4 performance and will contribute to their long-term growth.
Mentor's clients in this space are most likely U.S. and European companies (only certain firms are specified by Mentor), but global revenue growth for the industry is estimated to be 5%. Defense spending is expected to increase in Mentor's key markets of India and China, though the political climate in both these countries is expected to shift given India's upcoming elections. Also positive for Mentor is expected moderate growth in the commercial aerospace industry driven by increased demand for new generation aircraft and an increase in air travel by newly wealthy consumers in emerging markets.
Continuing consolidation in this sector's supply chain will likely push out weaker competitors which will serve to benefit Mentor as it continues to provide established development platforms for critical electronic components. For the semiconductor industry, which comprises a significant amount of Mentor's revenue, the global market is experiencing healthy sales levels: As of February 2014, year-to-year sales experienced an 11.4% increase. Only Japan experienced marginally negative growth at -0.2%, but the region is expected to experience a modest turnaround in the near future. The Asia-Pacific region continues to be the dominant driver of this industry, commanding approximately 57.2% of global sales. As China and India's appetite continues to grow, Mentor is positioned to capture a significant amount of this growth given their presence in these markets.
Though the company is currently performing well, Mentor is not without downside. Mentor's method of recognizing revenue can be difficult to interpret and therefore can hurt the accuracy of valuations. The stock price is also sensitive to downturns in the overall economy, as evidenced below: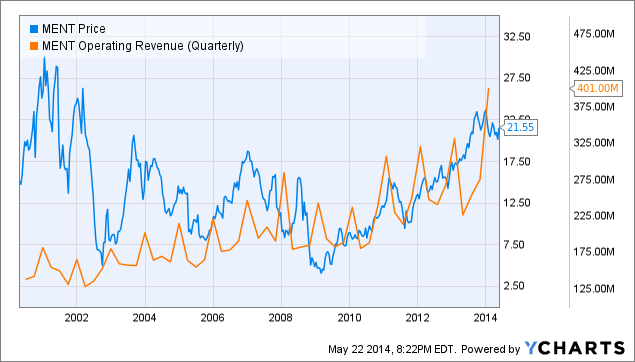 I also included Mentor's operating income to show how the company has been performing consistently throughout multiple cycles despite the stock price not always reflecting this point. The company's heavy exposure to the semiconductor industry is another major risk. This industry has been lucrative so far but should there be a major disruption, Mentor's performance would likely suffer as a result. At the moment, the company is extending its reach into other industries such as automotive and aerospace but still remains heavily geared toward semiconductors.
Fundamentals
Mentor has a healthy balance sheet: It has increased its cash reserves for the past three years at a CAGR of roughly 25%. In terms of cash flow, the firm held a 51.7% margin on its cash from operating activities (relative to cash from investing and cash from financing combined) in the fiscal year ended Jan. 31, 2014, up from a 42.3% margin in 2013. The company's sales growth has also been consistent following its low point during the 2008 recession. Management has provided guidance on its expected revenue for FY 2015: It is approximated at $1.237 billion, a 7.034% increase from 2014. This figure is consistent with yearly growth rates from the past five years, each of which has hovered around 7%-8%.
Mentor's stock price has also experienced positive pricing momentum since its low of $3.44 per share on March 2, 2009: As of May 22, 2014, the stock was trading at $21.56 per share, leading to a CAGR of approximately 44.35%. Mentor recently released their Q1 2015 earnings: the company posted non-GAAP earnings per share of $0.11, beating consensus by $0.05, and revenue of $252.2M, beating consensus by $6.3M. This marks the 21st occurrence in a row that Mentor has provided results above guidance on a non-GAAP basis. The company reiterated their full-year guidance for revenue of $1.237B and EPS of $1.46. Verification software continues to be a strong driver of Mentor's performance, as does the company's continued innovation and shrewd corporate governance.
Technical Analysis
The company has currently been around 50 on the slow stochastic oscillator since April, an indicator that Mentor is experiencing a stable trading momentum. The relative strength index had been approaching oversold territory for the last several weeks but has also been approaching stable levels. I expect these results is based on the seasonality of the company; this is also one of the reasons why I believe the best time to purchase Mentor is during the summer. As a general rule, most technology stocks tend to perform poorly in the summer and these seasonal slowdowns can cause secular concerns in the marketplace.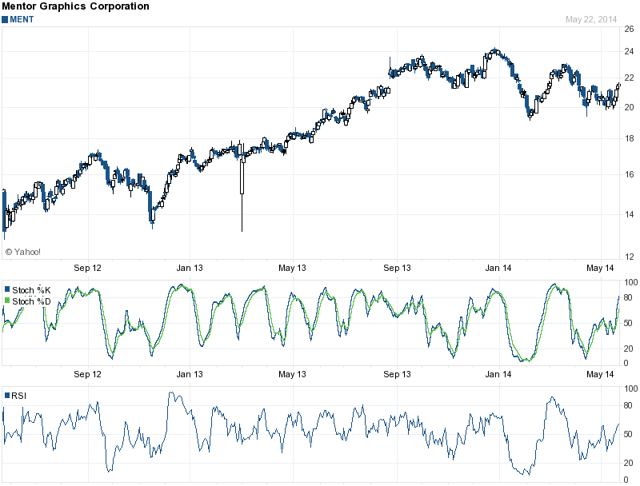 Click to enlarge
Source: Yahoo Finance.
Analyzing Mentor's EPS quarter-to-quarter shows a pattern: heavy earnings in Q3 and Q4, followed by weak earnings in Q1 and Q2. The secular concerns in the marketplace during the summer (low earnings) have caused investors to pull out resulting in a lower actual share price, relative to Mentor's share price during Q3 and Q4.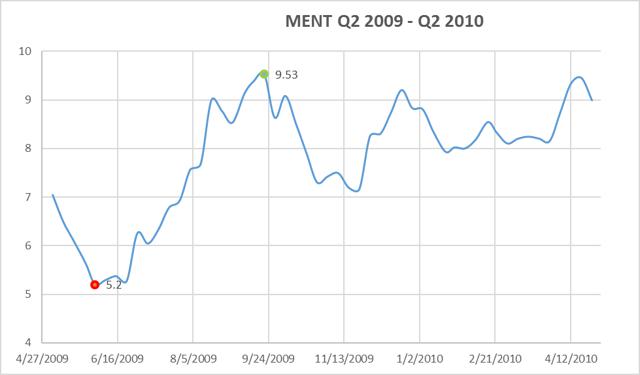 Click to enlarge
Source: This graph and the ones below were done in Excel using historical prices.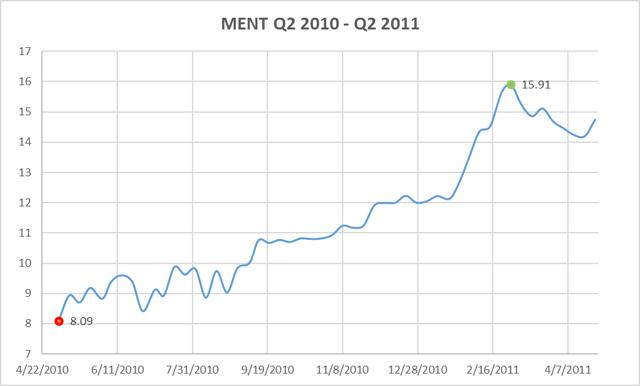 Click to enlarge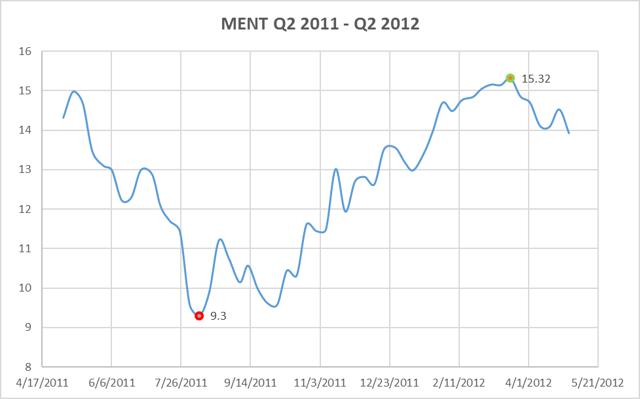 Click to enlarge
Concerning historical patterns, I have found that under normal market conditions, Mentor's stock price is cheaper in the summer months. This notion assumes that market participants are providing a consistent reaction to market stimuli. Ultimately, I have recognized patterns in share price movements. When eliminating fiscal 2007 & 2008, eight of the 11 quarterly charts I surveyed have shown a lower overall share price in the summer relative to the winter months.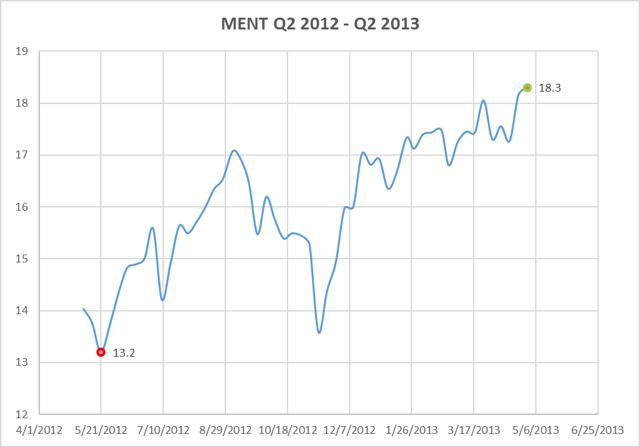 Click to enlarge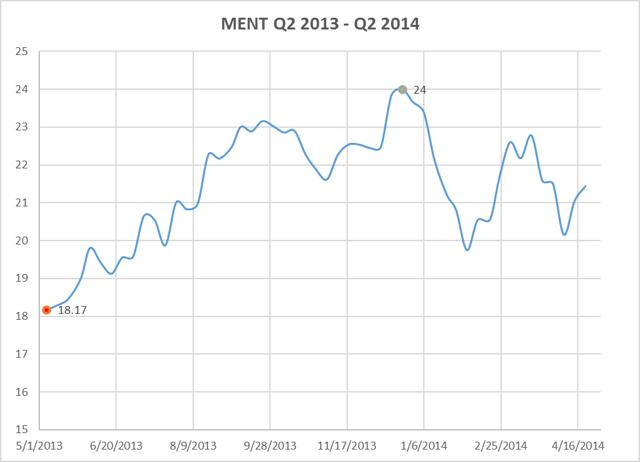 Click to enlarge
Based on my technical analysis, I recommend monitoring Mentor Graphics during the summer months to find a favorable entry point while continuing fundamental analysis into an exit point within the Q3 and Q4 earnings season.
Valuation
I used a discounted cash flow analysis to perform my valuation for Mentor Graphics. My first step was to determine a WACC to use within the calculation: I sourced the majority of my metrics from Bloomberg but decided to calculate my own using simple cost of equity and WACC formulas versus simply using theirs. This gave us a WACC of 8.56%, which I used to discount the unlevered free cash flows I calculated in my model. I expect a significant spike in 2017 given that Mentor typically introduces new products as well as renews major contracts in three- to four-year cycles; the most recent spike was in 2013, when FCF grew by 105.8% Y/Y from 2012.
Given the sustained health of key industries and predicated heavily on Mentor's continued innovation, this trend is expected is continue moving forward and I reflect this in the model. This near-doubling of FCF also has a significant impact on the final implied share price given my application of the 'going concern value' methodology. I chose to not use an exit multiple since Mentor only has two truly comparable firms, so a comparable universe would have skewed the multiple considering the uniqueness of the EDA space. I ended up with an enterprise value of $3,633,722 and that ultimately led us to an implied share price of $31.53. This value is also heavily influenced by my long-term growth rate, which I kept at 3% (in line with above-average GDP growth).
Conclusion
Mentor Graphics will continue its strong performance moving forward. For long-term investors, I expect a target price of $31.53. Short-term traders should look to buy in the summer (i.e., now) and get out within the next two or three quarters. The company is in a solid position moving forward, with exposure to healthy markets and industries driving their growth. Also, Mentor's key product developments for companies working with increasingly complex silicon chips will help push the stock to the implied share price.
Note: I relied heavily on Mentor's previous filings and their most recent earnings transcripts to write this article.
Disclosure: I have no positions in any stocks mentioned, and no plans to initiate any positions within the next 72 hours. I wrote this article myself, and it expresses my own opinions. I am not receiving compensation for it (other than from Seeking Alpha). I have no business relationship with any company whose stock is mentioned in this article.