Stock Price Performance
Eaton Corporation PLC (NYSE:ETN) posted impressive sales numbers in 2013 mainly due to the healthy impact from the acquisition of Cooper Industries in November 2013. As Cooper added $5.5 billion to Eaton's $16.3 billion topline the excitement over this acquisition led the stock to a 35% appreciation in 2013. Eaton's share traded around $56 in Jan 2013, and rose to more than $76 in January 2014.

Click to enlarge
Source: Y-charts
Eaton since Acquiring Cooper
Eaton boasted a 35% year-on-year jump in sales for 2013 compared to a less than 2% YoY increase in 2012.

Click to enlarge
Source: Eaton's 2013 Annual Report
The inflated revenue in 2013 was a result of the inclusion of Cooper in Eaton's Electrical segment by the end of 2012. However, while the topline did grow, it did not convert to enough value for shareholders as the operating EPS ticked up by less than 5% from $3.94 in 2012 to $4.13 in 2013. This was because the Cooper acquisition resulted in an increased number of shares as the merger was financed from equity as well as debt. The illustration below details Eaton's sales and EPS over the past few years.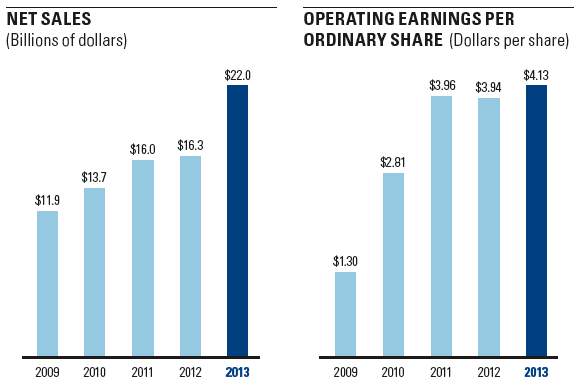 Source: Eaton's 2013 Annual Report
Going into 2014 Eaton posted a drop in operating profit despite a 3.4% YoY increase in sales for first quarter.

Click to enlarge
Q1 2014 is the first quarter for Eaton that includes Cooper's impact and hence provides a good basis for year-on-year comparison. The decline in operating profit is due to the decrease in operating margin (as shown in the last column of the table above) especially in the Electrical segment that generates around 60% of Eaton's sales.
Aside from struggling operating margins, another key point of concern is the sluggish growth in sales. Sales have actually been decreasing QoQ for the last two quarters.

Click to enlarge
Source: Yahoo Finance
The first quarter of 2014 shows that sales grew YoY at only 3.43%. The less-than-4% number is a good representation of Eaton's organic sales growth because Eaton has not been able to make any acquisitions since Cooper in Nov 2012. Furthermore, the company predicts a similar sluggish growth of only 3% in end markets through 2014.
Future Prospects for Eaton
Going forward the company will continue to post increased sales and profits but the increase will come at a slow pace. Furthermore, the Cooper integration that has so far cost the company $110 million in 2013 and an additional $44 million in Q1 2014 is expected to generate an increase of $95 million in operating earnings in 2014 and $150 million in 2015.
The company earns half its revenue from the US and the remaining half is just about equally divided between foreign developed and emerging markets. Slow growth in end markets is Eaton's major hurdle going ahead.
As the company struggles with organic growth for the last two years, acquisitions seem to be the only way to speedy accretion. However, Cooper's $13 billion acquisition has weighed heavily on Eaton's balance sheet. By the end of March 2014, Eaton had about $9 billion of debt but less than $1 billion cash to play with. The company sold off a couple of its non-core aerospace businesses to Safran (SAF) for $270 million in May 2014. So, despite a healthy cash flow from operations of over $2.2 billion, I do not see the company burdening itself with another large acquisition, at least in the short term.
The company expects to post an operating EPS of $4.50 to $4.90 for 2014. By the midpoint of this guidance, the operating earnings per share will be up 13.8% from $4.13 in 2013. However, I see this as an ambitious target as the company announced its Q2 2014 operating EPS estimates to be between $1.05 and $1.15, which are below the expectations of $1.29. For 2015, Reuters estimates an EPS average around $5.55. Again, given the slow rise in sales and absence of any other key triggers reaching that target looks to be a long shot.
Conclusion
With a generous payout of over 43%, Eaton offers an attractive 2.7% dividend yield. Factoring in the increase in sales and benefits from acquisitions the company is expected to post double-digit EPS growth in 2014 and 2015. Eaton's stock is trading at a P/E of 18x compared to 20.4x for ABB Ltd. (NYSE:ABB). I would say Eaton is a buy for its dividend and the positive impact from acquisitions that will unfold in the next two years.
Disclosure: I have no positions in any stocks mentioned, and no plans to initiate any positions within the next 72 hours. I wrote this article myself, and it expresses my own opinions. I am not receiving compensation for it (other than from Seeking Alpha). I have no business relationship with any company whose stock is mentioned in this article.