Revisiting Firebag
At the beginning of this year, I published an article on Athabasca Minerals (OTCPK:ABCAF, or ABM on the TSX Venture) that introduced the Firebag River frac sand project to readers. In it, I described that Firebag River is a large (500 acre) Canadian frac sand project that is controlled by a profitable small cap aggregate producer that remains largely under the radar of the market. Response to the article was positive, and the majority of the interest in the company seems to be from people interested in the frac sand, not the company's existing gravel operations. As a result, this article is specifically geared towards those who are interested in Firebag.
Figure 1: Magnified images of Firebag frac sand that has undergone only minimal processing. Not all sand is created equal. This sand meets all API/ISO specifications for use as a proppant in hydraulic fracturing operations, and compares favorably with well-known industry-standard sands like Northern White and Brady Brown.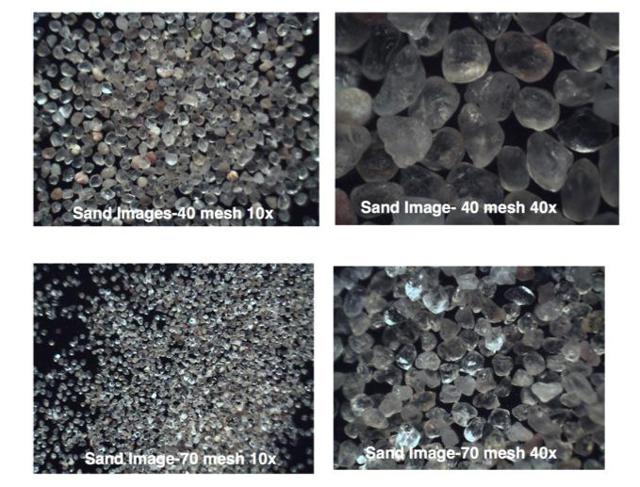 (Source: Athabasca Minerals Corporate Presentation)
Why Do Investors Care So Much About Frac Sand?
When looking at the 12-month share price performance of U.S. Silica (NYSE:SLCA), Hi-Crush Partners LP (NYSE:HCLP), and Emerge Energy Services LP (NYSE:EMES), it's easy to see that there is a lot of interest in frac sand, as investors in these stocks have enjoyed gains in the range of 150%-300% over that time period. Why such impressive performance? In brief, the market has realized that frac sand is a critical commodity in North America's "new normal" energy paradigm; namely, unconventional resource development. As a result of the shift in the energy industry towards the development of tight oil and tight gas resources, frac sand has become an integral part of the energy production process.
For every frac stage, in every well, in just about every new or recent resource play, frac sand is the little-known Atlas of the industry. Once the pressure pumper trucks have completed the fracture stimulation of an unconventional oil (or gas) well, the frac sand grains that were pumped into the well are the only things keeping the induced fractures open. The fact that those fractures remain open after the well stimulation program is what allows hydrocarbons to flow at higher rates, which ultimately drives the profitable well economics in unconventional resource plays. Frac sand is, quite literally, a pillar of today's energy industry.
Every year, somewhere around 25 million to 30 million tonnes of frac sand are pumped into the ground in North America. Once that sand is in the ground, it isn't coming back, so frac sand is a consumable commodity. Think about that... a consumable resource that is a critical input to the North American energy industry. That's great news if you are a frac sand producer; it's no wonder that frac sand mines are popping up all over the place in states like Wisconsin and Iowa, where this sand is abundant.
Aside from the sand itself, the single-biggest cost in the frac sand equation is transportation, so naturally, it makes sense to develop frac sand resources as close to the end-user as possible. With that in mind, when I learned of Athabasca Minerals' Firebag project, it was clear that it was a project with significant strategic potential with respect to the Canadian energy industry. Firebag is a large-scale project (>30,000 acres of industrial minerals leases) adjacent to the main highway, located about 139 kilometers north of Fort McMurray, Alberta. In a business where proximity to the end-user is everything, Firebag was closer to some key areas of Canadian energy development... a lot closer.
Figure 2: The location of the Firebag Project relative to key Canadian frac sand markets.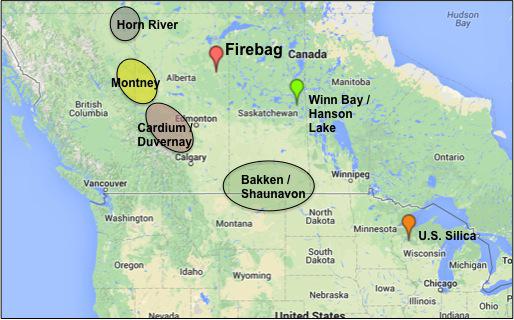 The Canadian Frac Sand Market Opportunity
The Canadian frac sand market demand is roughly 2.5 million tonnes per year, but only perhaps 30% of that is produced within Canada. The balance of the sand is being imported from U.S. sources, largely from states like Wisconsin. Wisconsin! For Canadian frac sand users, that means they are paying to ship sand about 1500 miles just to get to central Alberta (Edmonton). At 3 cents to 4 cents per tonne per mile of bulk transport on rail, it's no wonder that transportation is the single-biggest cost in the Canadian frac sand equation, aside from the sand itself.
Depending on your pricing assumptions, these frac sand imports are a drag on Canada's current account to the tune of roughly $100 million to $150 million per year (exchange rates obviously play a role as well). Also consider that the Canadian frac sand market is expected to grow at ~15% per year through at least 2017... and if Canada starts shipping LNG from B.C.'s west coast, all bets are off. This is not an issue that is going away.
Even to the casual observer, the case for developing domestic frac sand resources in Canada is pretty clear. Using Firebag as an example, the transportation cost savings of shipping sand from Fort McMurray, as opposed to Wisconsin, could be expected to be on the order of $36-$48 per tonne (Fort McMurray is about 1200 miles closer to Edmonton than central Wisconsin). I would also think that Canadian energy and energy service companies would like to have the security and stability of supply that comes with a domestic frac sand source. As it stands today, when drilling activity levels are high in the U.S., Canadian energy companies end up paying more for sand than they would if they weren't competing as directly with a hungry U.S. market.
Not All Sand is Created Equal
Recognizing the need for domestic frac sand resources is easy enough, but finding sand with the appropriate physical characteristics is significantly more difficult. Frac sand is a bulk commodity with fairly specific physical properties, meaning that not all sand can be used as frac sand. Detailed laboratory testing needs to be carried out and API/ISO standards must be met for sand to be deemed worthy of use as a proppant in hydraulic fracturing jobs. On top of that, because of the importance of transportation in the cost equation, frac sand resources should have good access to road, power, water, and rail.
Fortunately for Athabasca Minerals investors, the company sent samples of Firebag sand to Stimlab in Oklahoma, an industry leader in proppant (frac sand) testing. The Stimlab results are detailed in corporate press releases here and here. For those who are really keen on the results of the testing, I highly suggest reading through the company's May 31, 2011 MD&A linked here, where tables and charts detailing the physical characteristics of the sand are presented in full. A quote from the second press release that perhaps best summarizes the results is copied below:
"Previous test results demonstrate Athabasca frac sand in 20/40, 40/70 and 70/140 sizes exhibit high quality crush strength silica ratings, and can be processed with minimal waste. All three grades of frac sand meet or exceed API/ISO specifications for use as quality proppants in hydraulic fracturing in many types of reservoirs... These results were indicated to be comparable, and in some fractions superior, to those of selected industry standard frac sands."
It would appear that Firebag sand "makes the grade" for use as frac sand, and given its proximity to Fort McMurray and key Canadian resource plays, I believe it is only a matter of time before industry players start to pay attention to this shallow and potentially sizeable resource. Given that the Firebag deposit sits right at surface, with only about 2 to 3 inches of overburden on top, mining should literally be a truck-and-shovel operation, with minimal waste. The sand has been auger-drilled in the project area to a depth of 15 meters (~50 feet), and the bottom of the sand has not yet been found. Calculating the potential tonnage of the deposit in the permit area (first 80 acres, then 500 acres) is simply a matter of multiplying area by thickness by density (the density of dry sand is about 1.4-1.5 tonnes per cubic meter). The deposit is also unconsolidated, which means it doesn't require anything more than a shovel to dig it out of the ground (some frac sand deposits require crushing to liberate the individual sand grains).
What About Permitting?
I have received countless comments from readers who seem to be wondering "if" Firebag will get permitted. My answer usually goes something like, "When you consider what does get permitted in Fort McMurray, do you think that permitting a clean silica sand mine just off the highway will be an issue?" I know that's not really an answer, but it is hard for me to imagine why a permit would not be granted for what would essentially be a large sandbox in one of North America's premier jurisdictions for energy development.
Turnover within the provincial regulatory body responsible for permitting Firebag has been extensive over the last two years, but that seems to have settled down now, and the permitting process appears to be on track. On April 23rd, Athabasca submitted a Conservation and Reclamation Business Plan (NASDAQ:CRBP) to the Alberta department of Environment and Sustainable Resources Development (ESRD). The CRBP is the last piece of data that the ESRD needs to review and approve before issuing a final permit. It is also worth pointing out that on February 11, the company entered into a joint venture agreement with the Wood Buffalo Metis Corporation, which gives Athabasca "the exclusive support of Wood Buffalo to drill, explore, produce and market Aggregates for a period of ten years with an option to renew the agreement, upon mutual agreement of the parties, for an additional ten years." It would seem that the pieces are falling into place.
A Few Words on Mining, Infrastructure, Processing, and Transport
I don't profess to know exactly how the Firebag operation will look, but based on my research, I think I have a reasonable handle on it, which I present here as my "best guess" for those trying to get a handle on some of the moving parts.
Mining Firebag and getting the sand to rail should be a straightforward operation using "off-the-shelf" equipment. With minimal overburden, I would expect a truck-and-shovel operation, whereby trucks with trailers are loaded using simple machinery and the sand is hauled to a rail-side loading facility just east of the Fort McMurray airport at the end of the CN Rail line. Firebag's proximity to Fort McMurray is beneficial for a number of reasons, not the least of which are access to labor, water, power, and transportation infrastructure that will be invaluable in the construction and operation of the whole project.
Figure 3: Firebag Project location relative to Fort McMurray. Sand would be trucked south to a rail-side loading (+/- processing) facility at the end of the CN Rail line.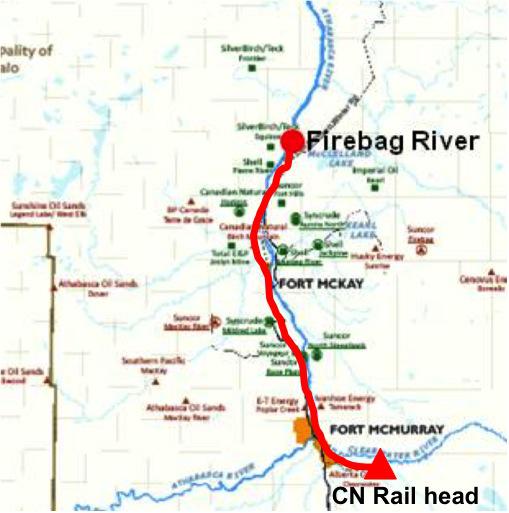 (Source: modified from company reports)
In terms of rail access, Athabasca states that the company is "in continuing discussion with a major railway company" with regards to developing its rail-side loading facility. It is worth pointing out that Athabasca has already made an application (granted on a first-come first-served basis) for space at the end of that rail line, which shows good foresight on behalf of ABM management, and is probably one of the things that will continue to distinguish Athabasca as a go-to domestic frac sand player as the project moves forward. Along those lines, Athabasca has staff specifically devoted to the planning of the loading facility to ensure smooth integration with CN's other operations.
As for processing, Athabasca would likely be looking at off-the-shelf sand washing and screening equipment. Whether the sand is washed and screened rail-side into different-sized fractions in Fort McMurray or elsewhere remains to be seen. Initial work suggests that Firebag sand appears to require only minimal processing, and the location of that processing will be chosen so as to maximize efficiency and minimize handling.
Economics
Given that the company has not completed an economic study on the Firebag Project, I'm not about to present one here. What I will say is that I could envision a 500,000 tonne per year operation, which would equate to about 1500 tonnes per day. In terms of a gut-check, I'm assuming that a truck and trailer can haul 30 to 50 tonnes of raw sand per trip from the mine site to the rail-side facility, meaning that 30 to 50 truckloads per day would be shipped, on average. Obviously, there will be some seasonality to the operation, but in terms of hauling, that means a truck would be getting loaded (and unloaded) every 15-20 minutes in a 12-hour work day, which seems more than reasonable to me, and leaves lots of room for seasonal variability.
In terms of margins, once again, it's really too early for me to try to predict operating costs and selling prices, but what I do recognize is the 1200-mile transportation distance advantage that Firebag River would have over sand sources in the Midwestern U.S. At 3-4 cents per tonne per mile of transport on rail, my back-of-the-envelope math says that translates into a $36-$48 per tonne advantage, and that is totally ignoring the CAD/USD exchange rate.
Capex is the other big unknown, but a past report by Stonecap Securities (published March 2013) suggested figures in the range of $50 million. If my numbers and assumptions are even close to correct, I don't expect that Athabasca will have a problem attracting that kind of capital for a project with this much strategic potential. Assuming permits are granted and scoping economics are positive, I would view an offtake agreement with one or more Canadian energy service companies as a likely source of equity capital, and a project like this should be quite attractive to banks for partial debt financing as well (particularly in light of the existing profitable aggregate business).
Summing It All Up - How Could This Play Out?
It appears that Firebag is an attractive project politically, logistically, and practically speaking and, as a result, I'm not sure how much longer this project will fly under the radar. I suspect that if and when the final permits are granted, it may be a watershed event in terms of market interest in the company. The story should play well in both media and industry circles as a potentially material domestic provider of a vital input to Canada's energy industry.
In terms of potential interest from the energy services industry, I think the case for Firebag is pretty strong as well. Let's face it, if you are a Canadian energy services company that does fracture stimulation operations, you probably spend a fair amount of time thinking about frac sand prices and supply. It seems to me that there's a good chance that Firebag offers those companies the ability to lock down long-term frac sand supply at competitive prices.
From the other side of the coin, if you are a frac sand producer shipping from the Midwestern U.S. to Canada, it would appear there are two choices: 1) give up some Canadian market share (assuming the transportation savings mean that Firebag will capture a portion existing demand), or 2) buy the operation, integrate it into your existing distribution network, and let some of the transportation savings flow through to your bottom line. Any of the three public U.S. frac sand producers mentioned near the beginning of this article (SLCA, HCLP, EMES) would be logical acquirers, and given the significant runs in their equity values as of late, they could easily issue shares to Athabasca holders in exchange for the Firebag project.
With only 36.9 million shares on a fully diluted basis, the leverage for Athabasca shareholders in either of the "build-it or sell-it" scenarios could be significant. The only recent potentially comparable transaction in the Canadian market was the purchase of Winn Bay Sand by Preferred Sands in 2012, in a transaction valued at $200 million. That would be nearly $6/share based on ABM's current share count, which is about 200% upside from the current trading price of $2.00... and that's assuming that the existing, profitable gravel operation is worth zero, which is obviously not the case.
On a final note, my time spent working in Calgary's energy industry taught me that Alberta is a province known for its loyalty to local producers and suppliers. A project like this shouldn't have trouble attracting some of the best talent in the industry, and when the time is right, I'm sure that Alberta's banks and sand-hungry service companies will roll out the welcome mat. Given the company's proven track record in aggregate operations, I think investors are in good hands. Of course, there's always the possibility that a larger player will snap up Firebag once Athabasca has served it up on a silver platter. I'm sure shareholders wouldn't mind that, either...
Additional disclaimers: This is not investment advice, nor is it a recommendation to buy or sell shares in the company/companies mentioned. The information contained herein is accurate to the best of the author's knowledge, but the presented information should be verified by any party using this information as part of any decision making process. This view represents the author's opinion only, and as such readers should do their own research and come to their own conclusions if they are using the opinions contained herein as part of any larger due diligence process. Prospective resources and extrapolated metrics are, by their nature, subjective and interpretation dependent.
Disclosure: I am long ABCAF. I wrote this article myself, and it expresses my own opinions. I am not receiving compensation for it. I have no business relationship with any company whose stock is mentioned in this article.