Overview
In this series of articles, I will be identifying which stocks for various S&P industries are best suitable for income investors, based on dividend growth and yield. For Part 13, I will be taking a look at Health Care Distribution & Services stocks. These stocks include:
Cerner, Express Scripts and Waters Corporation do not currently pay dividends.
When ranking the dividend paying stocks by yield, the order is as follows:
Bristol-Myers Squibb - 2.95%
Cardinal Health - 2.07%
AmerisourceBergen - 1.34%
McKesson - 0.53%
When ranking them by dividend growth over the past five years, the order is as follows:
AmerisourceBergin - 291.70%
Cardinal Health - 144.60%
McKesson - 100%
Bristol-Myers Squibb - 16.13%
With a yield under 1%, I don't believe McKesson's dividend growth is great enough to consider it as an income investment.
When looking at revenue, you can see that AmerisourceBergen is the only company out of the remaining three that has seen positive growth over the past five years.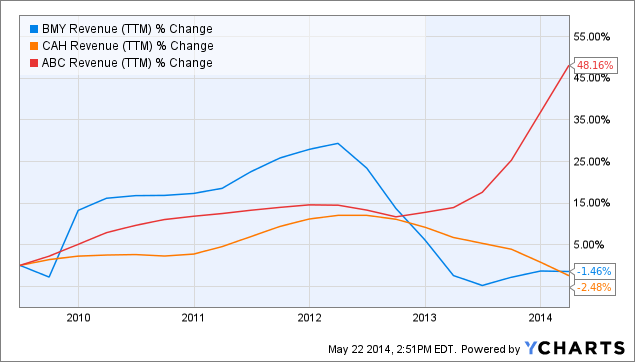 BMY Revenue (TTM) data by YCharts
In terms of earnings, AmerisourceBergen is once again the only company that has seen positive growth over the past five years.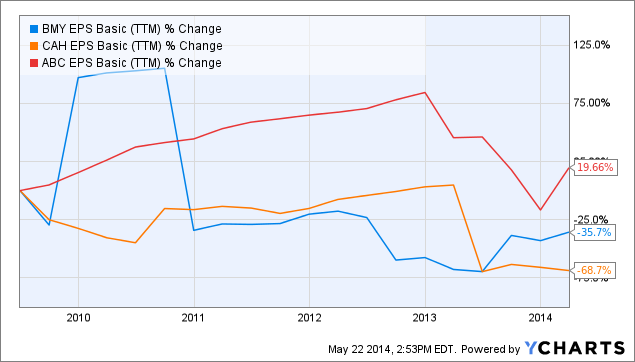 BMY EPS Basic (TTM) data by YCharts
Based on trailing PE ratio, all three companies appear to be overvalued based on historical values, while Cardinal Health appears to be the most overvalued.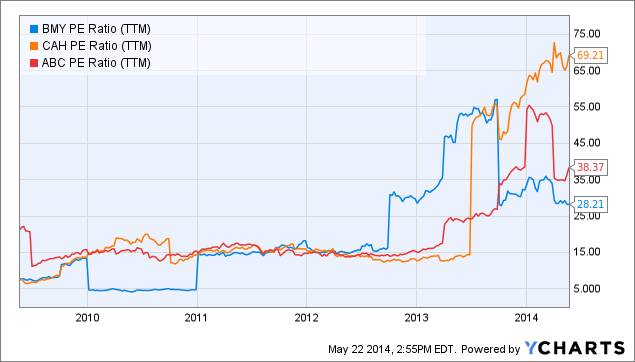 BMY PE Ratio (TTM) data by YCharts
Based on forward PE, it is Bristol-Myers Squibb that appears more overvalued, while Cardinal Health and AmerisourceBergen appear more fairly valued.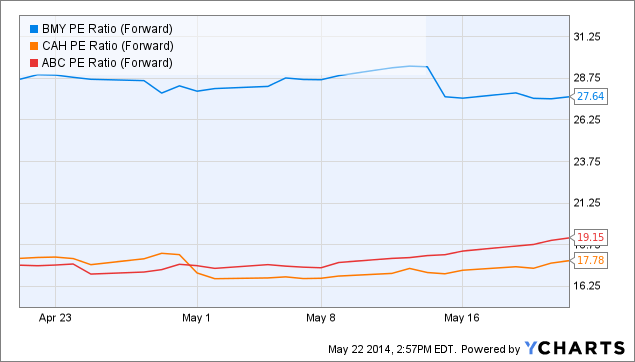 BMY PE Ratio (Forward) data by YCharts
The payout ratio of Cardinal Health seems to be the only one in danger of possibly affecting future dividend growth, while AmerisourceBergen has the lowest payout ratio.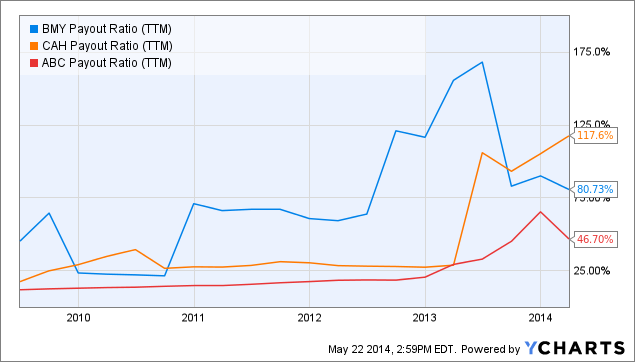 BMY Payout Ratio (TTM) data by YCharts
Conclusion
Being the only income suitable stock out of this group with positive revenue and earnings and the lowest payout ratio, I believe that AmerisourceBergen is the best long term choice for income investors.
My second choice out of this group would be Bristol-Myers Squibb, but with the company's struggles to grow revenue I feel that AmerisourceBergen is the better option. While BMY does offer a better dividend yield, the growth of ABC is worth the lower yield.
Since the start of 2011, AmerisourceBergen's quarterly dividend has more than doubled from $0.10 to its current dividend of $.0235 per share. Bristol-Myers Squibb's dividend has barely changed, raising just 3 cents from $0.33 per share to $0.36 per share over the same time period.
Through the company's relationship with Walgreen (WAG) and Alliance Bonds, along with its overall partnership philosophy and expansion into emerging markets, I feel that AmerisourceBergen will continue to see increased revenue and earnings growth over the long run. Add in the company's commitment to returning shareholder value through dividend growth and share repurchases, and I feel that it is a strong option for long term income investors. As always, I suggest individual investors perform their own research before making any investment decisions.
Disclosure: I have no positions in any stocks mentioned, and no plans to initiate any positions within the next 72 hours. I wrote this article myself, and it expresses my own opinions. I am not receiving compensation for it (other than from Seeking Alpha). I have no business relationship with any company whose stock is mentioned in this article.