Some CEOs and management teams are insulated from activist investors and other large shareholders, such as Sears Holdings (NASDAQ:SHLD), because the companies are majority owned and controlled by families or the managers themselves. Since the bottom fell out of the real estate market Eddie Lambert has had a difficult time keeping Sears Holdings' shares from falling, but has been able to keep the company afloat. His real estate strategy is one thing, but one would be hard pressed to find a proponent of the company's strategy regarding its retail operations.
With some interesting moves as of late in Corporate America, we thought it would be interesting to take a look at some companies where shareholders are taking a stand against management teams to try to nudge the companies into the right direction.
Chart of the Day:
Investors bought into the story at Sears Holdings early on and pushed shares to lofty levels following a bankruptcy. Since then the ride has been bumpy and the company's spin-offs have performed disappointingly.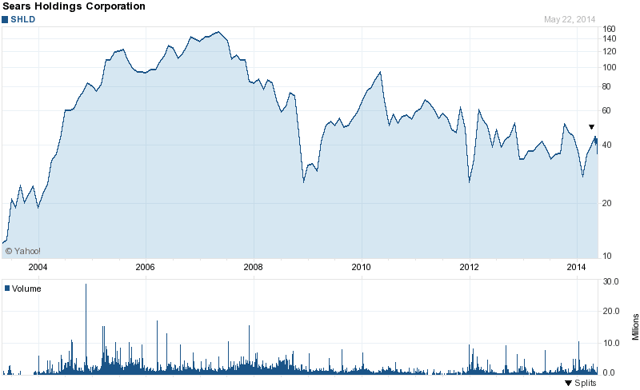 Source: Yahoo Finance
We have economic news today, and it is as follows:
New Home Sales (10:00 a.m. EST): Est: 415k Act: 433k
Asian markets are higher today:
All Ordinaries -- up 0.23%
Shanghai Composite -- up 0.66%
Nikkei 225 -- up 0.87%
NZSE 50 -- up 0.44%
Seoul Composite -- up 0.08%
In Europe, markets are mixed this morning:
CAC 40 -- up 0.08%
DAX -- up 0.28%
FTSE 100 -- down 0.15%
OSE -- down 0.02%
Darden Under Fire
It is rare that one sees a board defy investors in the way that Darden Restaurants' (NYSE:DRI) has. After seeing that Starboard Value, LP had the necessary votes to call a special meeting, we thought that the board would acquiesce to the firm's demands. That was not the case and now it appears that the two sides have gone nuclear on each other after the announced transaction to sell Red Lobster crossed the wires.
Boards have a lot of power to do as they please and the agreement that Darden entered into with Golden Gate was a definitive agreement; meaning shareholders, and Starboard, do not get to approve the deal. Now, Starboard is seeking to replace the entire board and most likely go after CEO and Chairman Clarence Otis's head. Based on how the events have played out and how Darden sold their Red Lobster chain, we think that Starboard has a good chance of gaining a few board seats and possibly gaining control of the company.
Darden used to be a great growth stock but lately the price has been stagnant an unable to break out of the $50-55/share range that has marked its highs for the past few years.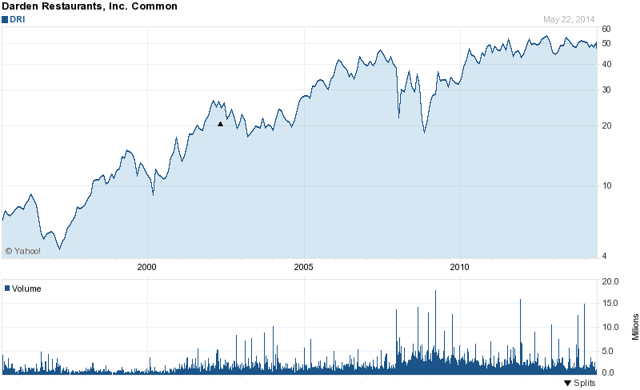 Source: Yahoo Finance
With Starboard looking to press the issue at Darden's annual shareholders' meeting in 2014, investors might see the shares rise should any strides be made by the activists to wrest any control away from a management team and board which has been failing over the past few years.
Possible Revolt For AstraZeneca
It is important to be careful of what one asks for, because sometimes it happens and that is precisely why AstraZeneca's (NYSE:AZN) management team is now on notice. The company's chairman, Leif Johansson, was quoted as saying that the shareholders had, "the right to vote me away" if they were unhappy with how the company handled the Pfizer (NYSE:PFE) negotiations. With some of the company's largest shareholders now asking the company to reengage with Pfizer after the three month cooling off period ends, it certainly appears that he has emboldened shareholders, especially the larger ones, to take a more vocal stance on what they want.
The latest reports now indicate that BlackRock (NYSE:BLK), the company's largest shareholder, and other top ten shareholders in AstraZeneca have expressed privately with management that they would like to see the two sides try to reach an agreement with a price tag just north of Pfizer's last offer. With all of these large shareholders pushing management back to the bargaining table, we suspect that the company will in fact agree to a merger in the next year.
Disclosure: I have no positions in any stocks mentioned, and no plans to initiate any positions within the next 72 hours. I wrote this article myself, and it expresses my own opinions. I am not receiving compensation for it (other than from Seeking Alpha). I have no business relationship with any company whose stock is mentioned in this article.