By Alfonso Esparza
Modi win has given India optimism boost
Rupee is back to July 2013 levels
New government and central Bank need to work together
What a difference does political stability make. A year ago the INR was being punished left right and center. A statement by then US Federal Reserve Chairman Ben Bernanke about the plans to taper economic stimulus depreciated emerging market currencies. India was hit as election jitters and the fact that growth had been a disappointing with rising inflation to booth. All those factors combined to push the INR to record lows as the election cycle was getting ready for the biggest democratic election in history.
The appointment of Raghuram Rajan as governor of the Reserve Bank of India in September 2013 made inroads to reassure markets of nation's potential. This message of stability was pushed higher as the BJP's decisive election win made headlines around the world. Narendra Modi's Bharatiya Janata Party got 282 of 543 parliamentary seats in the world's biggest-ever vote, compared with 272 needed to form a government.
The fact that the new government will not have to work within a coalition has given foreign and local investors optimism that much needed reforms will be pushed forward without the political infighting that has defined much of Indian politics in the last decade.
Various mechanisms have been devised to stop the fall of the Rupee. Gold imports have been reduced to stop investors from selling the currency to buy the commodity. The central bank before Rajan used to call brokers and "suggest" they reduce their speculative positions agains the INR. Yet, none of those maneuvers have been as effective as having political stability.
The INR was caught in a range between 56 and 52 versus the USD for most of 2012 and mid 2013. The Fed announcement drove the INR to record highs of 66 before starting to cool down in September. The combined efforts of the RBI and the former government focus on reducing the deficit have brought it back under 60. The Modi election win has pushed it to levels that were seen prior to the Fed taper comments of 58.
The main risk going forward will be the working relationship between two of the architects of the revival of the INR. Can Modi work with Rajan even though he was not appointed by his government? Can Rajan as head of the RBI continue to push the central bank's independence despite potential friction from the incoming government? The outcome of these two questions will be followed by investors as India new political project gets underway.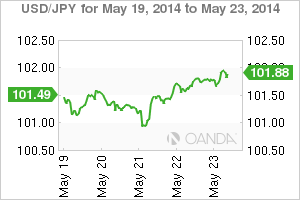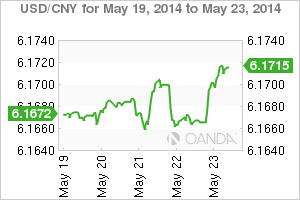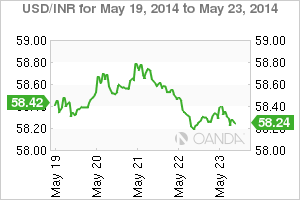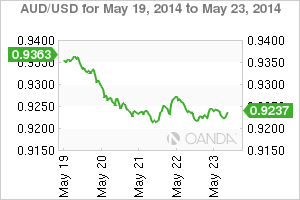 WEEK AHEAD
* EUR European Parliament election
* JPY Bank of Japan Policy Minutes
* EUR German Unemployment Rate
* CHF Gross Domestic Product
* USD Gross Domestic Product
* JPY National Consumer Price Index
* JPY Tokyo Consumer Price Index
* CAD Gross Domestic Product