First off, thank you to the M.D. and Pharma classmates who helped to explain the intricacies of the clinical trial and drug patent process. On April 28th, I opened a short position in Oramed Pharmaceuticals (NASDAQ:ORMP). The company is billing its Phase 2b drug as a novel delivery mechanism for oral insulin. The truth about Oramed is that it is solely floated by speculative retail investors who do not realize that Oramed Pharmaceuticals is plagued by:
Questionable Science
Intense Competition
Bad Management
Wolves of Wall Street Pumping the Stock
Questionable Science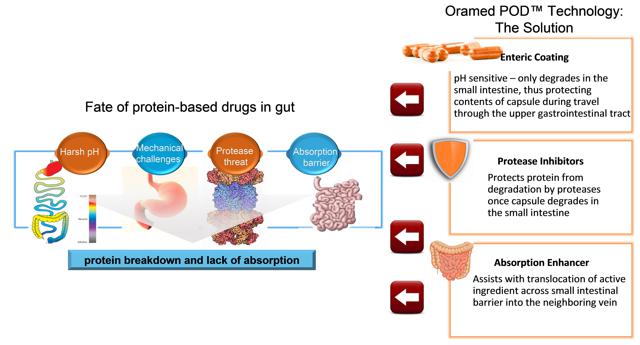 Oramed Pharmaceuticals
Market Cap: $95.75M
Short Interest: 15.8%
Current Price: $9.63
Fair Price: $6-7
Implied Gain: 30-40%
The diabetic market is huge, representing over 300 million patients worldwide. Several major pharmaceutical firms have attempted a solution to the problem of oral insulin delivery without success. Pfizer lost millions in R&D wrestling with this problem. Novo Nordisk (NYSE:NVO) is currently conducting Phase 2 trials with small-cap partner Merrion Pharmaceutical, and is in a better financial position to move to Phase 3 than Oramed.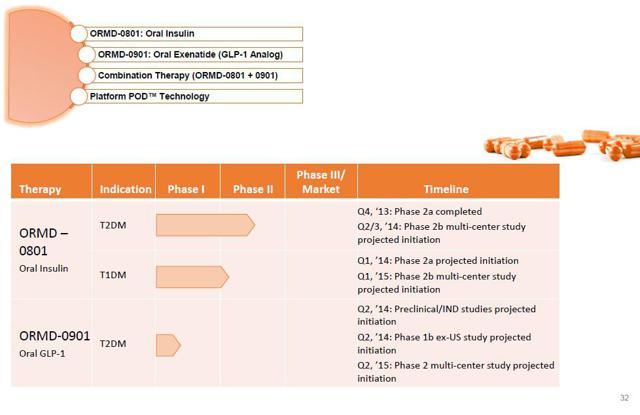 It turns out that ORMP has been announcing positive Phase 2 trials since 2008. Typically, Phase 2 trials last 2-3 years. Additionally, prominent Healthcare sector analysts have heavily criticized the scanty Phase 2 clinical results provided by ORMP.
The Street's Adam Feuerstein notably called the data "completely worthless." Diabetic Investor, a blogger claiming 20 years of experience monitoring the insulin treatment industry, was also quoted by Feuerstein:
Oramed has proved essentially that they can do more studies, WOW. They haven't proved their miracle drug is better than existing medications or that patients using this miracle drug experience fewer side effects or achieve better outcomes. All they have proved is that this one week study - a whole seven days- was that they could do more studies which will hopefully last more than a week.
A great example can be found here. In each case where a statistically significant p-value is noted, a careful reading reveals that the trial involved less than 30 people. Hence, the p-values on this poster are probably not worth the ink they were printed with. This is questionable science.
Other questions revolve around the pill treatment plan. The company is only offering the pill as a supplement to injections around mealtime. As wildbillinvestor notes in the comments section of this article on Seeking Alpha, three pills a day would cost roughly $100 at current Insulin prices.
Oramed data posted in December reveals that Type 1 diabetics were only absorbing 2 of 200 units of insulin from each pill. The trial was not statistically powered, with only 24 patients enrolled, but assuming the results are legitimate, a diabetic would have to take a 10-30 pills per day to receive the same level of treatment as injected insulin. The firm is now promoting ORMD-0801 as a mealtime supplement to injectable insulin. I have trouble believing that many diabetics would be willing to pay for such a product.
Furthermore, dosage is a serious issue with Insulin. Too high a dose can cause hypoglycemia. If Oramed were to improve the efficacy of ORMD-0801, it would run the risk of making patients comatose. Perhaps this explains why Oramed has had such a long slog to get FDA approval. The firm isn't doing much to expedite the process.
Trial sizes tend to correspond to the potential market size of the end-product. Niche drug producers will sometimes conduct small Phase 2 trials involving between 30-60 test subjects, but diabetes is a huge treatment market, with millions of patients. It is not uncommon to see Big Pharma enrolling two or three hundred patients in similar trials. Oramed has the cash to burn, and they know Novo Nordisk is also in Phase 2 trials, yet they spent less than $2M on R&D last year.
Despite requests by analyst for relevant data, Oramed continues to recycle the same press releases and data, while at the same time, spending hundreds of thousands of dollars worth of stock options on shady stock promotions. The firm could have boosted its R&D by at least 20% if they had reallocated their "investor relations" stock options to R&D efforts.
One thing investors should look for in a Biotech firm is patents. Ideally, investors want lots of iron-clad patents. The meagre four patents which Oramed has revolve around the formulation of its drugs. Here are the ingredients for ORMD-0801 according to the U.S. patent.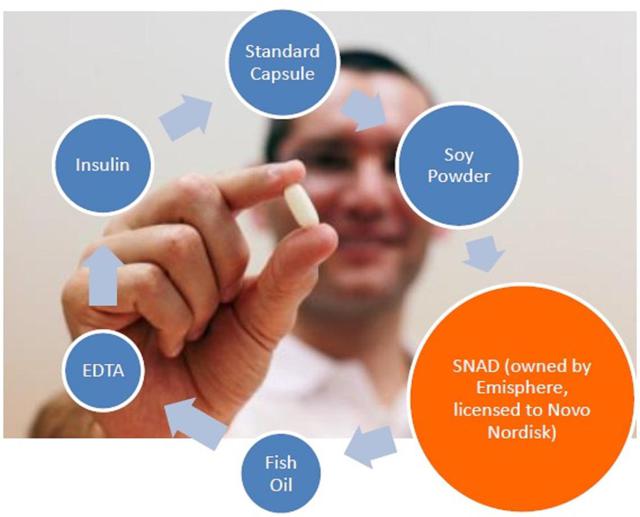 Each of these ingredients could be purchased at a local drug store, except for SNAD, which is also licensed by a major competitor. This is not a robust patent portfolio.
Intense Competition
Novo Nordisk, one of the world's largest producers of insulin, has standing agreements with Emisphere over SNAD. Oramed has hinted at Novo Nordisk as a possible acquirer of ORMP. Unfortunately Novo's CEO has stated publicly that they have no interest in acquiring Oramed, because they doubt Oramed's methodology. Competition doesn't end there either. Each of the companies in the space below is working on novel forms of insulin treatment. Biocon purchased Nobex a few years ago. Novo Nordisk has a licensing agreement with Emisphere for SNAD (ORMD-0801's sole ingredient not currently found in drug stores). Novo Nordisk is also partnered with Merrion Pharmaceuticals to develop basal oral insulin treatments, and reported positive Phase 1 results last spring involving 84 patients. Phase 1 is a long way from Phase 2, but the results were statistically significant and are therefore, arguably more trustworthy than any of the data that Oramed Pharmaceuticals has supplied.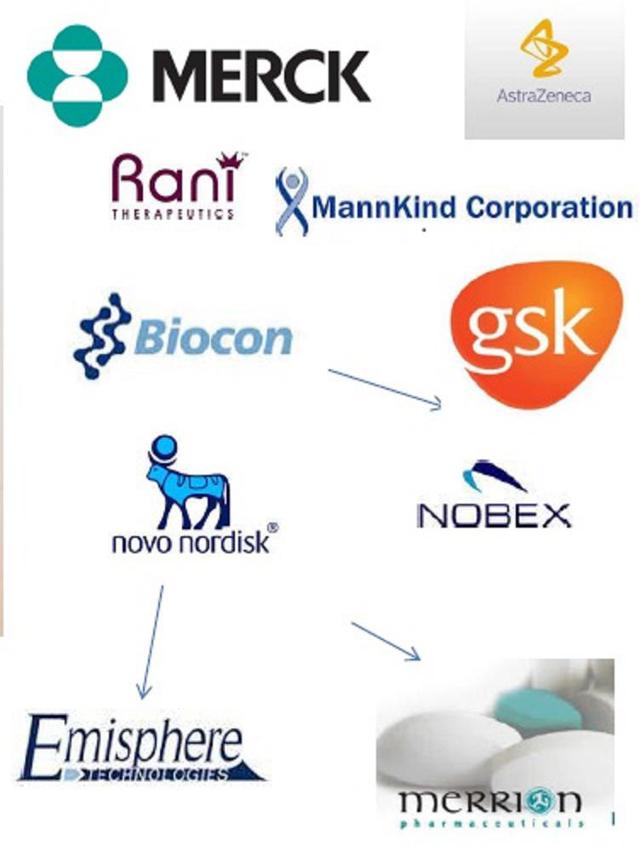 Bad Management
At first, the large equity stake which the CEO has in the company impressed me, but digging into the price he paid for stock options puts a different slant on things entirely. A great way to check the quality of a firm involves the price at which the company sells its stock options to company insiders. Here is a quick options pricing comparison between Oramed (gleaned from the 10-K) and the average of four other Biotech start-up firms (EPZM, SNTA, BIND, and PETX):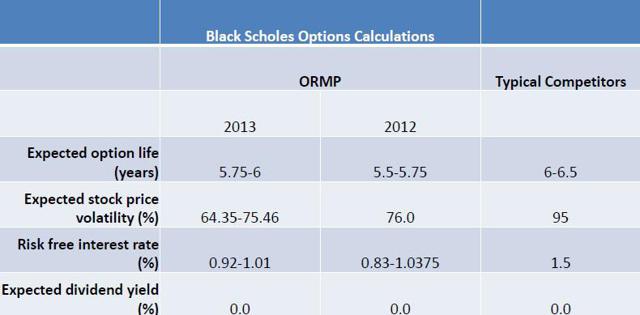 Black-Scholes takes a few factors into account.
Current underlying price
Options strike price
Duration
Implied volatility
Risk-Free Interest Rates
The net effect of ORMP lowering the duration, volatility, and risk free interest rate results in a lower options price for insiders. Using the most recent 10-K, the average price of options for insiders was $5.61. Let's be critical, and combine that with the roughly $40k management has allotted itself to lease company cars. Is management allocating a justifiable amount of capital to itself for its performance?
No one on the management team has worked at a successful start-up. The COO and CFO both worked at public penny-stock companies which popped and then plummeted back down to penny-stock status.
The Lineup:
Josh Hexter, former COO of BoiLine, current COO of Oramed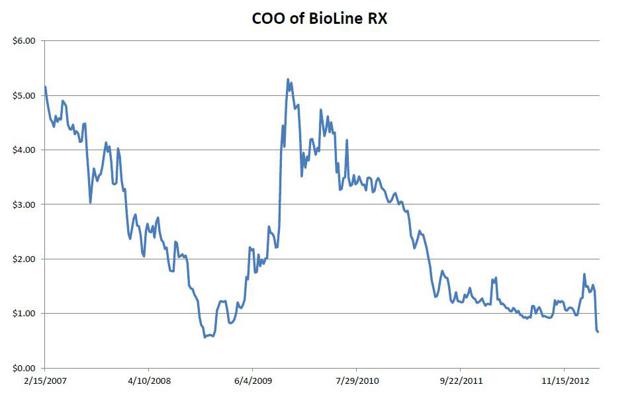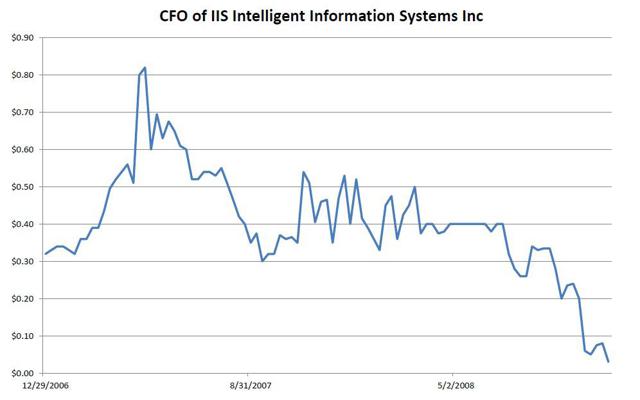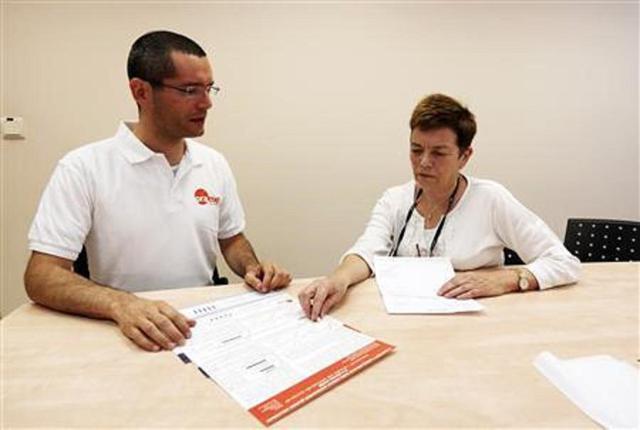 The CEO is the son of the Chief Scientific Officer (CSO). The CSO recently sold all of her shares ($1.6M worth of options) in ORMP in April, very close to the most recent clinical trials announcement. The CSO selling out at a Biotech firm is equivalent to a Chief Technology Officer at a Tech company selling their stake.
"She's the chief scientist. I just went for the ride to do the business side," -- Reuters interview with Nadiv Kidron CEO of Oramed.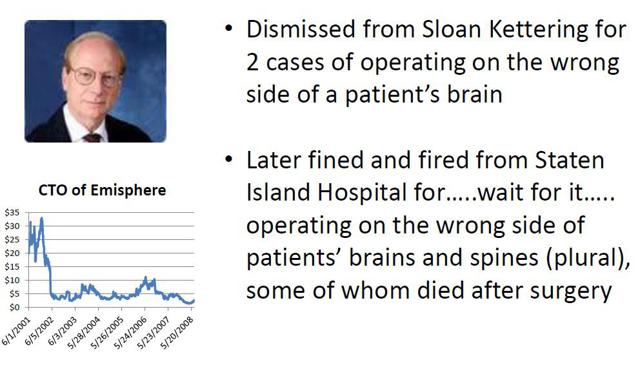 The Chief of R&D, was dismissed from two separate hospitals within the U.S. -- Sloan Kettering and Staten Island Hospital -- for operating on the wrong sides of patient's brains. What is a neurosurgeon doing heading up the R&D efforts for an oral insulin firm? A promising Biotech firm would have someone with Pharmacy or Biotech experience in this role.
Wolves of Wall Street Pumping the Stock
Oramed discloses in the 10-K that they have paid 4 "investor relations firms" with large quantities of stock warrants which vest inside of a year. One of the firms receiving such warrants is Aegis Capital. Aegis puts a fair price for the stock at an astounding $30. The firm had to double the standard drug approval probability estimates for Phase 2 drugs from 35% to 60% used by Wall Street to get to such a lofty number. $30 would be an impressive feat indeed for a firm with no track record of success, Phase 3 progress, Big Pharma partnerships, or strong patent portfolio. The New York Observer has a great article about ORMP's penny stock promoters.
Valuation
Giving Oramed the benefit of the doubt, assuming that in 2021 we will see a marketable pill capture some sliver of the total diabetic market, I still end up with a fair value less than $7/share.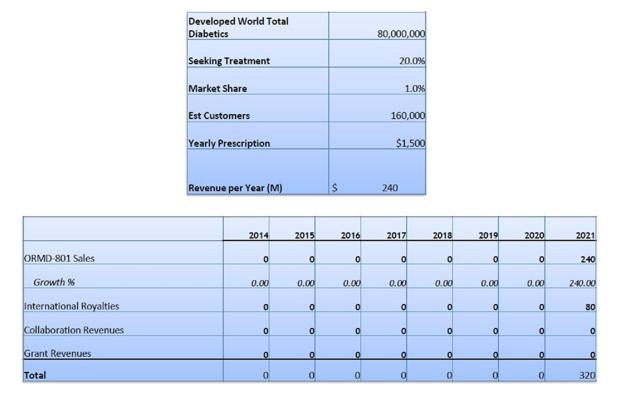 Analysis of the potential for a very expensive, ineffective pill with below-average chances of making it to market in 7 years reveals that this company is not worth more than $7 a share. The tangible book value of the company is around $3/share currently and would seem to be the only real valuation floor for such a company.
My short-term target price is somewhere in the $6-7 range.
Risks
Acquisition -- The likelihood of acquisition is very low here. Big Pharma already went through the oral insulin space with a fine-tooth comb and cherry-picked the promising companies.
Continued Stock Pumping -- Unfortunately, timing is always hard with a short. Eventually investor expectations will come crashing back to a fair value, but in the meantime we can expect continued press releases and stock promotion from management. This is an important short-term risk, but minor in the long-term.
Oral Insulin Success -- "I'm not going to hold my breath on this one." Me neither.
Conclusion
Questionable science, intense competition, a terrible management team, and circling wolves of Wall Street do not bode well for investors in ORMP.
Injectable insulin has improved to the point where once-a-week injections are possible. Meanwhile, ORMP's clinical trials have yielded statistically insignificant results. In the most recent Phase 2 trial ORMP admitted a "formulation issue ... that resulted in diminished and inconsistent release of study drug." 33% of the study patients were compromised. The firm states that they will be conducting a large-scale statistically significant study later this. The CSO states that:
"We look forward to moving ahead with our planned U.S. Phase 2b trial in individuals with type 2 diabetes which will investigate ORMD-0801 over a longer treatment period and which will have statistical power to give us greater insight into the drug's efficacy."
In the meantime, she has sold her entire stake in the company.
If and when Oramed's oral insulin showed any actual efficacy, Novo Nordisk could simply leverage its existing licenses and partnerships with Emisphere and Merrion, throw hundreds of millions of dollars at the problem, and beat Oramed to market. Oramed's management team has to know this. Additionally, the SEC has recently made inquiries into ORMP as well, forcing Oramed to restate some of the claims posted on their website.
It is possible that this is all coincidence, that Oramed's science is sound, that their management team has integrity, intelligence, and energy. It is even possible that Oramed has a blockbuster product on its hands. Given all the points mentioned above, the likelihood of this being true is slim.
I sent Oramed the following question via their website to try to clarify some of the firm's decisions:
I am researching your firm as a potential investment, and wanted to clarify a few questions I have.

1. Can you explain your Insider Black Scholes Options Calculations from the 2013 10-K? What is the basis for the risk-free rate quoted? Why is the expected stock price volatility lower for 2013 than 2012?

2. Was there an explicit reason that the CSO sold most of her shares in the company in April of 2014?

3. What strengths does the Chief of R&D bring to your firm's oral insulin research?

4. Can you disclose the names of the four investor relations firms mentioned in the 2013 10-K? Is Aegis Capital one of them?

5. Which companies (or more broadly, what sort of companies) would you argue might be interested in partnering with you on your leading candidate drug ORMD-0801?

Thank You,
So far, I have not received a response, which is interesting. I have interacted with management in the past, and witnessed other investors doing the same. Management typically responded within one business day. If I receive a response, I will be sure to post an update, but for now Oramed Pharmaceuticals does not pass the smell test.
Disclosure: I am short ORMP. I wrote this article myself, and it expresses my own opinions. I am not receiving compensation for it. I have no business relationship with any company whose stock is mentioned in this article.
Editor's Note: This article covers one or more stocks trading at less than $1 per share and/or with less than a $100 million market cap. Please be aware of the risks associated with these stocks.