Last evening technology enthusiasts across the country were disheartened to hear that Senator Patrick Leahy shelved a reform bill aimed at curbing the power of patent trolls. Protecting proprietary technology and confidential information has long been at the forefront of corporate security needs. As our government fails to find a way to improve intellectual property rights here in the states, they have stepped up their game on the other half of the equation, international corporate espionage.
Cyber security was brought back into public focus this week after the United States government indicted 5 Chinese military officials on charges of stealing trade secrets from U.S. based corporations. This was the first time that foreign government officials were charged with industrial spying. Unfortunately international corporate espionage is virtually impossible to enforce because international law doesn't really exist. Do you think Vladimir Putin cares about what the United States and Europe say about Ukraine?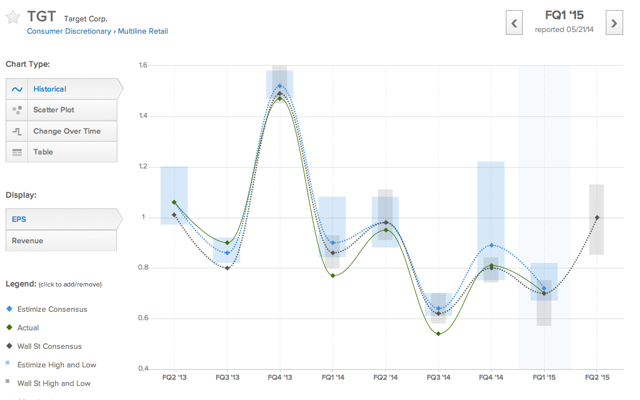 Click to enlarge
Because these 5 Chinese government officials are not U.S. citizens, it's all but certain that nothing material will come from the allegations. But the government was making a statement, even if it was just an implicit warning to let Beijing know that they are being watched. After the massive data breach at Target (NYSE:TGT) back in December and the more recent one this week at eBay (NASDAQ:EBAY) it's clear that cyber security is a growing issue.
While U.S. corporations are the victims of the attacks, it's not clear who is behind them. But if you assume that the hackers don't want to go to prison, it's a pretty safe bet that they are offshore. The indictments that came out on Monday seem to present a clear signal to the rest of the world, "Hey, you'd better knock that off."
On the business front corporate espionage is a threat, but on the legal side it's a real dilemma. Until we come to some sort of international agreement to police cyber attacks originating within our own countries, the internet will remain the wild west across international borders.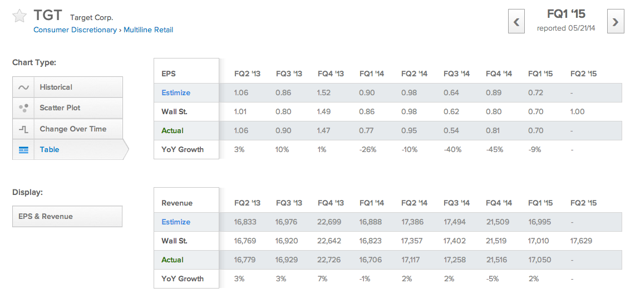 Click to enlarge
Luckily for Target their data breach back in December doesn't seem to be having too big of an impact on revenue. In a period where we are seeing year over year retail sales growth of -2% and 0% respectively from Macy's (NYSE:M) and Wal-Mart (NYSE:WMT), Target's 2% quarterly increase doesn't look so bad. The good news here is that despite some major negative press, sales have held up and even outperformed their biggest competitor Wal-Mart on a relative basis. The bad news is that Target has struggled to expand in Canada, same store sales slipped, and the company missed the Estimize earnings consensus by 2c per share. Things aren't great for Target right now, but given the size and severity of the breach they are okay. eBay may have a much bigger problem on their hands.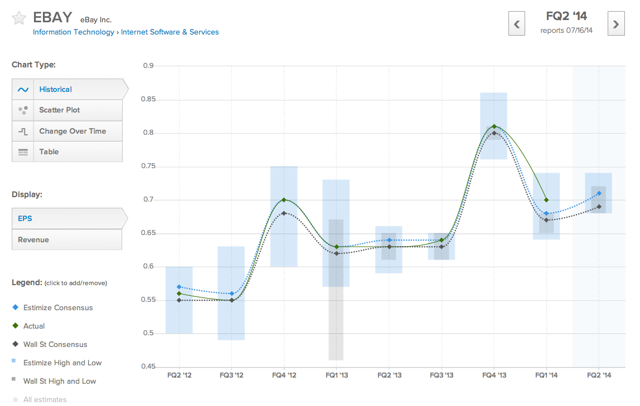 Click to enlarge
eBay's 145 million active users were notified of a hacking attack on Wednesday and were recommended to change their password immediately. The problem for eBay is that they own and operate an internationally recognized online payment platform in PayPal. If millions of users are trusting your platform to store and send money, you'd better have damn good security. eBay could take a much bigger hit to its brand than Target.
eBay's next two earnings reports will be crucial to watch for those thinking about how increasing cyber security needs will affect corporate fundamentals. A big dent in PayPal's usage could signal rising web-security costs and lower profit for online retail and payment companies across the board. If any company out there would be impacted significantly by a data breach in the near term, it would be an online payments company and we will see a clear drop in eBay's financial metrics this quarter.
Disclosure: None.