"Caution, Dr. Smith! Caution"
A familiar refrain from the mechanical robot in an old TV show called "Lost in Space". In my view, with regard to Wednesday's market activity, the phrase fits. And so does the title of the show.
The August negativity had become pervasive, especially in the form of a relentless stream of sour economic news coming out of the US....and despite continued evidence of growth abroad (and in some countries, continued efforts to even have to contain growth and slow it down), the markets took out the red ink in a big way throughout the real dog days of summer.
As the sun rose on September around the globe, we did indeed start the day on the coattails of some strong economic data out of China and Australia, both of which helped send Asian markets up and set the stage for a more positive tone in our early hours.
However, the cynic in me has a hard time believing that yesterday's ISM number was reason enough for a triple digit upside move in stocks.
Good news? No question. Enough to overcome the reality of the (un)employment in this country and its implications for spending? Unlikely.
I'd feel better if the headlines focused on copper's move of late:
click to enlarge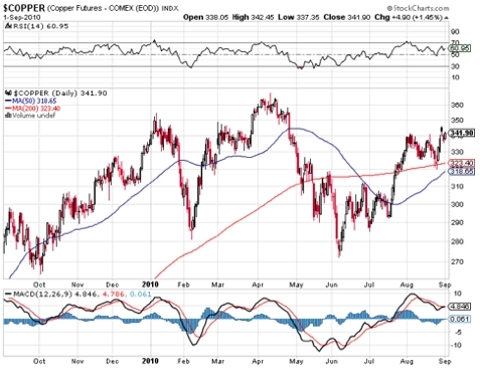 Or even on the Baltic Dry Index's recent action: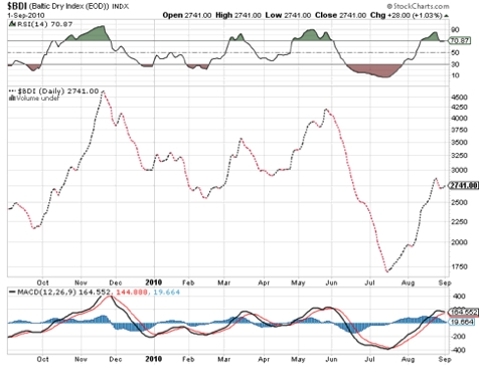 Some other ponderables:
Is there a human element involved? Are there portfolio managers out there who had written off August performance and waited to put cash to work on Sept 1? (ie, window-dressing)?
Have the technical folks put the Hindenburg Omen back in the hanger?
Does the market think that September is close enough to November 2 (Election Day) that Washington will respond constructively to the message that's been broadcast by the markets on the need for real job creation, tax certainty and regulatory clarity?
Thoughts to ponder as we await Friday's NFP data and its fresh reminder of the pain being felt by over 18 million Americans/consumers who are either un- or under-employed.
I've been cautiously constructive on equities and a patient buyer on dips as I've taken my equity exposure up from a low of 35% in early May to 50% currently. That positioning is reflective of my view that a global infrastructure build-out is underway and that growth in various parts of the world is real, strong and meaningful to profitability of companies who choose to pursue those opportunities.
Yesterday tested that patience. It's difficult to let the bandwagon roll by and not jump on it. But one day a trend does not make....Trite? Yes. Accurate? I'm counting on it.
Disclosure: Long Equities; allocation as mentioned.