The oil and natural gas names are in focus today as the estimates of one of the up-and-coming shale plays have been revised sharply downward. It is not an indictment on all of the names with acreage in the play as there is still plenty of room for success but this is a warning for investors to remember to focus on premier areas for exploration.
This is already happening and probably is one of the top reasons that there is so much interest in today's energy IPO which is off to a strong start. Readers need to remember to look to the regions where the best companies want to have acreage and listening to the conference calls this quarter it is obvious that the top five are the Bakken, Eagle Ford, Utica, Marcellus and Permian.
Chart of the Day:
The July contract for WTI Crude continues to increase and the differential between WTI and Brent has not really budged as we thought that it would. Russia is causing this strength in the energy complex and the momentum should be traded to the bullish side right now.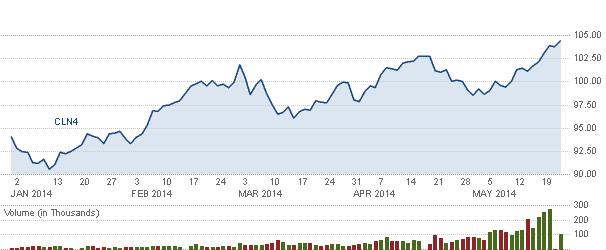 Source: CNBC
Commodity prices are as follows (at time of submission):
Gold: $1,291.90/ounce, down by $3.10/ounce
Silver: $19.425/ounce, down by $0.095/ounce
Oil: $104.32/barrel, up by $0.58/barrel
RBOB Gas: $3.0149/gallon, up by $0.0091/gallon
Natural Gas: $4.389/MMbtu, up by $0.03/MMbtu
Copper: $3.1675/pound, up by $0.0255/pound
Platinum: $1,473.10/ounce, down by $20.00/ounce
Monterey Shale In Question
With the government rolling back their reserve estimates for the Monterey Shale in California we have to wonder how that will affect Occidental Petroleum's (NYSE:OXY) plans to split off their California operations. The Monterey Shale acreage was supposed to be a large part of that deal to attract investors, however there have been signs that investors were concerned about the timing of a split.
Although there appear to be a number of talking heads who are surprised by this news, many in the industry already suspected that the reserve estimates were already extremely inflated. The two names which we have seen connected to bearish comments on the Monterey over the years are John Watson, the CEO at Chevron (NYSE:CVX), and Harold Hamm, arguably one of the most influential names in shale exploration and CEO at Continental Resources (NYSE:CLR).
This is not necessarily a deal killer for California's shale industry but it does highlight the need for investors to seek out companies in the best shale plays. Following influential names and those with experience in developing acreage successfully is one easy way to do this.
Energy IPOs Still Hot
With Parsley Energy (NYSE:PE) shares rising strongly this morning after pricing above the expected range and the company having raised the number of shares it was issuing, it is obvious that there is a huge demand for solid energy plays among investors. The Permian is in demand right now and could be the hottest shale area right now among investors. The successful IPO of Parsley Energy follows that of Rice Energy (NYSE:RICE) earlier this year and shows a trend over the past half year or so. We would expect further IPOs this year and some big IPOs taking place over the next 18-24 months. This is a space investors need to watch moving forward because it is sometimes easier to get into IPOs with your broker for these energy names than say the tech IPOs.
Disclosure: I have no positions in any stocks mentioned, and no plans to initiate any positions within the next 72 hours. I wrote this article myself, and it expresses my own opinions. I am not receiving compensation for it (other than from Seeking Alpha). I have no business relationship with any company whose stock is mentioned in this article.