United Technologies Corporation (NYSE:UTX) has recently been crowded with a lot of concerns about its growth prospects. Investors feared that sales and earnings may not continue to increase through 2014 as much as the company anticipates and some even suggested a downward revision to EPS estimates in Q1 2014 results. However, I believe the concerns were largely unfounded as the company stands on a solid foundation. Revenue sources are diversified, restructuring is underway to enhance profitability, orders are increasing and operating margins are actually improving. Adding dividends and share buybacks and factoring in stability and growth in earnings, the company deserves higher multiples and makes a great case for stock investment.
Stock Price Performance
UTX's stock closed at $75.25 on Nov 16, 2012, and was trading at $115.70 on May 16, 2014, generating a return of over 53% in the last 18 months.

Source: Google Finance
UTX - A Diversified "Aerospace" Company
The first thing to understand about UTX is that it is not just an aerospace company like Boeing (NYSE:BA), Airbus (OTCPK:EADSY) or Lockheed Martin (NYSE:LMT). UTX may be well known as the maker of the Black Hawk helicopter but it derives around 46% of its revenues from businesses that have nothing to do with either air or space travel. So, if the fears of hampering growth at UTX are rooted in Federal budget cuts causing the drop in US military expenses one must understand that less than 20% of the company's revenues are dependent on military aerospace and space projects.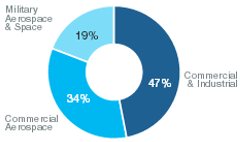 Source: UTX Annual Report 2013
United Technologies Corporation is a conglomerate that researches and manufactures advanced-technological products. The company operates five segments: Otis that manufactures, installs and services elevators, escalators and moving sidewalks; UTX Climate, Control and Security that deals in heating and air-conditioning systems as well as fire alarm systems; Pratt & Whitney that makes aircraft and rocket engines and gas turbines; UTX Aerospace Systems that engineers aircraft parts and systems including electrical and control systems; and Sikorsky that designs and manufactures helicopters for military and commercial use.
To better understand the company's operations, the contribution of each segment to sales and operating profits over the past three years is presented in the table and graph below.

Source: UTX's 2013 Annual Report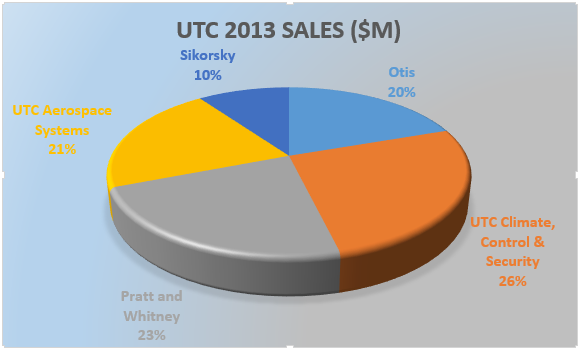 Solid Fundamentals Offer Bright Prospects
In Q1 2014, UTX reported EPS of $1.32 down 5% YoY but this was mainly due to restructuring charges incurred this quarter. Adjusted EPS was up 10% compared to Q1 2013.
On a segment-wise basis, the increased number of orders received by each division is encouraging. Otis received 9% more new equipment orders YoY, large commercial engine spares orders at Pratt & Whitney were up 11% from Q1 2013, the UTX Aerospace Systems business saw an increase of 9% in commercial spares orders and the backlog at Sikorsky increased to more than $3 billion.
The cost reduction plan seems to be working as well as margins have greatly improved since Q1 2013. The table below shows a 14.5% improvement in operating margins compared to those in Q1 2013.

Source: UTX Q1 2014 Earnings Release
In its Q1 2014 Earnings Release, the company revealed that it has increased the lower end of its full-year 2014 EPS guidance from $6.55 to $6.65. The new guidance of $6.55-$6.85 offers a YoY EPS rise of 8.7% at midpoint.
Future prospects for the company look bright as the company will benefit from rapidly improving emerging economies. Higher personal income and urbanization in emerging markets will enhance demand for elevator, air-conditioning, cold chain and even commercial aviation for businesses and for individuals. The International Air Transport Association "IATA" forecasts a 5.8% increase in global air traffic in 2014 led by the Middle East and emerging markets in the Asia-Pacific region, Latin America and Africa.

Source: IATA
Further Value for Shareholders
UTX has been able to consistently increase dividends for shareholders and now its dividend yield stands at an attractive 2%. Furthermore, the company rewards investors with share repurchases and bought $335 million in Q1 2014. The company plans to enact $1 billion in share repurchases in 2014. The company's total share repurchases since 2007 exceed $12 billion. The company does not intend to make any large acquisitions in the foreseeable future that may threaten the share buyback program.

Source: UTX 2013 Annual Statement
Conclusion
UTX is a diversified company with solid fundamentals that showed growth in times of recession after 2008. There is no reason to believe this growth is about to halt especially in the wake of increasing orders, improving margins, enhanced forecasts of air travel and increasing urbanization in emerging economies that is expected to raise demand for UTX's products. The dividend yield of 2% and share repurchases of around $1 billion each year add further value to this stock. The stock is currently trading at a P/E of 19.1x compared to 22.6x for Boeing, and 27.6 for Airbus. The forward P/E multiple is actually below 15 making UTX a very attractive investment.
Disclosure: I have no positions in any stocks mentioned, and no plans to initiate any positions within the next 72 hours. I wrote this article myself, and it expresses my own opinions. I am not receiving compensation for it (other than from Seeking Alpha). I have no business relationship with any company whose stock is mentioned in this article.