In a prior article, I detailed why and how I would begin performing one hour of preliminary research on potential investments, with an emphasis on reasons not to invest before delving any further into the idea. In this article, I will organize my findings on Bank of America (NYSE:BAC).
Business Overview
Bank of America is a Charlotte-based bank holding company that is one of the largest financial institutions in the world by various metrics, offering most financial services through 5 segments: Consumer & Business Banking, Consumer Real Estate Services, Global Wealth & Investment Management, Global Banking and Global Markets.
Chart
I came across BAC screening for large cap US stocks trading at steep discounts to their 50-day moving averages. I like to use the 50- and 200-day moving average, as they often display stocks that have moved lower in the short run for no reason or temporary reasons. I think BAC fits the latter.
The stock had run up almost consistently since mid-2012, more than doubling, before an onslaught of bad news March-present sent the stock lower by 15%+.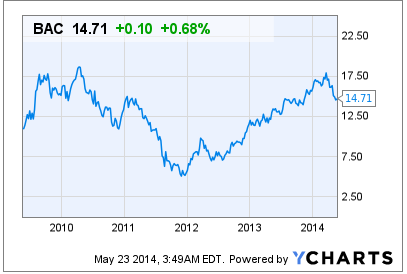 According to Value Line and what I saw from following company news from a distance, the sell-off is the result of:
The company canceling plans to buy back stock and raise the dividend in late April.
Legal costs pushing Q1 2014 earnings into the red.
News that the US government is seeking $13B from BAC related to its dealings of RMBS pre-crisis.
The accounting mistake that caused the capital return plans to be canceled, also leading investors to question the company's internal controls and lowering capital ratios.
In the short term, these events are more than just noise and don't look good for BAC, but I don't think any of this will be an issue 5-10 years down the road, and none of it affects the company's normalized earnings power going forward, which I believe stocks are valued on.
Economics
I really like the economics of large banks. It seems to me that much of the underwriting, deal structuring, pricing, etc. of banking operations (most of the work, besides that of the retail bank teller and manager) scales very well. A $100M private placement probably takes a lot more work than a $1M one, but I doubt it costs 100x the cost to execute. This likely gives large banks significant cost advantages in a business where customers are probably more price-sensitive than any other. The large banks also have underrated brands, in my opinion.
Warren Buffett seems to agree with me. Much of Berkshire Hathaway's (BRK.A, BRK.B) partial equity portfolio is in large banks. Wells Fargo (NYSE:WFC) is the largest holding, and Berkshire also owns a $2.9B preferred stake in BAC. Buffett and BAC recently agreed to lock in Berkshire's preferred stake for 5 years, while making it non-cumulative. Buffett must think highly of the company's creditworthiness to commit to such a large position for another 5 years and to agree to allow BAC to miss payments if necessary.
Much of BAC's business is done in the US and Europe. The US is still recovering, as is Europe. Banks' financial performance is exceptionally highly correlated with overall economic health, so this is critically important to BAC.
Credit Risk & Capital Adequacy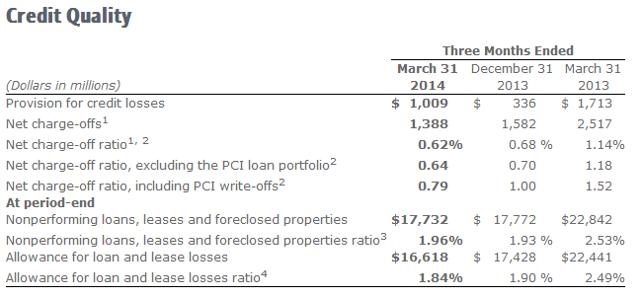 (Source: Bank of America Investor Relations)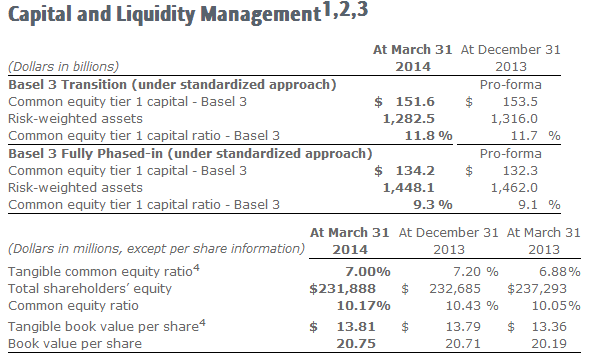 (Source: Bank of America Investor Relations)
The company has Tier 1 capital of 9.3%. Stress tests aside, this is not where I'd like it to be. I usually look for at least 10%, especially for banks that are not best-of-breed in terms of profitability. BAC is nowhere near best-of-breed. In the US, Wells Fargo could probably get away with 9% Tier 1, but every other bank is not totally safe without 10%+. However, the number has improved, most recently from 9.1% to 9.3% Y/Y in Q1.
The company has also reduced credit risks, as seen in reduced loss provisions, lower charge-offs, and lower NPLs.
Performance & Valuation
At $14.71/share, BAC trades at 66% of book value and 99% tangible book. The average bank in the US trades right at book value right now, but then again, most probably do not have such substantial goodwill and intangibles. In the ~15 years leading up to the 2008-09 financial crisis, BAC's return on assets fluctuated, but was never less than 1%.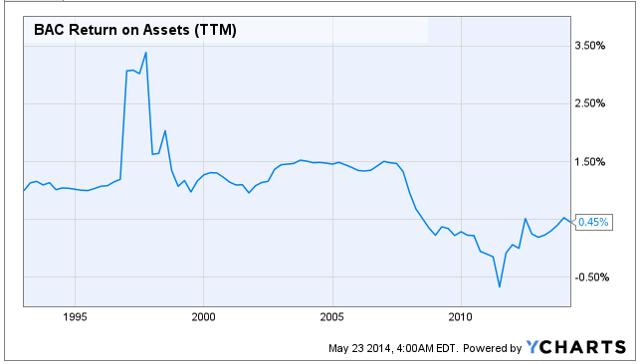 Assuming pre-crisis ROE is achievable going forward is flawed, because capital requirements are stricter now and companies cannot take on as much leverage to boost ROE, but I don't think the stricter capital requirements should impact ROA in the long run. If BAC can get back to ROA of 1% and maintain Tier 1 capital of 10%, the company could boast ROE of 10%+, in which case the stock would trade at 1-1.1x book value. This, assuming current BV, represents 59% upside, but the company is already profitable, and so book value should grow in the next few years as the company becomes more profitable and the stock is slowly re-rated. I could easily see BAC doubling in 5 years or less (>15% annual returns).
Despite all the bad press, the company is making progress on operational improvements. Q1 2014 EPS was 31 cents in Q1 before all one-time items, compared to 10 cents in Q1 2013 and 29 cents in Q4 2013. The company has reduced headcount by almost 10%. Important metrics like deposits and AUM are also growing.
Conclusion
Of the 3 companies I have done 1-hour preliminary research on thus far, BAC is the closest to being a conviction buy right now. The chart shows the stock is the most timely, the company has strong prospects, and the company is on its way to hitting my ROA target in the next few years. I am not investing at this price because the company's capital ratios are still lower than I would like and I think the haircut may continue on little positive news from the company in the immediate future and ongoing legal issues. I am setting a price alert at $14, but may perform further research in the next few days before it even gets to that point.
Disclosure: I have no positions in any stocks mentioned, but may initiate a long position in BAC over the next 72 hours. I wrote this article myself, and it expresses my own opinions. I am not receiving compensation for it (other than from Seeking Alpha). I have no business relationship with any company whose stock is mentioned in this article.