Just when I thought that the LiveDeal (NASDAQ:LIVE) saga was coming to a close, it appears the company had one more trick up their sleeve. I have been bearish on LiveDeal since January 28th when the stock was at $22/share before the 3-1 split. I have continued to be bearish both in articles and in the comments of articles all the way down to $2.50/a share, where it was earlier this week. My bearish article on Valentine's Day proved to come at the very top of the stock's parabolic run-up and it has been all downhill from there.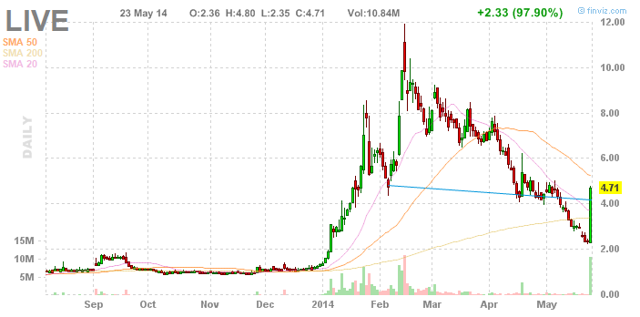 Since then the company has reported disappointing first quarter results, changed auditors, had to delay the release of a 10-Q, acquired a Canadian company with a sketchy history, and did a huge, dilutive stock offering. The stock is up around 90% as I write this, mid-day on Friday. Why is that? Well the company issued a slew of bullish press releases. This article will be short, because I want to only focus on one aspect of the offering.
On May 20th, LiveDeal announced that they were registering 10 million shares to be sold. The details of the offering said:
We have entered into an engagement agreement with Chardan Capital Markets, LLC relating to the sale of shares of our common stock offered by this prospectus supplement and the accompanying prospectus. In accordance with the terms of the engagement agreement, we may offer and sell up to a maximum aggregate amount of 10,000,000 shares of our common stock, $0.001 par value per share, from time to time through Chardan, acting as agent.

Our common stock is traded on The NASDAQ Capital Market under the symbol "LIVE." The last reported sale price of our common stock on May 19, 2014 was $2.99 per share.

Sales of our common stock, if any, under this prospectus supplement and the accompanying prospectus will be made by any method permitted that is deemed an "at the market" offering as defined in Rule 415 under the Securities Act of 1933, as amended, or the Securities Act, including by means of ordinary brokers' transactions at market prices, in block transactions or as otherwise agreed by Chardan and us. Chardan will act as our sales agent using commercially reasonable efforts consistent with its normal trading and sales practices. There is no arrangement for funds to be received in any escrow, trust or similar arrangement.
As I have been saying all along, it appears that this company simply wants to dilute shareholders as much as possible. In the February 14th 10-Q, the company had 13,577,327 shares outstanding. That means that if all 10 million shares from the offering are issued shareholders will be diluted by 43%. Looking at this chart (and this is before the further 10 million share dilution), it is clear that LiveDeal is more interested in issuing shares and enriching itself than doing anything for shareholders.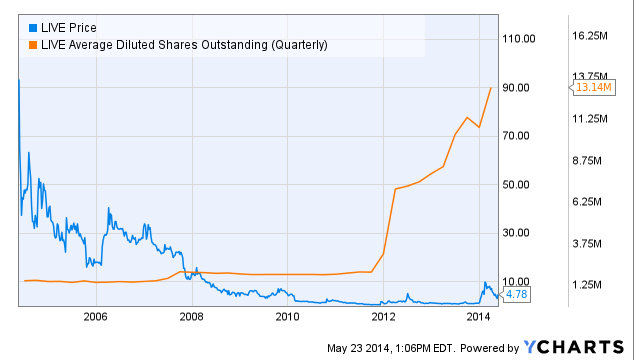 In a press release this morning, LiveDeal said that the offering will allow it to continue to grow through acquisitions. The press release read "LiveDeal Has Enough Cash On Hand to Continue Expansion Through Acquisition." There is one reason that a company needs to expand through acquisitions, and that is that it is not growing organically. If the most recent acquisition tells us anything, it's that perhaps LiveDeal is not the best judge of companies to acquire.
LiveDeal acquired DealTicker, a Canadian deal site recently. Seeking Alpha Contributor Volte-Face Investments highlighted some issues with this acquisition in this fine article. Volte-Face wrote:
On May 7th, 2014 the company submitted the 8-K pertaining to the acquisition. We were surprised that this single 8-K contained not one, but two "red flags" that deserved further analysis. Considering the optimistic tone in the previous press releases regarding this significant acquisition for the company, we assumed the price of the deal would be in the $2 to $5 Million range. According to the published 8-K, the purchase price for DealTicker was a paltry $246,000 Canadian dollars (U.S. conversion price of approximately $225,000). How could a company with nearly $50 million market capitalization complete a $225,000 USD transaction that materially alters the company's future growth prospects? No matter what multiple we assigned to the acquisition price, even below 1 times sales, it was really impossible in our calculations for this acquisition to either materially diversify the company or change its overvaluation.
I came to the same conclusion at the same time, the price was surprisingly low. There is no way that paying $225,000 for a company can dramatically change your growth prospects. In fact, I believe that LiveDeal is worth closer to what it paid for DealTicker than its current market capitalization of ~$60 million.
CEO Jon Isaac also adopted a more bearish tone in his most recent press release. Before LiveDeal suggested that LiveDeal.com was generating tons of revenue right off the bat and growing very quickly. That tone has changed now, however. This is what Jon Isaac said in this morning's press release.
The CEO added, "With LiveDeal's long-term philosophy we believe we can increase the number of merchant subscribers to our database, enabling us to aggressively build our database and then begin to market our sites as an advertising medium, similar to the strategy followed by Groupon and Facebook." And, while the process may be frustrating to those investors who want to grow from nothing to Groupon-sized overnight, it seems LiveDeal has embarked upon a methodical plan that has its numbers drastically improving, a platform growing quickly, an expansion into other verticals, and cutting losses so deep that they should soon turn into profits.
I don't believe those subscribers will materialize into much profit for LiveDeal as I have shown in the past that many of the restaurants on LiveDeal had never actually heard of it. LiveDeal wants the stock price to be as high as possible so it can issue those shares for as much as possible, further diluting shareholders. That's why they needed to pay Stock Market Media Group $50,000 to cover LiveDeal.
SMMG is compensated for LiveDeal content by a third party who reserves the right to buy, sell or remain neutral on securities after the publication of this article. SMMG has received total compensation of $50,880 for LiveDeal content.
This pop is no different. It will fade and it will fade hard. LiveDeal has not returned any of my emails with answers to my questions, which were all reasonable such as "Why have none of the restaurants on your front page heard of you." If you are buying LiveDeal today, expect to be burned, as those who bought at the peak in February were. I continue to believe that shares are worth less that $1 as I have shown in previous articles.
Disclosure: I am short LIVE. I wrote this article myself, and it expresses my own opinions. I am not receiving compensation for it (other than from Seeking Alpha). I have no business relationship with any company whose stock is mentioned in this article.
Editor's Note: This article covers one or more stocks trading at less than $1 per share and/or with less than a $100 million market cap. Please be aware of the risks associated with these stocks.