The Blackstone Group (NYSE:BX) looks as if it is poised to continue its robust growth well into the future. We can confidently say that because of numerous findings and data that will be outlined in this article. In this article we will provide you with a deep fundamental analysis of The Blackstone Group and present you with a case that the stock is undervalued.
The Blackstone Group is a manager of private capital and provider of financial advisory services. Its alternative asset management businesses include the management of private equity funds, real estate funds, funds of hedge funds, credit-oriented funds, collateralized loan obligation vehicles and separately managed accounts. It also provides a range of financial advisory services, including financial advisory, restructuring and reorganization and fund placement services. The company operates in five segments including: Private Equity, Real Estate, Hedge Fund Solutions, Credit Businesses, and Financial Advisory.
Over the past handful of years the company has shown strong growth in each of these business segments and should continue to show strong growth in the future.
Highlights from the 2013 Annual Report and Company Website
Total Assets Under Management were $272 billion as of March 31, 2014.
Double-digit Total Assets Under Management growth across all investing businesses-Private Equity, Real Estate, Hedge Fund Solutions and Credit due to significant inflows and market appreciation.
On December 11, 2013, S&P upgraded Blackstone's rating to A+, matching Fitch's rating, making Blackstone the highest rated alternative asset manager and one of the highest rated global financial services firms
In support of the White House's Joining Forces initiative, we launched the Blackstone Veterans Hiring Initiative, committing to hire 50,000 veterans across our portfolio of companies over a five year period and hosting our inaugural Veterans Hiring Summit. (We figured we would include this although it doesn't really pertain to the subject)
Growth in Assets Under Management (AUM)
The graph below represents Blackstone's growth in fee-earning assets under management. Blackstone has significantly grown their fee-earning assets under management over the years. From 2009 to 2010 it grew 15%, then another 27% from 2010 to 2011, then another 23% from 2011 to 2012, and another 12.5% from 2012 to November 19th, 2013.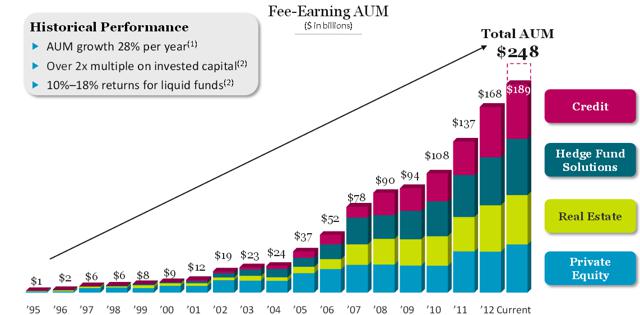 The graph below represents Blackstone's growth in total assets under management (AUM). On January 1st, 2010 Blackstone's price to total assets under management was .149 ($14.6 billion/$98 billion). From January 1st 2010 to March 31, 2014 total assets under management has grown 178% from $98 billion to $272 billion. On March 31st, 2014 Blackstone had a price to total assets under management of .141 ( $38.4 billion/ $272 billion). Price to total assets under management has dropped 5.4% from .149 on January 1st, 2010 to .141 on March 31st, 2014.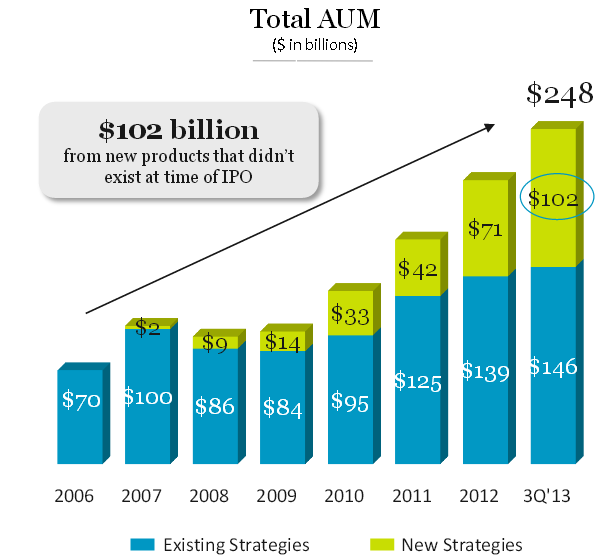 (Graphs Taken from Blackstone's Citi Global 2013 Financial Conference Presentation. Data as of November 19th, 2013)
Fundamental Green Flags
- Growth: From 2011 to 2012 revenue grew 31.6%, then a staggering 64.5% from 2012 to 2013. Current trailing 12 month sales growth is 59.8%. Net income was reported at $1.17 billion which was a major increase from $.22 billion in 2012. Prior to 2012 BX did not report a positive net income.
Net margin in 2013 was 17.7%, an increase from 5.5% in 2012. Operating margin in 2013 was 43.2%, an increase from 20.1% in 2012.
- BX currently has an Equities Lab buzz score of 10 out of 10. The buzz score was designed to measure the amount of analyst, insider, and institutional attention the stock is getting. A score of 10 may suggest analysts, insiders, and institutions are currently very bullish on the stock. Below is a screenshot of how the score in calculated: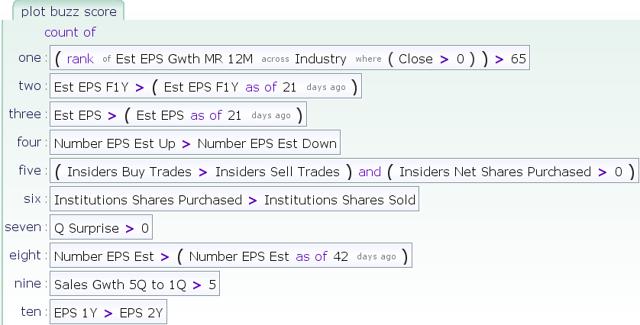 The stock is awarded one point per the 10 conditions listed in the screenshot above. If you have questions on the conditions please mention them In the comments. We found that stocks with high Equities Lab Buzz Scores significantly outperform stocks with low buzz scores via our back test. Below is a backtest graph of stocks with Buzz scores greater than 8 with a weekly rebalance:

The backtest shows that buying stocks with a high buzz score and selling them when they no longer have a high buzz score with a weekly re-balance significantly outperforms the S&P 500.
- Dividend Growth: Blackstone's current dividend is $1.39/year representing a generous yield of 4.7%. The amount they pay per quarter can be a little inconsistent but overall it is trending upwards. In 2013 they paid $1.18 and in 2012 they paid $.52 in dividends. The current dividend of $1.39 represents a 65% payout ratio based on their trailing 12 month earnings of $2.13. Their estimated EPS for 2014 is expected to be $3.15, so a 50% payout ratio would represent a future dividend of $1.58/year which represents a 13% increase from the current dividend. Their estimated 5 year growth rate is 22.4% so look for the dividend to continue an aggressive upwards trend over the next 5 years.
Valuation Analysis
(Data and computations Provided by Equities lab)
| | | | | | | |
| --- | --- | --- | --- | --- | --- | --- |
| | PE | 1 Year Forward PE (2014) | 2 year Forward PE (2015) | Price to Sales (PS < 10) | Price to Book | Est. 5 year Growth Rate |
| Blackstone | 14.7 | 9.9 | 8.9 | 2.65 | 2.85 | 22.4% |
| Industry (Market Cap > $10 Billion) | 22.1 | 15.6 | 13.3 | 5.4 | 2.7 | 15.7% |
| Vs. Average | 33.5% Below Avg. | 26.5% Below Avg. | 33% Below Avg. | 40.6 % Below Avg. | 5.6% Above Avg. | 42.7% Above Avg. |
The table tells me that BX is significantly undervalued. It is currently trading at a PE of 14.7 which is 33.5% below the industry average(only includes stocks with a market cap greater than $10 billion and a PE less than 50 are included in the average) while its estimated 5 year growth rate of 22.4% is 42.7% above the industry average of 15.7%. Its 1 year and 2 year forward PEs tell the same story. Blackstone's price to sales is currently trading at 2.85 which is 40.6% below its industry average.
In conclusion, Blackstone is not only a growth play but is also offers great value especially when you consider that it pays a current yield of around 4.5%. based on its PE, price to sales, and estimated 5 year growth rate, BX easily offers 25% short-term upside.
Real Estate and Equities Market
Much of Blackstone's performance depends on the real estate and equities market. Since 2008 we have seen both of those rebound very strong and they look to be in good shape in the near future. The graph below plots BX in green along with the S&P 500 in orange, the S&P Case-Shiller 20-City Home Price Index in blue, and the Total United States Construction Spending in grey.

The Case-Shiller 20-City Home Price Index has been on a great rebound since January of 2012. The index has increased in each of the past 24 months it has been reported. Total construction spending tells a similar story.
The equities market, highlighted by the S&P 500, looks to be in decent shape although people are warning of a major correction. Below is a graph with the average price to sales of the S&P 500 in blue, the average price to sales of the DOW in brown and the average trailing 12 month sales growth of the S&P 500 in purple. (Stocks with a price to sales greater than 10 and a trailing 12 month sales growth greater than 200% are excluded)

As you can see the average price to sales of stocks have increased a good bit over the past 2 years, but they are right at pre-recession levels, and the DOW average is actually below pre-recession levels. The average trailing 12 month sales growth peaked out at about 12% in April of 2011 then regressed to 5.5% in May of 2013. Since May of 2013 it has been consistently trending upwards and it is currently at 7.1%. The current average of 7.1% is well below pre- recession levels of 15%. The equity market looks like it is due to slow down which is what is has been doing since the start of 2014. If there is a correction, I see no data suggesting it will be no more than 10-15%. I would love to hear your thoughts on this in the comments section below.
Fundamental Yellow Flags
- Dilution: In January of 2009, BX had 268 million shares outstanding. Today they have a little over 600 million shares outstanding.

From early 2009 to early 2013 BX was aggressively issuing new shares, but that has since slowed down.
- High Debt: Blackstone's long-term debt to market cap ranks in the top 23% of its industry, but since early 2013 they have been consistently reducing their long-term debt.
Summary
Investors should be bullish on Blackstone for a number of reasons highlighted in this article. There are some caution signs but overall BX looks to be in great shape. According to our valuation we believe BX offers 25% short-term upside and should continue to outperform like it has over the past 2 years.
Disclosure: I have no positions in any stocks mentioned, and no plans to initiate any positions within the next 72 hours. I wrote this article myself, and it expresses my own opinions. I am not receiving compensation for it (other than from Seeking Alpha). I have no business relationship with any company whose stock is mentioned in this article.