Prescriptions for the Arena Pharmaceuticals (NASDAQ:ARNA) anti-obesity drug, Belviq, were down slightly week over week, according to industry tracker IMS Health, and flat, according to Symphony Health. This week, the scripts saw about a 2% decline from the week prior. The development is interesting in that the data released today will have encompassed a full month of television advertising for the drug. One possible explanation is that advertising seemed to ease off after an initial flurry. Advertising tracker iSpot.tv data shows a decline in advertising from the peak, and what appears to be an uptick in the last couple of days. It is estimated that there has been about $1.25 million spent airing the commercial about 1,300 times. As stated, this week, the frequency of advertising seems to be picking up again. This could mean that there is a pretty direct correlation between advertising frequency and script growth. Further, most week-over-week growth is coming in the form of new prescriptions.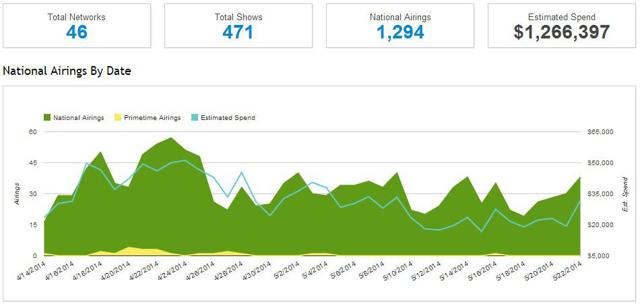 Chart Source - iSpot.tv
This week, my adjusted sales for IMS Health came in at just below 9,000. Data from Symphony Health came in at just under 10,700, and was flat for the week. Debate about the length of time it takes for television ads to bring an impact is a hot topic. The bottom line is that there was a clear spike in the numbers in the first couple of weeks after the ads aired, and that the current trend has been more modest week-over-week growth. Advertising does take time to show an impact, but this week's numbers have to raise a few eyebrows. Next week's numbers and those of the week after will include the challenges of the Memorial Day holiday weekend. Despite a holiday, the goal is to see growth, especially when awareness has been increased substantially.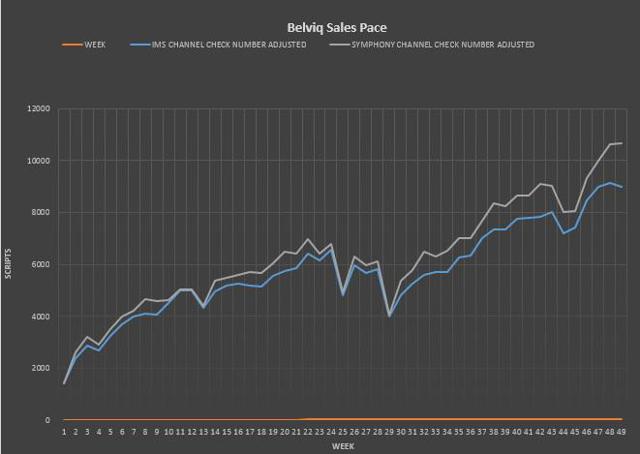 Chart Source - Spencer Osborne
One bright spot this week for Arena investors is that this week, Arena's Belviq passed Qsymia from Vivus (NASDAQ:VVUS) in scripts for the first time. This is a real test area for Belviq, because Qsymia has been stalled in the same weekly range for a few months now. Should Belviq gain traction above that level, it would indicate that the ceiling experienced by Vivus is not a ceiling that will be experienced by Belviq. Eisai (OTCPK:ESALY), the marketing partner for Belviq, has substantially more sales reps dedicated to Belviq than Vivus does to Qsymia. Eisai also has a much bigger direct-to-consumer advertising campaign.
This dip in sales comes as the market is getting ready to further assess the anti-obesity space with the possible entrance of Contrave from Orexigen (NASDAQ:OREX) in just a couple of weeks. The bottom line is that the numbers this week likely leave more questions than answers. Leading into what is traditionally a weaker sales time of the year for weight-loss products, there is a lot to consider.
Looking at sales from a 2014 perspective, adjusted IMS Health numbers show that sales are pacing ever so slightly below the $100 million gross sales pace that is essentially the baseline "guidance" offered up by Arena. Symphony Health numbers, while higher, do not really correlate to the actual sales numbers and reasonable inventory levels that can be assumed. My revenue projections are based on IMS data. Investors should note that last quarter, my revenue projections on sales were within 1% of actual utilizing IMS Health Data.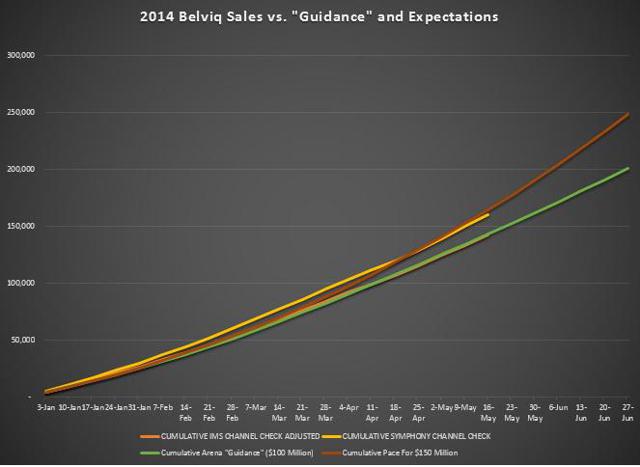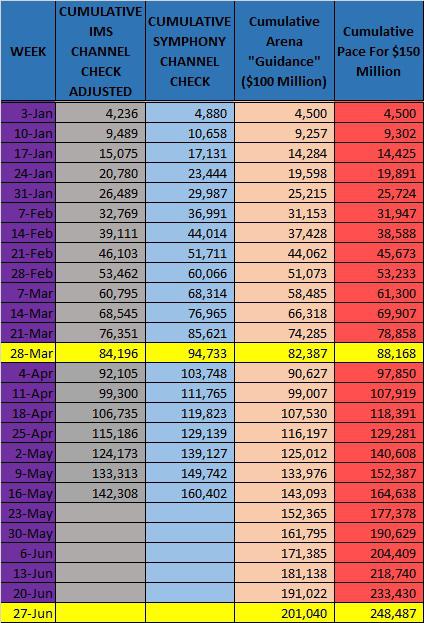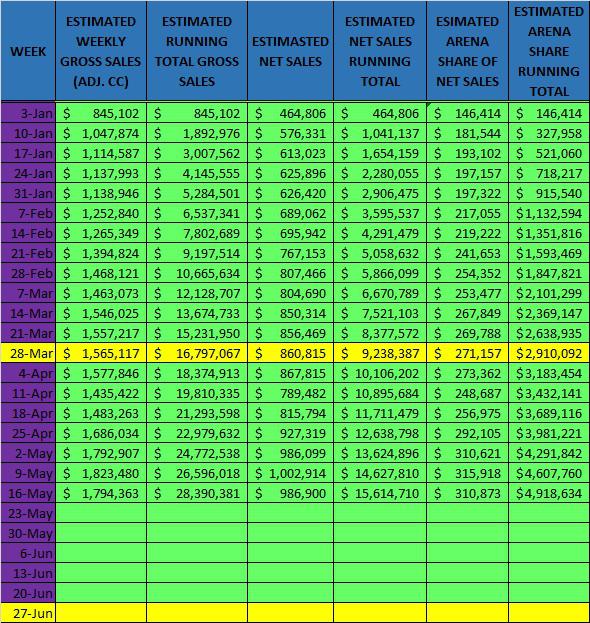 Charts Source - Spencer Osborne
On a quarter-over-quarter basis, we saw the week-for-week comparison drop below 50% for the first time in 3 weeks. That being said, the pace for Belviq script sales in this quarter is 51% higher than that in the last quarter. That is a very positive sign, but we need to consider a few items before converting that to revenue. Eisai has stated that since the television ads launched on April 14th, consumers filling free scripts has increased by over 300%. On one hand, this points to the advertising carrying an impact. On the other, free trials are not revenue-friendly in the near term. Investors should approach revenue estimates with caution. My own adjustments are designed to capture this out over a quarter, and not on a weekly basis.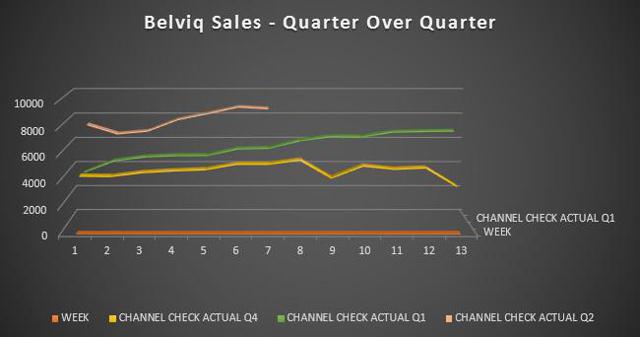 Chart Source - Spencer Osborne
In summary, there is something to be positive about, but some headwinds as well. The next two weeks will have the "holiday" impact, and there is the perceived "ceiling" that competitor Vivus has experienced with Qsymia. Surpassing that ceiling will be a positive for Belviq. We also have news regarding Contrave from Orexigen to consider. Remember, the market assesses the anti-obesity story differently than doctors or patients. The sales this week did not really carry a negative impact to Arena stock, which could mean that the street is now better aligned with expectation levels. That is good news for this equity that has suffered from high expectations in the past. Stay Tuned.
Disclosure: I am long ARNA. I wrote this article myself, and it expresses my own opinions. I am not receiving compensation for it (other than from Seeking Alpha). I have no business relationship with any company whose stock is mentioned in this article.
Additional disclosure: I have no position in Vivus, Orexigen, or Eisai
Editor's Note: This article discusses one or more securities that do not trade on a major U.S. exchange. Please be aware of the risks associated with these stocks.