Toll Brothers (NYSE:TOL), the premier high-end homebuilder with arguably the best balance sheet in the sector, reports its fiscal 2nd quarter 2014 financial results before the opening bell on Wednesday, May 28th, 2014.
Analyst consensus is looking for $0.34 in earnings per share (EPS) on $874 million in revenue, for expected year-over-year (y/y) growth of 189% and 61%, respectively.
Both the EPS and revenue consensus estimates have declined since the fiscal Q1 '14 financial results were reported in February '14.
For full fiscal year 2014, current analyst consensus is expecting $1.69 on $3.67 bl in revenues, for expected full-year 2014 growth of 73% and 145%.
Looking at our spreadsheets on TOL and Lennar (NYSE:LEN), the only two homebuilders we've ever owned outside of owning the XHB (the homebuilder ETF), I'm amazed at the growth expectations, and yet the stocks have been trading flat or range-bound for over a year now.
To deal with TOL specifically, TOL has traded between $30 and $40 since early, a lot of that is likely due to the Fed taper announcement and the roughly 150 basis point (BP) rise in the 10-year Treasury yield since May 2013, from 1.60% to 3.03% as of late December 2013.
The three-year "average" revenue and EPS consensus growth expectation for TOL for fiscal 2014, 2015 and 2016, is 64% and 46%, respectively (yes, that is the 3-year average) and yet the stock is trading at 24x expected 2014 EPS consensus, so it looks screamingly cheap on PEG or P.E. to growth basis.
It looks like - from analyzing our tracking of consensus EPS estimates each quarter - that TOL is trading or being valued off of the fiscal 2015 and 2016 consensus EPS estimates, which represent more "normalized earnings" for the homebuilder.
We couldn't attach the earnings data, but current fiscal 2015 and 2016 consensus estimates for TOL are roughly between $2.30 and $2.50 for 2015 and $3.00 per share for 2016, and these estimates have been stable to slightly negative for the last few quarters.
The point being that looking at these forward estimates, TOL is trading at 17x and 13x these forward estimates, which would be more in line with a normalized valuation for TOL.
Traditionally, homebuilders were thought to be fairly valued at 1.5x-2x price to tangible-book value. Today, TOL is trading at roughly 2x price-to-book value with no goodwill specifically disclosed on the balance sheet.
That would indicate that the stock - at least under the 1990's and 2000's valuation methodology - is fairly valued.
However, we had a once-in-a-generation housing depression from 2007 through 2010, and now we are seeing a substantial recovery in housing, which is driving the current strong earnings and revenue growth, so some premium could be given to that bounce in earnings.
The question remains though, what are "normalized earnings" for the home building sector in general and TOL specifically ?
For TOL specifically, if we use between $3-$4 per share, and split the difference at $3.50, then $45-$50 would likely be a peak valuation for the high-end homebuilder, which would mean a 10x-15x normal P.E. ratio, and normal earnings growth rates year-in and year-out.
For 2015's and 2016's consensus, and splitting the difference, the stock is probably fairly valued currently.
We sold most of our homebuilder exposure last May '13 (here and here) which was a well-timed sale, and we've been looking for a sharper sell-off to get back into the names. However, truth be told, we thought that interest rates and mortgage rates would be sharply higher in 2014 too.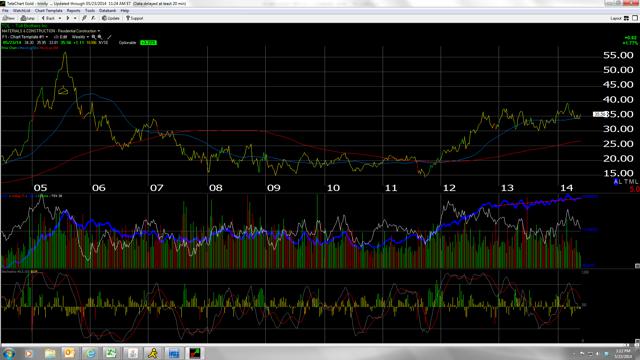 We still have a small position in TOL with a cost basis of $18 from October 2011. We sold most of our exposure with last May 2013.
The dilution issue continues to worry me, at least in terms of valuation. TOL has added or issued 16 million shares of stock since January 2011. That is quite a bit of "EPS growth" when you look at it over time.
We would look at TOL if it ever traded under $30 again for a broader trade.
Given the cash-flow statement, the complexity of valuing a homebuilder (the market value of inventory versus the balance sheet value, etc.) and the dilution, I'd rather buy a housing-related retailer than a homebuilder at today's stock prices, but that is just me.
Disclosure: I am long TOL, LEN.B. I wrote this article myself, and it expresses my own opinions. I am not receiving compensation for it (other than from Seeking Alpha). I have no business relationship with any company whose stock is mentioned in this article.