The Census Bureau released its new home sales report for April. While it showed a seasonally expected gain from March, year over year sales for April dropped 4.2%. As I will detail below, today's report suggests structural weakness in the market for new home sales and the three-day bounce we've had in the homebuilder stocks should be sold or shorted.
From the context of seasonality, it should be expected that April shows an increase over March. After all, April is historically the third or fourth best month for home sales. As this chart below shows, not only were April's sales down from April 2013, but three of the four regions were negative year over year, with the Northeast region down over 31%: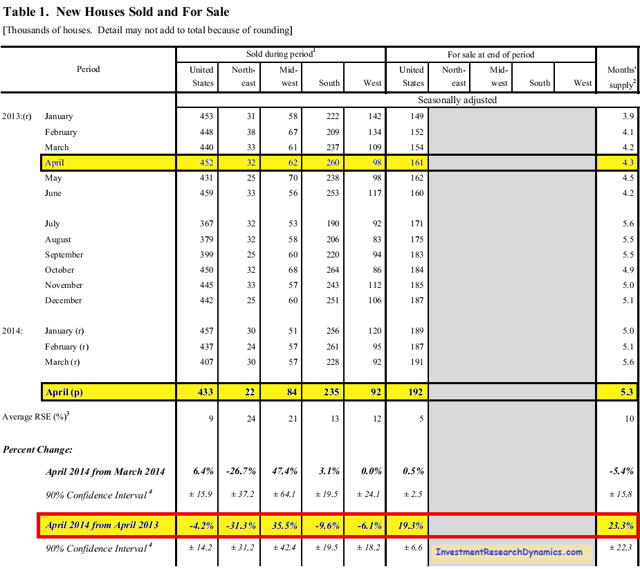 In addition to the fact that year over year sales volume declined for April, the average home price also dropped 5%, from $337k to $320k. It's also down 5% from the average price observed in January this year. Again, from a seasonal demand perspective, we would expect that prices would increase or at least remain flat from January to April. For instance, in 2013, the average price increased from $306k in January to $337k in April. This is, in my view, a definitive indication of underlying structural weakness in the market for new homes.
One of the reasons being given for recent weakness in home sales has been "low inventory." However, referring to the chart above, you can see that the "month's supply" metric actually spiked up 23.3% from April 2013 to April 2014. In addition, the number of homes "For sale at the end of period" jumped up from 161k last April to 192k this April. Again, despite higher levels of inventory in April year over year, sales dropped over 4%. This factor invalidates the "low inventory" narrative and it reinforces my view that there's inherent weakness embedded in the new home sales data.
With this in mind, I am strongly recommending that anyone who has been thinking about selling their homebuilder positions or establishing short positions should use the 3-day bounce in the homebuilders to unload longs and set up shorts before the market closes today. Below is a graph of the Dow Jones Home Construction Index, which illustrates my view: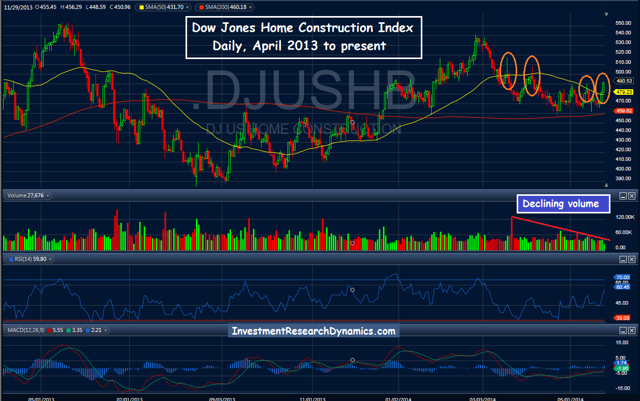 Over the past three trading days including today, the DJUSHB moved sharply higher and has spiked over its 50 dma. The orange circles in the graph illustrate that every time this has happened since early March, the index sold off. In other words, every sharp bounce over the 50 dma has been a great set-up to sell longs and add-to or establish short positions. The homebuilders typically rally sharply during the time period every month when existing and new home sales reports are released. Since last year's peak in the index in mid-May, every sharp rally has been a selling opportunity.
I continue to recommend selling and/or short-selling homebuilder stocks. I am short KB Home (NYSE:KBH), DR Horton (NYSE:DHI) and Ryland (NYSE:RYL). Shortly after the new home sales report was released, I shorted DHI 22.5 calls, which expire next Friday. While I expect them to expire worthless, allowing me to keep the premium, I will be happy to get exercised on the calls if DHI closes above $22.50 next Friday, as I will have added to my core short position slightly above the current market price after including the premium I got paid for the calls. I also like shorts in Pulte (NYSE:PHM), Beazer (NYSE:BZH), Lennar (NYSE:LEN) and Toll Brothers (NYSE:TOL).
Disclosure: I am short DHI, KBH, RYL. I wrote this article myself, and it expresses my own opinions. I am not receiving compensation for it (other than from Seeking Alpha). I have no business relationship with any company whose stock is mentioned in this article.