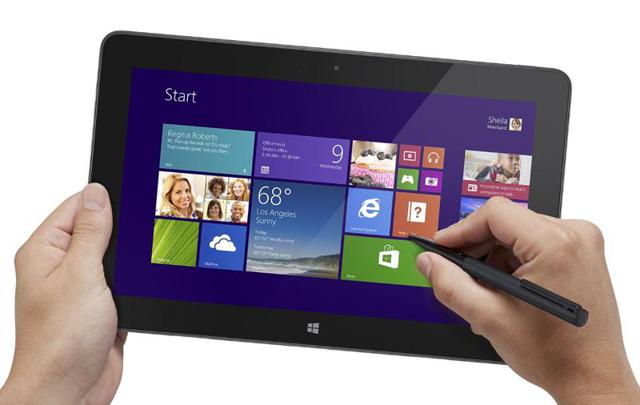 Click to enlargeToday, Microsoft (NASDAQ:MSFT) confirmed that it would be giving a new version of its OS, "Windows 8.1 with Bing," to tablet makers free of charge.
This as it continues to try and boost the market and sales of its flagship Operating System. This new edition of Windows will default to Microsoft's own Bing search service.
Today, Microsoft clarified its positioning of this product.
Windows 8.1 with Bing will be free to OEMs. The company has said that it would waive the licensing fee for Windows Phone and Windows to smartphone makers and OEMs crafting tablets with screens 9 inches or smaller.
From its blog:
As we move forward, many of these lower cost devices will come with a new edition of Windows called Windows 8.1 with Bing.

Windows 8.1 with Bing provides all the same great experiences that Windows 8.1 offers with the Windows 8.1 Update, and comes with Bing as the default search engine within Internet Explorer.

And of course customers will be able to change that setting through the Internet Explorer menu, providing them with control over search engine settings.

This new edition will be only be available preloaded on devices from our hardware partners. Some of these devices, in particular tablets, will also come with Office or a one-year subscription to Office 365.
It's interesting to me that the company is still letting customers change the search engine settings. I have to assume it is preemptively warding off any anti-competitive legal challenges.
So what does this all mean?
I believe Microsoft is seeing the writing on the wall re: consumers paying large amounts of money to buy Windows.
The software company has realized that it will have to gradually move to a world where Windows is an (almost) free vehicle that will set the consumer up to receive paid services like Office 365.
Pressure from Apple (NASDAQ:AAPL) and Google (NASDAQ:GOOG) have made paying $120 for Windows seem almost comical in 2014.
I believe that this is the beginning of Microsoft adapting to the new realities of being a software and services company and it is actually a very good thing.
Investors should pay close attention to the next version of Windows (rumored name - Windows 9) that will allegedly be released sometime next year.
I believe the SKUs and pricing of that Operating System will also reflect the harsh market realities of a world that will only accept Windows if it's not only affordable but if it's cheap or free.
Once again, I think this is a great thing for Microsoft because the company is being proactive.
Disclosure: I have no positions in any stocks mentioned, and no plans to initiate any positions within the next 72 hours. I wrote this article myself, and it expresses my own opinions. I am not receiving compensation for it (other than from Seeking Alpha). I have no business relationship with any company whose stock is mentioned in this article.
Additional disclosure: I am the CEO of Learn About The Web Inc. (learnabouttheweb.com). Learn About The Web™ is an online business education platform dedicated to providing universities and businesses with the tools required to credibly teach online business. I teach and discuss online business companies (including Microsoft) frequently. I also own and monetize several Microsoft-related online properties like Eye On Windows (eyeonwindows.com) and Windows 9 Update (windows9update.com). I also own a PeopleSoft-related web property (peoplesoft-planet.com).