JA Solar (NASDAQ:JASO) was one of the worst performing companies during the solar downturn due to its narrow focus on solar cell production and sales. The company was hit badly due to overcapacity, as most of its European and Asian customers went bankrupt. Most of its competitors in China had higher margins as they were more vertically integrated than JA Solar. Trina Solar (NYSE:TSL), Yingli Green Energy (NYSE:YGE) and Jinko Solar (NYSE:JKS) used to manufacture wafers, cells and modules, while JASO used to make cells only. These companies had higher gross margins and much lower costs due to their integrated nature. JASO now has diversified into solar modules and has slowly shifted its focus more on the module part. The company has also increased its distribution in the Asia Pacific region mainly in China and Japan. JA Solar is also making an effort to increase its brand awareness, which was lacking when compared to its counterparts like Renesola (NYSE:SOL) and Trina Solar. It has started spending more on its marketing activities. The efforts of the past couple of years has paid off as it reported strong quarterly results and shipments. The stock still has low valuation despite the improvement. The recent stock pullback makes it a good buy in my view.
What I like about this company
1) Forward and Backward Integration - JA Solar was a pure play crystalline silicon solar cell manufacturer but has gradually diversified into module and wafer manufacturing as well. The company shipped 638 MW in the current quarter, out of which 61% comprised of module shipments and remaining 39% were solar cell shipments. This shows that the company has adapted well to changing industry conditions. JA Solar entered into a multi-year supply agreement with SunEdison (SUNE) in 2010 for supplying solar modules from H2 2010 to 2012. Since SunEdison is one of the largest solar developers with operations spread geographically, this deal further strengthened JA Solar's position in the solar supply chain.
2) Geographically well diversified - The table below shows the shipment details of JA Solar to various countries. The company is very well diversified in Asia, Europe and Americas. Approximately 79% of its shipments are in the Asia Pacific region, which is booming currently. The company's activities have greatly increased in the Asia Pacific region, especially in Japan. JA Solar is also trying to increase penetration in the Middle East and Latin American regions. The CEO of the company indicated that the Chinese shipments were hit due to seasonality, but will be back with a bang in the next quarter.
Shipment breakdown by region (%)

2013Q1

2013Q4

2014Q1

China

39.0

53.2

26.0

APAC ex-China

29.3

31.7

52.8

Europe

26.8

8.5

14.8

Americas

0.6

5.9

4.1

Others

4.3

0.7

2.3
"We remain optimistic for the balance of 2014, both for the sustainability of the industry recovery, and for our ability to solidify a leadership position within the industry. We see opportunities to grow in emerging markets such as Latin America and the Middle East, in expanding our downstream project pipelines, and in taking market share in our home market here in China. Therefore, we are confident that we can achieve our previously announced 2014 shipment objective of 2.7 to 2.9 GW."

Source: JA Solar
3) Good Q1 2014 Results - JA Solar performed well on all fronts in Q1 2014. The company posted revenues of $366 million, up by 5.2% from the last quarter and 35.7% on a YoY basis. The gross margin of the company also increased to 24.9% in Q1 2014 from 15.5% in Q4 2013. The shipments increased by 44% on a YoY basis.
Source: JA Solar
4) Low Debt - Some very large Chinese companies have gone bankrupt owing to their large debt burdens. Big companies like Suntech (NYSE:STP) and LDK Solar (NYSE:LDK) have defaulted on their bond payments and have been sold piecemeal to other Chinese companies. JA Solar on the other hand maintains a low debt level compared to the other big Chinese companies. The company's debt level stands at $ 549.1 million, of which $366.7 million is long term. A low debt equity ratio has become important not only to investors but also to customers as they feel confident that the company can survive to serve their 20-25 year module warranties.
5) Low Stock Valuation - JASO stock is currently trading at $ 9.36, with a P/B and P/S of 0.5x and 0.3x, respectively, which is one of the lowest in the solar industry. The company has a market capitalization of $457.7 million and its stock price has been consolidating in the $10-12 range in the current quarter. The cheap valuation provides an attractive opportunity for investors to invest in this stock.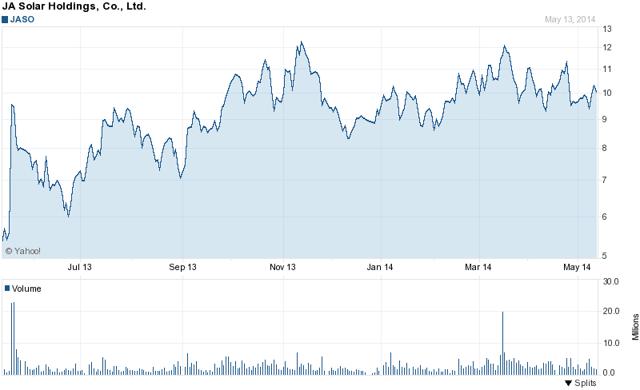 Click to enlarge
Risks
a) Solar Trade Wars - The global solar trade wars are truly on between the major solar blocs around the globe. The US initiated the anti-dumping duties against the Chinese on solar cell and module imports. Talks of the same are being heard about India imposing duties on Chinese solar imports. The adverse effects of the solar trade wars will be greatly felt by the Chinese companies, which will eventually raise prices.
b) Solar Cell Business - JA Solar still has a large low margin solar cell business. According to the annual reports of the company for the year ending 2013, module revenues amounted to ~ $ 703 million and cell revenues were around ~ $ 382.2 million. Many of the solar companies have left the cell manufacturing business totally and are resorting to outsourcing it. JA Solar is still holding on to the solar cell business which gives low returns to the company.
Conclusion
The company performed well on all fronts and also gave a strong outlook for Q2 2014 shipment at 670 - 700 MW and 2.7 - 2.9 GW for the full year. JA Solar will benefit from strong demand in China, given the fact that the Chinese Government favors Chinese companies more than the foreign one. The company gave decent returns in the last year and should continue to do so in the future. The solar industry is growing strongly and is becoming less fragmented as the weaker hands have been driven out the business. The survivors of the solar downturn are all seeing an upward trend of increasing revenues and margins. JA Solar has been able to successfully transform into a major solar panel player from a pure play B2B cell supplier. Most of the Taiwanese cell companies have not been able to do so and remain dependent on larger Japanese and Chinese companies. The strong pullback in solar stocks provides a good opportunity to enter the stock.
Disclosure: I have no positions in any stocks mentioned, and no plans to initiate any positions within the next 72 hours. I wrote this article myself, and it expresses my own opinions. I am not receiving compensation for it (other than from Seeking Alpha). I have no business relationship with any company whose stock is mentioned in this article.