Earlier this month, Car Charging Group (OTCPK:CCGI) held an investor conference call to review the results of the company's aggressive acquisition strategy in 2013, and to discuss the company's plans for achieving profitability in the next 18 months.
Car Charging gobbled up four competitors in 2013, culminating in the audacious acquisition of bankrupt ECOtality's Blink Network assets. Regarded by CEO Michael Farkas as "the jewel" of that acquisition, the Blink Network assets catapulted the modest start-up to a dominant position in the emerging EV charging infrastructure industry. With Blink, Car Charging became the largest owner and operator of charging stations in the U.S., and the second largest charging network operator behind ChargePoint.
Farkas provided some year-over-year statistics that underscore the exponential growth that has resulted from his buying spree, including 8,800% growth in charging points, 1,800% growth in net EV charging revenue, and over 14,000% growth in monthly kilowatt-hour charging output.

Given the company's pre-profitable position as an OTC-traded company, the Blink acquisition required a commensurate fundraising effort. Encouragingly, Car Charging seemed to have little trouble raising more than it needed, adding three new institutional investors to its roster, including the multibillion dollar Wolverine Flagship Fund and the socially-responsible Eventide Gilead Fund. All told, Farkas was able to raise $5 million to fund the Blink acquisition, plus another $10 million to fund ongoing operations.
The Path to Profitability
Investors on the call were looking for assurances that Car Charging has sufficient access to capital to survive until demand reaches critical mass. The first question Farkas took was on this very subject. Sharing a brief analysis of Car Charging's financials, the caller concluded that the company would run out of cash in July without an additional infusion of capital.
Farkas was quite candid in his answer, calling it "pretty much the most important question." He began by correcting the perception that the company's historical $1.5 million per month burn rate would remain the same, explaining that there were certain expenses related to the four acquisitions the company made in 2013 that would be non-recurring. Referencing the latest 10-K filing, Farkas added that the company has also secured $6 million in additional capital commitments from three existing shareholders.
He also pointed out that the company inherited some government grants from ECOtality that do not show up on the current financials because they had not yet been novated (transferred).
Farkas concluded the company has enough cash on hand and follow-on commitments to fund operations through at least the end of the year and expressed confidence that the company would attain profitability by 2016. He said that it could be sooner if his goal wasn't to build and maintain a dominant position in the industry, and he made it very clear that investors should expect additional rounds of financing. "We are an infrastructure business… we are going to need money to expand our company, period," he explained.
Monetizing Assets
Farkas also made it clear that a major theme for Car Charging in 2014 is the monetization of its existing public charging assets, both installed and in inventory.
Though the majority of EV charging is done at home, U.S. homeownership has been declining since 2004 and is now 64.8%, its lowest point since 1995. Accordingly, Car Charging has focused its installations in urban areas where there are plenty of potential customers living in various types of multi-family housing who do have access to their own private garage.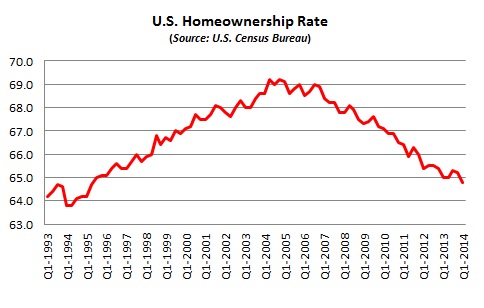 In contrast, Farkas said some of the companies Car Charging has acquired were "putting charging stations in the ground because they got paid by the government to do so." While there isn't much Car Charging can do right now about poor location selection on the part of companies it has acquired, Farkas outlined some steps it is taking to better monetize all of its assets in order to increase revenue and profitability.
For example, he said that often when Car Charging acquires public chargers, it is providing services for free or at prices well below what the market will bear. When this happens, Car Charging changes the pricing structure. Though Farkas conceded that it loses some customers, he said overall revenue per charging station increases and the company has gotten good results doing this. He added that Car Charging is about to start bringing the pricing at the newly acquired Blink stations up to the average rate across its existing network, which he expects to increase revenues significantly.
There is also the issue of Blink chargers that fell into disrepair during the ECOtality bankruptcy, leaving several communities with multiple chargers that weren't working. Since the acquisition, Car Charging has been hard at work bringing these units back online and upgrading the network behind them.
The biggest opportunity Farkas says the company has to monetize its assets is in inventory. After the ECOtality acquisition, inventory increased from 63 to 2,400 chargers. Farkas pointed out that these units are completely paid for and debt-free. In 2014, Car Charging is focused on deploying those assets smartly in densely populated urban areas with healthy demand.
Finally, Car Charging is not without means of earning revenue from charging in private garages. Farkas said the company has also recently released its Blink HQ single family home/dedicated parking space equipment. It's the first generation of hardware the company inherited through the Blink transaction and in short order he plans to expand the product line. It's all part of the company's commitment to provide "EV fueling wherever you live, work, and play."
The Free Ride Myth
Of course, whenever the subject of free charging comes up, Tesla's (TSLA) Supercharger network is cited as the "elephant in the room." Farkas brought this up during the call himself, saying "bottom line, Supercharging is not free, it is included in the price," adding "those are not charging stations in the middle of urban areas… they are not at the parking garages in major downtown areas. They are along highway routes, and it's a way for people to travel far and long distances." For Tesla owners in urban areas, Farkas contends that they are often in the same situation as any other EV owner: "ultimately the only place where they can charge in major urban areas is through locations we have through our partners like Central Parking and Icon Parking, the Related Group and others. We are their 'go-to guys.' We have many Teslas in major cities that are charging on our charging stations."
Another misconception Farkas seemed eager to dispel was that Car Charging would earn no revenue for being the EV charging provider behind auto manufacturer initiatives like Nissan's (NSANY) "No Charge to Charge" program. In actuality, these types of programs are a major part of Car Charging's monetization strategy, with a lot of its charger inventory finding its way into those programs. Even though charging will be free to the EV owner through these programs, Car Charging will still get paid for each charging event by the manufacturer.
The Risk-Reward Trade-off
Clearly, CEO Michael Farkas is positioning Car Charging Group to be the dominant player in the emerging EV charging industry. He's making the conscious decision to delay profitability in order to put the company on a more competitive footing long term. This necessarily exposes investors to more risk but could very well result in greater reward. In the meantime, the company's ability to secure additional funding commitments and add more institutional investors to its roster is encouraging.
Disclosure: I have no positions in any stocks mentioned, and no plans to initiate any positions within the next 72 hours.
Business relationship disclosure: Market Exclusive is a team of analysts and writers. This article was written by Carlos Uribe, one of our Group contributors. We did not receive compensation for this article (other than from Seeking Alpha), and we have no business relationship with any company whose stock is mentioned in this article.
Editor's Note: This article covers one or more stocks trading at less than $1 per share and/or with less than a $100 million market cap. Please be aware of the risks associated with these stocks.