Maybe you want to buy blue chip Dow dividend stocks, but you don't have much faith in price appreciation, given the market's performance in 2010 thus far. Selling covered calls often allows you to lock in a much higher yield than the current dividend yield of most dividend paying stocks.
We screened for the highest at the money covered call trades for the Dow 30, and came up with yields ranging from 8.54% to 10.17%. Pretty nice yields, especially when you consider that the annual dividend yields for these 5 dividend stocks range from just 2.18% to 3.20%. Given that these option trades are all 6 to 8 month trades, their annualized yields are even higher, as you can see below:

Click to enlarge
(We've listed these trades this week in our Covered Calls Table, which gives you more specifics.)
Here's a Performance table which lists each stock's Year-to-Date, 2nd Quarter, and 1-Year price performance: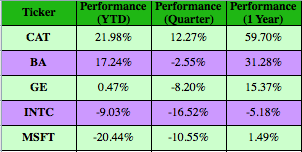 This group's Industrials far outperformed the Techs in a declining market YTD. The overall Tech sector also lagged Industrials over the past year, with Industrials up 18.3% and Tech up only 9.8%.
Year-to-date, Tech is down -2.9%, and Industrials are up 3.1%.
As most value investors will tell you, lagging sectors can often be a good place to look for bargains. The 2 Tech firms in this group, Intel (NASDAQ:INTC) and Microsoft (NASDAQ:MSFT), both have PEG ratios below 1, a statistic which is generally recognized as indicating that a stock may be undervalued.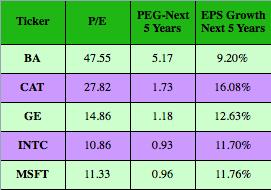 As with any strategy, there are pros and cons you should consider when selling covered calls.
Pros:
1. Immediate Cash Inflow – Instead of waiting each quarter to collect dividends, when you sell a covered call, you'll receive the call bid premium money into your account within 3 days from making the sale, often even the same day, depending upon your broker. Of course, you'll also keep collecting the dividends on the underlying shares.

2. Superior Yield – As you can see from the table, these particular call yields are 3 to 4+ times the dividend yields. This strategy allows you to transform a modest yield into a superior one.

3. Downside Protection – The call premium $ you receive lowers your break-even cost, giving you more downside protection.

4. You Know The Trading Range Before Making The Trade – This strategy tells you your exact upside profit potential, and your downside break-even, before you trade, as opposed to buying a stock and trying to determine what your upside potential will be.

5. The Odds Are With You – It's been proven that 3 out of 4 options expire worthless. When you're an option seller, time is on your side, as opposed to the options buyer, who must not only guess the stock's ultimate direction and approximate price, but must do it before expiration.
Cons:
1. Limited Rally Participation – Once you sell a covered call, you're obligated to deliver the underlying shares at your sold call's strike price if they get assigned, (sold) away from you, no matter how high the stock goes. So, if you think there's going to be a big rally, then you may not want to sell covered calls.

2. Higher Entry Costs – You must own 100 shares of the underlying stock for every covered call that you sell. Therefore, covered call sellers have a greater initial outlay than call options buyers.

3. Assignment Risk – Selling covered calls against a stock puts you in jeopardy of having your shares sold away from you. You have to weigh many factors, such as the dividend yield today, and potential dividend growth, and possible price appreciation. However, if you think that the market is going to be range-bound, or bearish, then the covered call strategy will give you some added downside protection on stocks that you own.
Deciding whether or not to sell covered call options comes down to many issues, such as your risk profile and your market outlook. If you want to capture some cash yields immediately, and not wait for the market to decide its direction, then this strategy may be right for you.
Disclosure: Author is long shares of INTC, and short INTC calls.