Under the belief that the only people with complete information about AT&T's (NYSE:T) agreed-upon purchase of Direct TV (DTV) are its management, it could make sense to review statements that have been made in the press as well as methodology that can be supportive of buyouts. And while there is little doubt that the purchaser is simultaneously facing competitive pressure from all sides, the company's ability to successfully pursue new products and revenue streams cannot be ruled out. In fact, automotive connectivity could be its next frontier.
AT&T has agreements in place with Audi and Chevrolet (NYSE:GM) to implement 4G LTE capabilities. Only one 2015 Audi model is known to be utilizing it, while it should be offered in the 2015 Chevrolet Corvette, Impala, Malibu, Volt, Equinox, Silverado, Silverado HD, Spark, and Spark HV. Additionally, it is planned for the Chevrolet Trax in the Canada. Chevrolet will usher in its new generation of connected vehicles next month!
There is also a component of AT&T's Value Share Plan allowing GM customers to subscribe. It sounds like there could be some parallels to a prepaid, as opposed to postpaid, model. There is a bundling component of the Plan, which is probably favorable to investors, as subscribers can add a vehicle for $10 monthly.
AT&T's 4G LTE Network already covers over 270 million Americans, about 90% of the entire country. According to this video, over the next three to five years, "You will not be able to buy a new car without having it be connected…" So the opportunity is considerable.
Also, AT&T has a deal with Tesla (NASDAQ:TSLA), probably the most innovative and exciting automaker in the world. According to a January news release:
AT&T connectivity will power Tesla's remote engine diagnostics, telematics, and industry-leading infotainment features such as Internet radio, Web browsing, live traffic, weather and navigation, all accessed through the 17-inch touchscreen.
AT&T's proprietary Subscriber Identity Module ("SIM") underpins the technology:
AT&T was the first to enter the market with a proprietary, global SIM platform which made it possible for automotive, consumer and M2M equipment makers to work through a single carrier to wirelessly enable and connect products across the globe, and cars are being sold throughout world today with this SIM (Source: Tesla deal link).
Returning to the pending ~$50 billion DTV acquisition, there has been some press specifying that cash flows should facilitate AT&T's ability to pay dividends. Analysts have agreed that dividend payments as a percentage of Free Cash Flow ("FCF") are likely to fall, while offering different figures on any flexibility obtained. There is little indication that some DTV assets could be sold to help fund the purchase; but it would be another consideration. The story linked above implies a possibility:
AT&T has insisted the dividend is sacred and that it would shed assets to fund it if necessary. But its cash flow doesn't give the company much headroom.
AT&T plans to sell its own $6 billion stake in American Movil (NYSE:AMX) as part of the deal.
If, in fact, AT&T management has not been getting credit where it is due, a Dividend Discount Model indicates that shares are substantially undervalued - provided the company can increase its dividend even modestly. It is based on a Capital Asset Pricing Model: inputs are a risk free rate of 2.54%, a market risk premium of 3.47%; and a Beta of only 0.47 as shown below: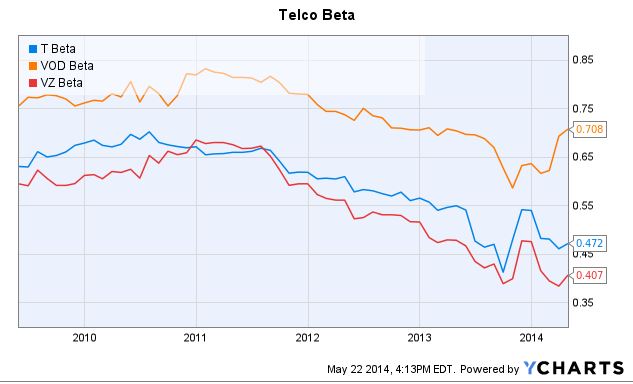 The result is a 4.17% cost of equity. Using the model, the implied share price if the corporation can increase its dividend by 0.5%, from $1.84 to $1.85, is $50.14. As the stock has currently closed at $35.38 it could be undervalued by over 41%!

Though AT&T's dividend growth has unmistakably declined, anything below 2% would be beneath the following chart: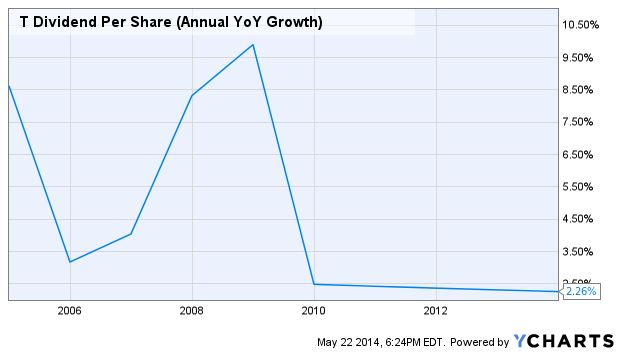 It is sensible to entertain the possibility of a lower, 2% increase, to $1.88. Then shares could be worth as much as $84.80, and have a yield on cost of 5.3%.
Let me emphasize that only a handful of metrics have been considered here. No corporate equity is for everyone. I am not saying the stock is a Buy, just offering supportive reasoning.
Fundamentally, AT&T is making inroads into future automotive products with the help of notable partners. It has income-oriented equity and a history of increasing its payments to investors. The company is currently attempting to make a sizeable acquisition, and there are many uncertainties surrounding it. However, it is feasible that its shares are substantially undervalued on the basis of the company's future ability to increase its dividends. After all, the FCF situation is projected to improve.
Disclosure: I am long GM. I wrote this article myself, and it expresses my own opinions. I am not receiving compensation for it (other than from Seeking Alpha). I have no business relationship with any company whose stock is mentioned in this article.