Retailers are not necessarily investors' favorite investments unless they present good results and beat analyst estimates. As we all learned from J.C. Penney (NYSE:JCP), struggling retailers should not be written off prematurely. J.C. Penney's first quarter results stunned investors with solid comparable store sales growth data and an optimistic guidance. The next embattled retailer, this time in the business of electronics products, reported first quarter results yesterday on May 22, 2014. I am talking, of course, about Best Buy (NYSE:BBY).
Background
Best Buy rocketed to the center of attention in January when it reported weaker-than-expected results for the last holiday period, while giving a disappointing margin guidance and managing investor expectations with regard to ongoing restructuring expenses. As a result, shares fell off a cliff. Since shares have moved little since January and continue to trade in a narrow trading range, are shares of Best Buy a Buy or a Sell?
Of course, I think they are a phenomenal Buy. Many readers of my articles know, that I look for any form of 'distress' in my investments. When I want to buy a house as an investment, I don't want to pay an inflated market price. I want to get a serious discount, one, that I am only going to get from motivated or scared sellers. I have previously asserted that I think Best Buy has an intrinsic value of approximately $35 per share and I have little reason to change my fair value estimate in light of Best Buy's first quarter results. Also, Merrill Lynch reiterated its Buy rating on the retailer with a target price of $36. Thank you, Merrill Lynch, for validating my research.
First quarter 2015 results
For the first quarter of fiscal 2015, Best Buy reported revenues of $9,035 million compared to $9,347 million in the year ago quarter (a decline of 3.3%) and lower than the analysts' consensus estimate of $9.2 billion. Best Buy's adjusted EPS actually rose to $0.33 up from $0.32 reported for Q1 2014, much better than the analysts' consensus estimate of $0.20 per share. Asset impairments and restructuring expenses affected first quarter results by $0.03 per share - just like in the year ago quarter.
From a comparable store sales growth perspective, Best Buy continues to feel pressure. Total comparable sales fell 1.9% in the most recent quarter compared against 1.4% in the year ago quarter. With falling sales came a declining gross profit margin which contracted to 22.4% vs. 23.1% in Q1 2014.

(Source: Best Buy Investor Relations Website)
On the positive side, Best Buy's online sales continued to boom with a first quarter increase of 29.2%. Best Buy also pushed down SG&A expenses, a favorite attack point for retailers, by $164 million y-o-y to $1,820 million representing a SG&A ratio of 20.1% compared to last year's 21.2%. Best Buy's operating income, therefore, shot up by more than 17% to $197 million vs. $168 million last year.
Short-term negative outlook
Sharon McCollam, Best Buy's Chief Financial Officer, managed analysts' expectations yesterday and gave a short-term negative outlook with respect to comparable sales:
As we look forward to the second and third quarters, we are expecting to see ongoing industry-wide sales declines in many of the consumer electronics categories in which we compete. We are also expecting ongoing softness in the mobile phone category as consumers eagerly await highly-anticipated new product launches. Consequently, absent any major product launches, we are expecting comparable sales to be negative in the low-single digits in both the second and third quarters. From an operating income rate perspective, as we outlined last quarter, we are expecting the negative P&L impacts that we have been discussing each quarter - including ongoing investments in price competitiveness, our Renew Blue SG&A investments, and the negative impact of our new credit card agreement - to continue, but to be significantly offset by our Renew Blue cost reductions.
Chart situation
The chart below shows how extreme the market reacted to Best Buy's disappointing results in January. In my opinion, this reaction was totally exaggerated. Best Buy lost 35% of its market capitalization in a matter of days (the situation, by the way, has striking similarities to the sell-off of potash stocks in July 2013).
From both a contrarian and technical point of view, I find Best Buy's chart highly appealing. The stock clearly is bottoming and repeatedly tried to break out of its narrow trading range - to the upside. In addition, many speculators have already sold their Best Buy stock in the January meltdown which should make for a more informed and committed shareholder base. In addition, the yawning gap in Best Buy's share chart itself suggests upside until $36.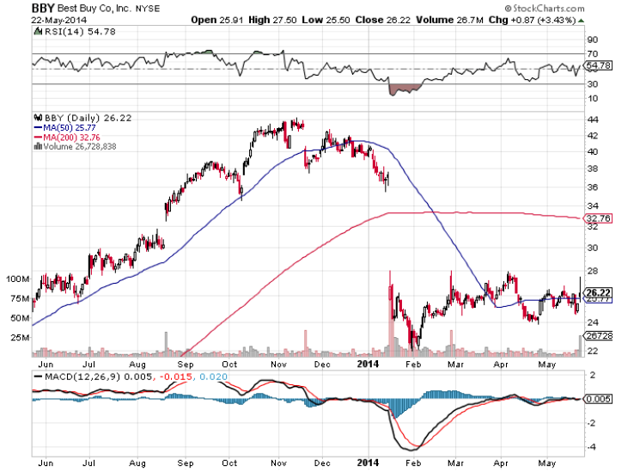 (Source: StockCharts.com)
Conclusion
Best Buy's first quarter results contained both good and negative bits of information. Important to notice, despite the short-term negative outlook in terms of pricing environment and comparable store sales growth, is that the company remains utterly focused on reducing operating expenses under its Renew Blue cost reduction program. In the first quarter of fiscal 2015 Renew Blue achieved an additional $95 million in annualized cost savings.
Any time a company announces that it will experience short-term headwinds and that it will depend on cost structure cuts to deliver value, investors should take a closer look. Many times, investors are impatient and sell their holdings because they don't want to wait for a business to embark on a long, uncertain, restructuring odyssey. This is because investors always believe (and delude themselves) that they can find better investments immediately elsewhere. This is often a very misleading assumption: Nothing empties your pockets faster, and hurts your returns more, than constant trading.
I venture to guess that Best Buy's share price will develop similarly to the stocks of fertilizer/potash companies in 2013/2014. Occasionally, Mr. Market quotes irrational prices for securities - a situation contrarian investors should take ruthless advantage of.
After potash firms plunged into nirvana last year, the market turned negative instantly and pushed sell-side analysts to materially lower their target prices. As is often the case after massive corrections in share prices, investors slowly realize that the market overreacted. Potash firms are slowly but consistently recovering their lost ground and I have no reason to believe why this would be different in the case of Best Buy.
The good thing for investors is, that Best Buy is still, in my opinion, in the bottoming phase while the electronics retailer clearly benefited from investor buying interest after it released first quarter results yesterday. If Best Buy is anything like other classic turnaround investments, I would not be surprised at all if the stock price returns to pre-crisis levels in the $40 region by 2015. Contrarian Buy.
Disclosure: I am long BBY, JCP. I wrote this article myself, and it expresses my own opinions. I am not receiving compensation for it (other than from Seeking Alpha). I have no business relationship with any company whose stock is mentioned in this article.