The old tech bellwethers of the 1990s failed to meet the unrealistic expectations investors had of them. The stocks have fared poorly since the market peaked in 2000, but revenues and earnings have generally grown reasonably well. The result is that these stocks, so overpriced a decade ago, can now be considered value stocks. In addition to having low P/E ratios and decent growth, most of these companies have strong balance sheets with plenty of cash.
There is now a new crop of tech favorites. Many of them are expected to profit from the rise of "cloud" computing, and no doubt some of them will. But the lesson from a decade ago is that the big winners are hard to spot ahead of time and if they are all priced for perfection, the safest bet is probably to stay away from them altogether, or perhaps even take positions against them.
Some tech stocks fall somewhere in between, priced for some growth, but given their track records the valuations can hardly be called excessive. Apple (NASDAQ:AAPL) and Google (NASDAQ:GOOG) are the most notable companies in this category, both of which look reasonably priced considering their rapid growth and pristine balance sheets.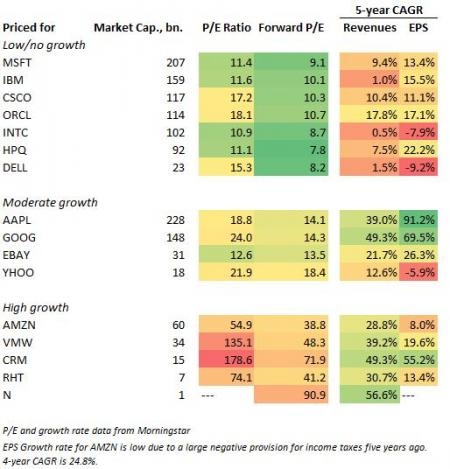 (Click to enlarge)
Disclosure: Author long INTC and AAPL, and short AMZN, VMW, CRM, and RHT.