It has been a great run for the Dividend Aristocrats (NYSEARCA:SDY) in recent years. Since the initial outbreak of the financial crisis in July 2007, this group of high quality companies with at least 25 consecutive years of rising dividends has outperformed the broader market as measured by the S&P 500 Index (NYSEARCA:SPY) by a cumulative +10%. But while many of the individual companies in the group have performed just as well if not better than the broader market over this time period, a select few have trailed behind with the stock market hoi polloi. And it is among these aristocratic laggards where some interesting value and potential return opportunities may reside going forward.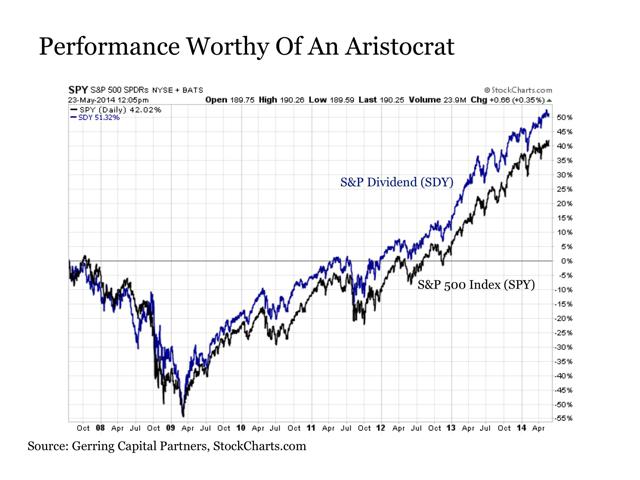 The current list of Dividend Aristocrats from Standard & Poor's contains 54 companies that are also members of the S&P 500 Index. And four companies in particular within this list of 54 stand out as trailing behind its peers since the outbreak of the financial crisis in July 2007 through today. These companies are Exxon Mobil (NYSE:XOM), AT&T (NYSE:T), Target (NYSE:TGT) and Nucor (NYSE:NUE). As a result, each is worth a closer look to see if this underperformance is justified and whether it may provide the potential for superior upside potential going forward.
Exxon Mobil
Exxon Mobil is a market titan for good reason. For one, it is an absolute beast with over $400 billion in annual revenues and over $32 billion in annual earnings. The company's pristine financial quality also cannot be disputed. Not only does Exxon Mobil rank among an elite group of just three U.S. companies boasting an AAA prime rating for credit quality (Johnson & Johnson (NYSE:JNJ) and Microsoft (NASDAQ:MSFT) are the others), it boasts consistently strong operating performance and cash flow generation. And it offers a healthy 2.7% dividend yield supported by a payout that has increased for 32 consecutive years. So while it has to deal with the challenges associated with declining output and geopolitical risk, it is also trading at a discounted valuation to reflect such operating hurdles going forward.
In regards to Exxon Mobil's performance since the outbreak of the financial crisis in July 2007, it was at first impressive relative to the broader market. Exxon Mobil's stock declined by considerably less than the S&P 500 during the worst of the crisis. And once it rejoined the broader market trend in 2010, it went on to trade in lockstep with the S&P 500 Index through July 2013. Since that time, Exxon Mobil shares have trailed off the pace somewhat and are now more than 10% behind the returns of the overall market to date. Given the currently reasonable valuation, high financial quality, relatively low price volatility and attractive dividend income, Exxon Mobil has the ability to either play catch up if the market continues to rise or enjoy a downside buffer if the market enters into correction in the months ahead.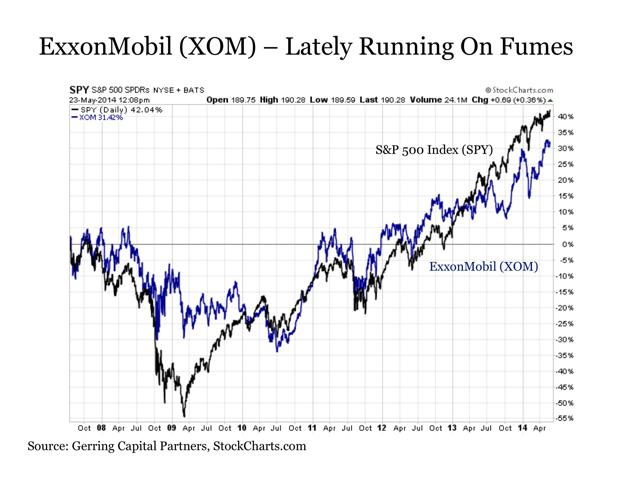 AT&T
The story with AT&T is a bit more complicated. First of all, this is certainly not your grandmother's AT&T that once monopolized the domestic U.S. telecommunications business. For while today's company, which is actually at its core one of the "Baby Bells" in SBC Communications that purchased its former parent back in 2005 and assumed its iconic brand identity, still generates a significant portion of its revenues from traditional fixed line long distance and local phone services, it is also a major player in wireless and recently announced its intent to purchase DirecTV (DTV). The telephone company offers a hearty 5.2% dividend yield, but it also holds a notably large amount of debt totaling over $90 billion.
After tracking the broader market throughout much of the financial crisis period, AT&T broke away to the upside in early 2012 only to stall in the months that followed. Since that time, AT&T stock has been mired in a sideways pattern, although it has shown some renewed life recently and is currently trading at the high end of its two-year trading range. Whether it has the power to break out once again to the upside and catch up with the broader market remains to be seen. How the DirecTV deal plays out will likely go a long way in determining its fate in this regard. But given the predictability of its near-term revenue streams coupled with its sizeable dividend yield, it is at least well positioned to hold up relatively well in the event that stocks begin to shift to the downside.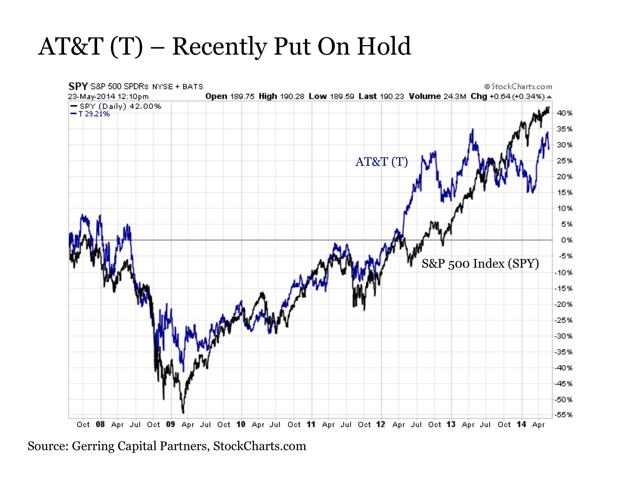 Target
Target has certainly had its share of troubles over the last year. The retailer suffered great reputational damage due to the recent credit card data breach. But while the total costs associated with the episode remain both uncertain and to be determined, the situation does not appear damaging enough at least to this point that it would permanently harm the financial health of the company. Target has also made a hash out of its ambitious entry into the Canadian market, which has also hurt operational results and likely cost the company's CEO his job. But such missteps have taken place before in retail and companies have either learned from it and adjusted or eventually moved on. And despite these recent challenges, Target still remains a high quality retailer that boasts 46 consecutive years of dividend increases and currently offers a healthy 3% yield.
Since the outbreak of the financial crisis, Target essentially moved in lockstep with the S&P 500 Index. That is, of course, until the summer of 2013 when Target shares suddenly and dramatically diverged off the pace of the broader market. And it has been in steady decline ever since. Does this suggest an attractive total returns opportunity as Target regresses back to the broader market mean the same way it did in the second half of 2011? Perhaps, but considerable risks remain. For the performance of not only Target but also many names in the retail space in general has been absolutely dismal since the second half of last year. And while some of this dramatic relative underperformance might be explained away by the shift of consumers from stores to online, Target may also be serving as a canary in the coal mine for what may lie ahead for the broader market. In other words, it could be the broader market catching down to Target at some point and not the other way around. At minimum, investors may benefit from seeing Target more definitively arrest any further moves to the downside and establish a firmer base before jumping on board.
Nucor
Nucor has long been the exception to the norm in the highly cyclical and sometimes unpredictable steel industry. Through its highly efficient operations and strong financial health relative to its industry competitors, Nucor has been able to produce consistently strong profitability and generate meaningful shareholder value over time as a result. This has also enabled the company to put together an impressive string of 41 consecutive years of dividend increases along the way as well excluding special dividends. At present, the company yields a solid 2.9%. But none of this denies the fact that steel is still a highly cyclical industry. And while much of Nucor's operations are focused in the United States, it is influenced by events taking place oversees, most significantly those in China and the overcapacity problems that so many global producers are dealing with today. Moreover, the price for scrap that Nucor relies upon for production remains high, which is also placing pressure on operating performance.
All of these challenges may help to explain why Nucor has consistently been behind the pace of the broader market since the markets since the summer of 2010 not long after the markets bottomed. In fact, Nucor shares appear to be trading more in line with the Chinese stock market (NYSEARCA:FXI) than the U.S. Whether Nucor shares can catch up to the broader market remains to be seen, but much will be dependent on whether the global economy can begin accelerating in a sustained way and Chinese officials can manage to glide their economy steadily into a sustainable lower growth path. These are some fairly tall orders in the days ahead.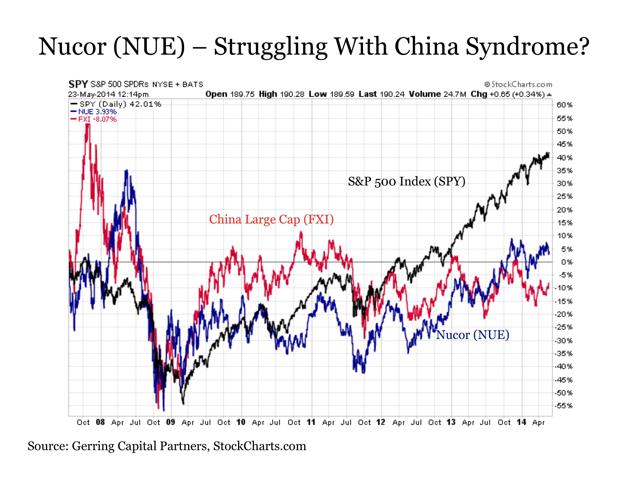 Bottom Line
All four of these Dividend Aristocrats represent interesting potential total return opportunities for consideration given their relative underperformance not only to their aristocratic peers but also the hoi polloi of the broader market. Each is also accompanied by its own unique risks to varying degrees, however, so caution is warranted, increasingly so as one works down the list shown above. And if the broader stock market enters into correction, these companies may at best provide a buffer to protect against more pronounced downside. But given their inherent quality, all may be worth a closer look for entry when the time is right.
Disclaimer: This article is for information purposes only. There are risks involved with investing including loss of principal. Gerring Capital Partners makes no explicit or implicit guarantee with respect to performance or the outcome of any investment or projections made. There is no guarantee that the goals of the strategies discussed by Gerring Capital Partners will be met.
Disclosure: I am long XOM. I wrote this article myself, and it expresses my own opinions. I am not receiving compensation for it (other than from Seeking Alpha). I have no business relationship with any company whose stock is mentioned in this article.
Additional disclosure: I am also long CVX as a related holding to XOM.