Recently, Facebook (NASDAQ:FB) managed to take the world by storm with a new contextual feature called "matching." The good ol' privacy skeptics came out of the woodworks. But I think just about everyone can agree that with the web, there are trade-offs.
Truthfully, no one's identity is truly secure when you put it in the cloud, but to be able to communicate with one another in a more convenient way we provide our personal data to third-party services, and pray to god that they're not evil people. This is probably why the Google co-founders opted to go with "don't be evil" as their motto.
But before I begin to describe Facebook's new "matching" feature set to be released in a couple of weeks, I want to explain why Facebook is jumping on this rather new yet not-so-new bandwagon.
These days, software ecosystems are building their experience around the user. To do this will require better data inputs through the use of sensors. In this specific case, Facebook's "matching" feature will use the ambient sound, and convert that sound into a code that indicates what the user is doing. Facebook will not store any of the data, and every bit of code cannot be converted back into audio. This allows Facebook to navigate the increasingly regulated communications landscape, while maintaining the technological edge when it comes to social media.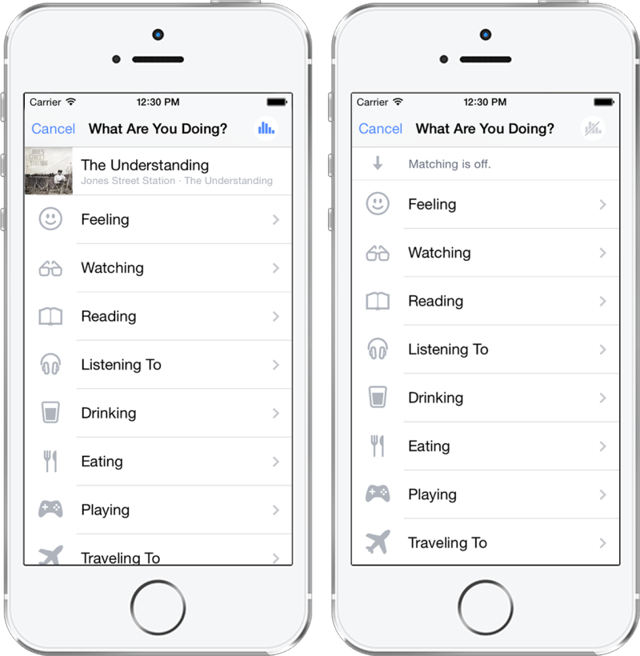 Click to enlarge
Source: Facebook
Facebook mentions that "matching" is purely an optional feature that can be turned on or off. But by using matching a user can summarize what they're doing in the moment. This means, Facebook will notify your friends of what exactly it is you're reading, drinking, watching, playing, where you're traveling to, etc. Facebook's matching features will set the stage for further contextualization.
I summarized the contextual web in vastly more detail when I covered the topic of Android Wear. But basically, technology enthusiasts and analysts generally agree that when the web becomes more semantic, we will transition to the next generation of the worldwide web, which is referred to as 3.0. In the world of Web 3.0 the web uses human logic. However, to use human logic, a computer has to have access to more data inputs, which requires additional sensors. While some senses cannot be replicated into 1's and 0's, the use of pictures and sound will allow computers to more closely mimic human intelligence, and offer relevant search queries and interactions based specifically on what it's your doing.
In some sense I think of contextualization as human experience being translated more neatly and concisely into a computer. On the other hand, contextualization removes the human ability to easily hide their real world identity from their virtual identity. Both become the same, and because people have to represent who they are as accurately as possible to others, many feel uncomfortable with this changing environment. The debate on what should be shared and what should be private has been debated by data security experts, and now courts in Europe have ruled in favor of a landmark law that will allow people to remove search queries.
The way Facebook navigates sharing is by offering users the ability to share personal data with close friends, and it even gives you the option of what specific data is shared with whom.
Different social platforms share different things. The web allows for privacy up to a certain point as indicated by the creation of Snapchat. Other social networking websites are geared, for employment like LinkedIn (NYSE:LNKD), and others will allow you engage with strangers on trending topics, i.e. Twitter (NYSE:TWTR).
But bar none, Facebook is leading the pack when it comes to contextual socialization. The use of added sensory data and improvements in artificial intelligence will push the web to the next stage. I just wonder who will be left behind in this age of authentic web based interaction. After-all, what made the web fun was the anonymity of it. But now, websites are requiring you to log in using Facebook credentials. Facebook is thought of as the grand central terminal for account integration, plus Facebook offers really valuable data on the user, giving websites the incentive to opt into Facebook's sign-in. As with all analytics software, personal information is omitted, but demographic data like age, gender, preferences, etc. are shared with marketers.
An authentic web sound scary. Too scary, for most to wrap their minds around, but that's definitely where we're headed. What surprises me the most? Mark Zuckerberg's ability to execute on future trends better than just about anyone else. I can't believe Facebook would be the first social application to implement a contextual feature to a user base of over a billion people.
Things change quickly in Silicon Valley, that's for sure.
Disclosure: I have no positions in any stocks mentioned, and no plans to initiate any positions within the next 72 hours. I wrote this article myself, and it expresses my own opinions. I am not receiving compensation for it (other than from Seeking Alpha). I have no business relationship with any company whose stock is mentioned in this article.