CF Industries Holdings (NYSE:CF) stock has outperformed the market this year; since the beginning of the year, CF stock has gained 5.0%, while the S&P 500 index has risen 2.4%, and the Nasdaq Composite Index has declined 0.5%. However, if we look from the start of 2013, CF has been an underperformer; its stock has gained only 20.4%, while the S&P 500 index has risen 32.7%, and the Nasdaq Composite Index has risen 37.6%. Nevertheless, CF stock is a good combination of excellent value and solid growth dividend stock, and in this article, I will explain why, in my opinion, CF Industries stock is a promising long-term investment.
The Company
CF Industries Holdings, Inc. manufactures and distributes nitrogen and phosphate fertilizer products worldwide. CF Industries Holdings, Inc. was founded in 1946 and is based in Deerfield, Illinois.
Nitrogen
Nitrogen is one of the three primary plant nutrients that are essential for proper crop nutrition and maximum yields; the others are phosphates and potash. There are no substitutes for them, and they are generally not substitutable for each other. According to CF Industries, nitrogen has the fastest growth rate, largest share of fertilizer budgets and strong industrial growth opportunities.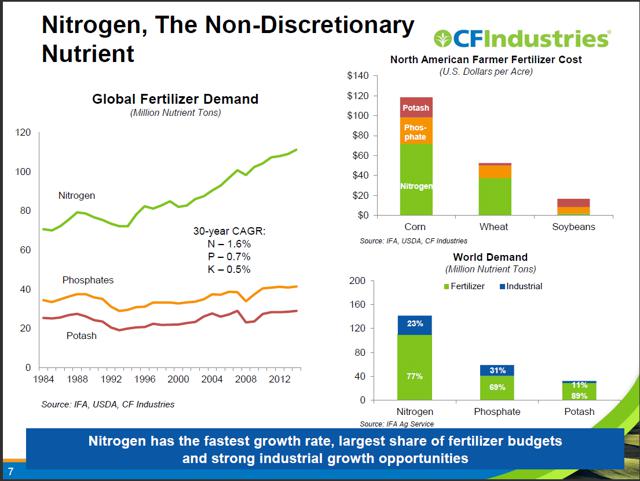 Source: BMO Farm to Market Conference Presentation
Valuation Metrics
The table below presents the valuation metrics of CF, the data were taken from Yahoo Finance and finviz.com.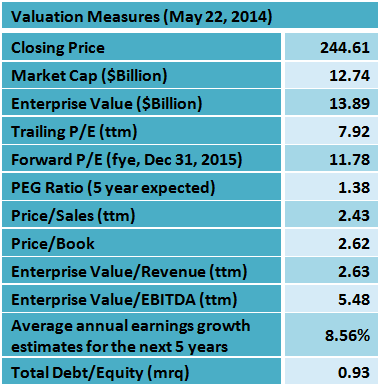 CF's valuation metrics are very good; the trailing P/E is very low at 7.92, and the Enterprise Value/EBITDA ratio is extremely low at 5.48. According to James P. O'Shaughnessy, the Enterprise Value/EBITDA ratio is the best-performing single value factor. In his impressive book "What Works on Wall Street", Mr. O'Shaughnessy demonstrates that 46 years of back-testing, from 1963 to 2009, has shown that companies with the lowest EV/EBITDA ratio have given the best return. Mr. O'Shaughnessy explains that EV/EBITDA is a better way to assess value - that is, how cheap or expensive it is - than looking at the PE ratio alone. The EV/EBITDA is neutral to a company's capital structure and capital expenditures. Stocks that have very high debt levels often have low PE ratios, but this does not necessarily mean that they are cheap in relation to other securities.
Latest Quarter Results
On May 7, CF Industries reported its first-quarter 2014 financial results, which slightly missed EPS expectations by $0.03 (0.70%) and missed on revenues.
First Quarter Highlights
Operations:
Strong ammonia shipments helped deliver robust financial results despite gas cost headwinds.
Reported EBITDA of $1.3 billion, or Adjusted EBITDA of $512.6 million excluding gain on phosphate sale.
Generated net earnings attributable to common stockholders of $708.5 million or $12.90 per diluted share, or Adjusted Net Earnings of $247.5 million or $4.51 per diluted share excluding gain on sale of phosphates.
Strategic:
Continued progress on capacity expansion projects, which remain on-time and on-budget.
Repurchased 3.2 million shares for $794.0 million, resulting in increased nitrogen capacity (and cash generation) per share.
Issued $1.5 billion of investment grade debt with 25 year average maturities.
Closed sale of phosphate business for $1.4 billion or $1.1 billion cash proceeds after tax.
In the report, Tony Will, president and chief executive officer of CF Industries, said:
Coming into the year we were concerned with the high ammonia inventory position across the system, however our team executed well and increased ammonia shipments by 73 percent over the same period last year. That, combined with an effective natural gas hedging program, enabled us to generate strong results.

We are focused on driving total shareholder return through increasing our nitrogen capacity, and therefore cash generation capacity, on a per share basis, while utilizing long-term, low-cost capital to finance the company. We are investing in high return projects, repurchasing shares at attractive prices and accessing investment grade debt to lower our overall cost of financing.
Dividend
CF Industries has been paying uninterrupted dividends since 2005. The forward annual dividend yield is at 1.64%, and the payout ratio is only 9%. The annual rate of dividend growth over the past three years was extremely high at 76.5%, and over the past five years, was also very high at 40.6%. I consider that besides dividend yield, the consistency and the rate of raising dividend payments are the most crucial factors for dividend-seeking investors, and CF's performance has been impressive in this respect. Since the payout ratio is only 9%, CF Industries can accelerate its dividend payment even more.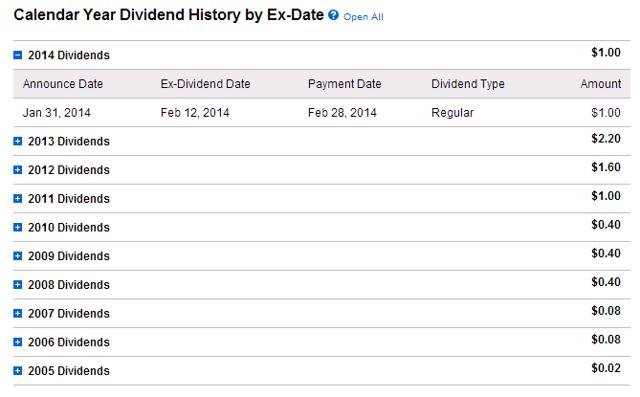 Source: Charles Schwab
Competitors
A comparison of key fundamental data between CF Industries and its main competitors is shown in the table below.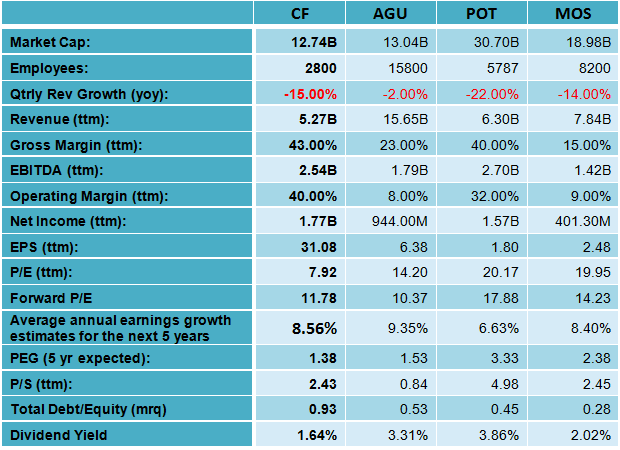 CF Industries has a lower trailing P/E, and a lower PEG ratio than its competitors, but it has also a higher debt-to-equity ratio.
CF's Margins and Return on Capital parameters have been much better than its industry median, its sector median and the S&P 500 median, as shown in the tables below.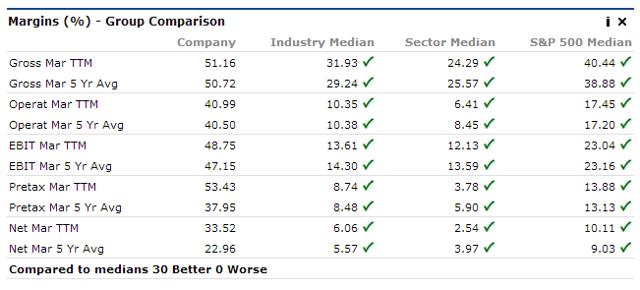 Source: Portfolio123
Ranking
According to Portfolio123's "All-Stars: Greenblatt" powerful ranking system CF's stock is ranked the first among all S&P 500 basic materials stocks. The "All-Stars: Greenblatt" ranking system is taking into account just two factors; Return on Capital and Earnings Yield (E/P) in equal proportions. Back-testing has proved that this ranking system is one of the best free available ranking method. I recommend investors to read Joel Greenblatt's book "The Little Book That Beats the Market", where he thoroughly explains his system.
Technical Analysis
The charts below give some technical analysis information.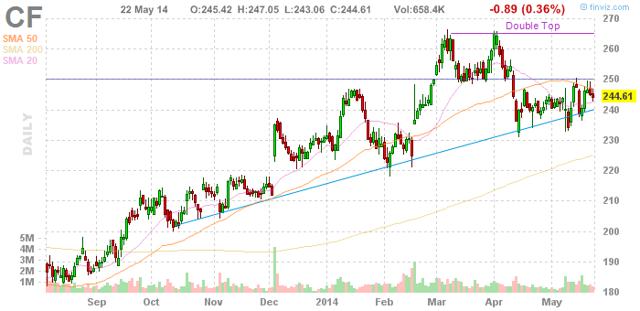 Chart: finviz.com
The CF stock price is 0.84% above its 20-day simple moving average, 1.10% below its 50-day simple moving average and 8.73% above its 200-day simple moving average. That indicates a long-term uptrend.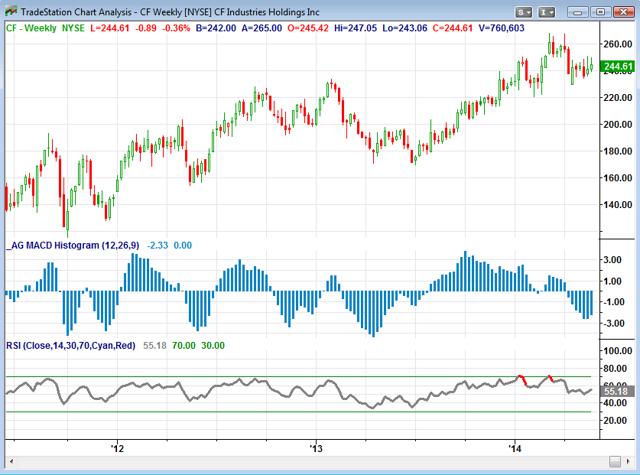 Chart: TradeStation Group, Inc.
The weekly MACD histogram, a particularly valuable indicator by technicians, is negative at 2.33 and ascending, which is a neutral signal (a rising MACD histogram and crossing the zero line from below is considered an extremely bullish signal). The RSI oscillator is at 55.18 which do not indicate oversold or overbought conditions.
Analyst Opinion
Analysts opinion is divided; among the twenty three analysts covering the stock, two rate it as a strong buy, six rate it as a buy, fourteen rate it as a hold, and one analyst rates it as an underperform.
Major Developments
On March 17, CF Industries announced that it has completed the sale of its phosphate business to The Mosaic Company for $1.4 billion or approximately $1 billion net of taxes and other adjustments. The company explained that the net proceeds from the sale will be redeployed to execute the strategic initiatives it already has in progress, namely its nitrogen capacity expansions and completing its share repurchase authorization.
In my opinion, the sale of CF's phosphate business to The Mosaic Company is a smart move. The proceeds from the sale will allow CF Industries to expand its nitrogen production, which gives higher return, and will allow CF to take market share away from nitrogen imports.
Conclusion
CF Industries expects to benefit from a number of factors supporting its growth and potential to generate sustainable cash flows. A rise in global population, transition towards higher protein diets and continued use of crops as a source of renewable fuels are increasing the need for grain and plant nutrients. CF Industries has compelling valuation metrics; its EV/EBITDA ratio is extremely low at 5.48. Furthermore, CF stock is ranked first among all S&P 500 basic materials stocks, according to the "All-Stars: Greenblatt" powerful ranking system. The company continued to deliver large sums of cash back to shareholders, during the first quarter the company repurchased 3.2 million shares for $794 million. Since 2011 the company has paid cash dividends of $356 million and $3.7 billion for repurchasing its own shares. In addition, the sale of its phosphate business will allow CF to expand its nitrogen production and take market share away from nitrogen imports. All these factors bring me to the conclusion that CF stock is a smart long-term investment. Furthermore, the solid dividend represents a nice income.
Disclosure: I have no positions in any stocks mentioned, but may initiate a long position in CF over the next 72 hours. I wrote this article myself, and it expresses my own opinions. I am not receiving compensation for it (other than from Seeking Alpha). I have no business relationship with any company whose stock is mentioned in this article.