Nothing has changed. Advanced Micro Devices (NYSE:AMD) is still relegated to cheap x86 machines. Microsoft (NASDAQ:MSFT) again picked Intel's Core i3, Core i5 and Core i7 processors for the new Surface 3 Windows 8.1 tablet. This is in spite of Intel's strong support for Google's Chromebook initiative. Microsoft strongly detests Chrome OS' rising popularity.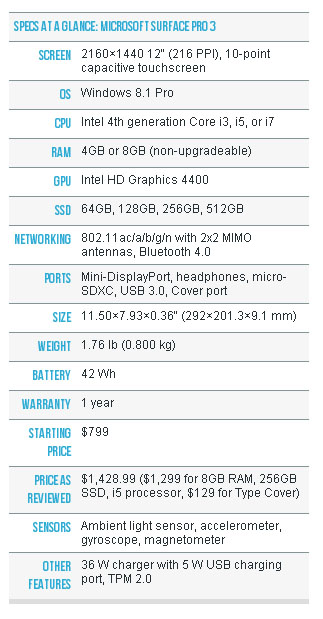 Source: Ars Technica
I thought Intel's alliance with Google's to make Chrome OS reach mainstream success, would make Microsoft give more support for AMD's low-power SoCs, Mullins and Beema. However, Microsoft still turned to its Wintel partner for the Surface 3's processor requirements.
AMD's Mullins and Beema deserve more attention from Microsoft and other big tech companies. I despise seeing AMD making breakthrough products and yet have these innovations remain ostracized by industry leaders.
AMD can never recover its old 2006 glory if its new x86 products keep getting ignored.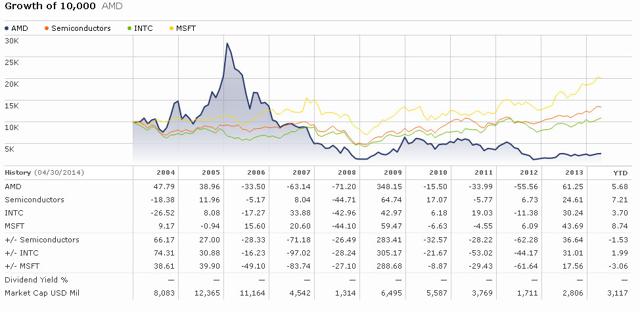 Source: Morningstar
The Project Discovery
I really hope that Sony or Quanta will consider making a commercial version of the 11.6 inch Project Discovery reference tablet design. Sony's PlayStation 4 is handily outselling the Xbox One. It will be very ironic if a Mullins or Beema-powered tablet from Sony also outsells the Surface 3.
The Mullins-powered Project Discovery tablet is ideal for PC gamers looking for an alternative to expensive gaming laptops. The tablet form factor and the snap-on controls of the Project Discovery make it an ideal gadget for lying-on-the-bed League of Legends sessions.
There are and there will be more tablet-based hard core gamers. Nvidia (NASDAQ:NVDA) had a great idea in the$199 Nvidia Shield but its small display doesn't really cater to Multiplayer Online Battle Arena ((MOBA)) and MMORPG PC gamers. The frenzied team-based combats in MOBA require a decent display size for tactical reasons. This is also true with an MMORPG like World of Warcraft.
I believe that a Mullins SoC with its GCN feature can deliver better graphics performance than a $799 Core i3 Surface 3. Sony or Quanta can really make good money in Mullins-powered tablets if they only promote it properly. AMD has no marketing muscle to make Project Discovery a commercial reality.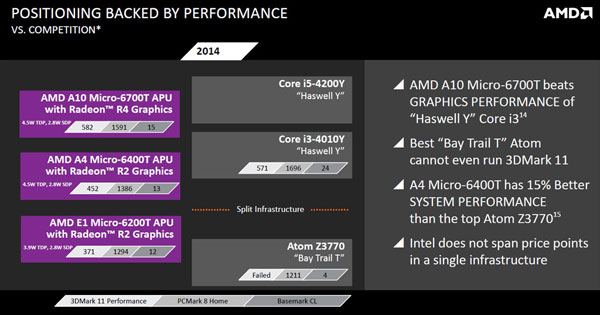 Source: AMD
The Core i5-powered Microsoft Surface 2, with its built-in Intel HD 4400 graphics engine, found acceptance among PC gamers. I'm sure the high price tag of the Surface 3 will not deter affluent gamers from buying it. The larger screen of the Surface 3 is great for Dota 2 and League of Legends. Microsoft and Intel are intending the Surface 3 for corporate users but I firmly believe that the PC gaming community will be one of the top buyers for it.
A $349 Mullins or Beema-equipped tablet with better gaming performance is a dream machine for Dota 2 or League of Legends addicts. The cheaper price tag exposes it to a bigger total addressable market. Even lower-income bracket Asians can afford a $349 gaming tablet.
The Gold Mine in Gaming
Gamers are a gold mine for AMD. It's a bigger pond than virtual currency mining. Even Google is spending $1 billion to acquire video games-streaming firm Twitch. The competitive nature of MOBA games have attracted serious e-sports potential with millions of players competing for millions of dollars of prize money. Google wants to ride this rising tide of professional esports gaming.
Like I mentioned above, the Free-to-Play League of Legends addiction is so pervasive that the company behind it, Riot Games, grossed $624 million from cash shop items in 2013. As of January 2014, League of Legends has 27 million daily active players and 72 million monthly active users.
This is just one MOBA game that a Mullins tablet is ideal for. Serious League of Legends players practice many hours a day and it is unhealthy to sit infront of the desktop computers. A Project Discovery tablet is good for lying on the couch or bed while practicing for the League of Legends World Championship games.
Here's a picture of a League of Legend championship game. It draws the size of audience that Manny Pacquiao fight in Las Vegas does.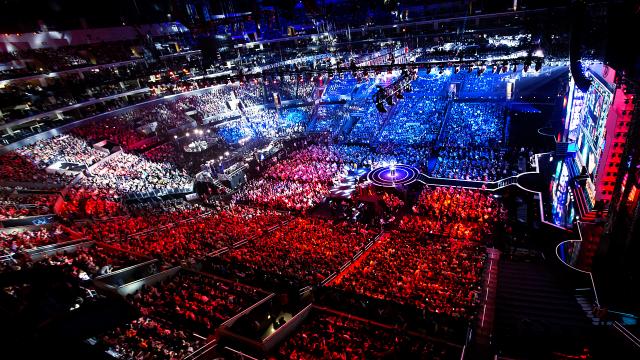 Source: Riot Games
Professional gamers make serious money being good at what they do. Here's a partial screenshot of the top 100 esports money-makers. The big money in esports inspires millions of PC gamers to practice daily.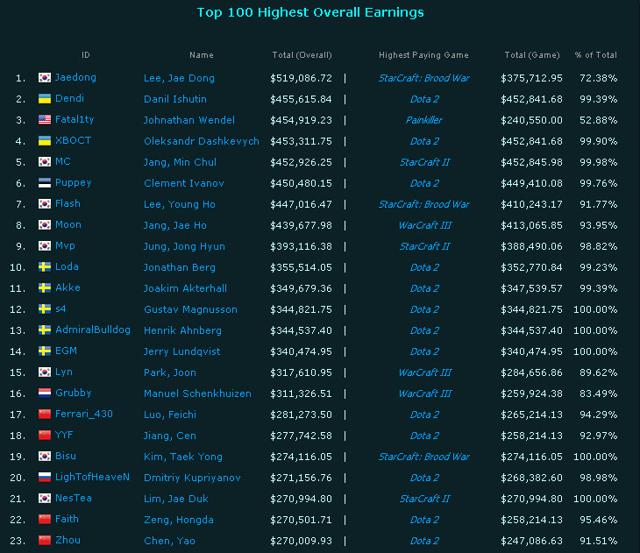 Source: esportsearnings.com
A Dota 2 professional gamer makes more money than the combined earnings of the top 10 contributors here at Seeking Alpha. I will not buy a $799 Surface 3 but I will certainly purchase a $349 Mullins-equipped tablet. I played Real Boxing on my 7-inch touchscreen-only Novo Aurora 2 tablet for 3 hours while exercising on the elliptical bike yesterday.
Tablets make it possible for gamers to exercise while simultaneously practicing their Windows-only esports skills. I look forward to practicing my Dota 2 skills with a Project Discovery tablet. My wife doesn't mind me playing games for hours as long as I do it while riding the elliptical bike.
We cannot all be Manny Pacquaio or Efren "Bata" Reyes. However, ordinary Filipinos can still practice for the chance to join these million-dollar esports tournaments.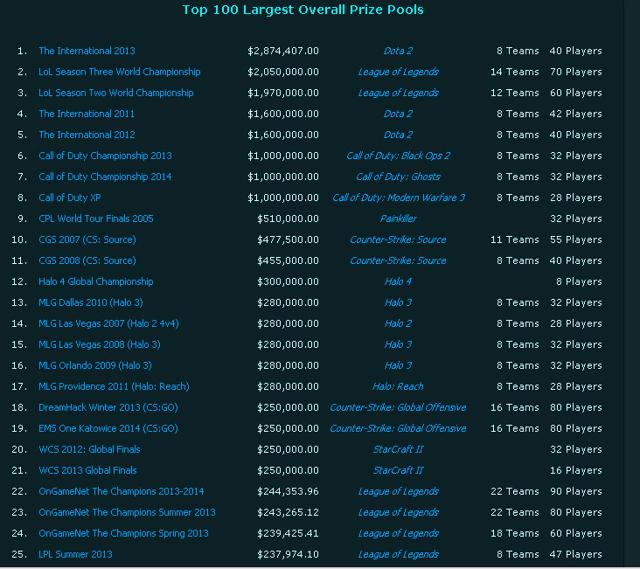 Source: esportsearnings.com
Conclusion
The premise of this article is that AMD, being small and debt-laden, can just focus on supplying chips to mid-priced gamer-centric tablets or 2-in-1 notebooks. It cannot compete in the high-end like the Surface 3. It cannot also compete with Intel's plan of $99 to $129 Windows 8.1 tablets.
A Beema APU can also go into traditional notebooks for players who hate controller-based or touchscreen-based MOBA action. AMD is a good long-term Buy. Even long-time AMD critic, Ashraf Eassa, wrote an optimistic article for AMD's Mullins.
Maybe TMF Eassa also understands my point of view that hard core PC gamers can easily switch to using gaming tablets, rather than gaming laptops, for their mobile gaming needs.
Disclosure: I am long AMD, INTC. I wrote this article myself, and it expresses my own opinions. I am not receiving compensation for it (other than from Seeking Alpha). I have no business relationship with any company whose stock is mentioned in this article.