Introduction: The Most Valuable Brand on Planet Earth
Apple (NASDAQ:AAPL) was one of the original players in the personal computer revolution. After many ups and downs, trials and tribulations, Apple stands as one of the most valuable brands in history - just 35 years or so since its inception as a company.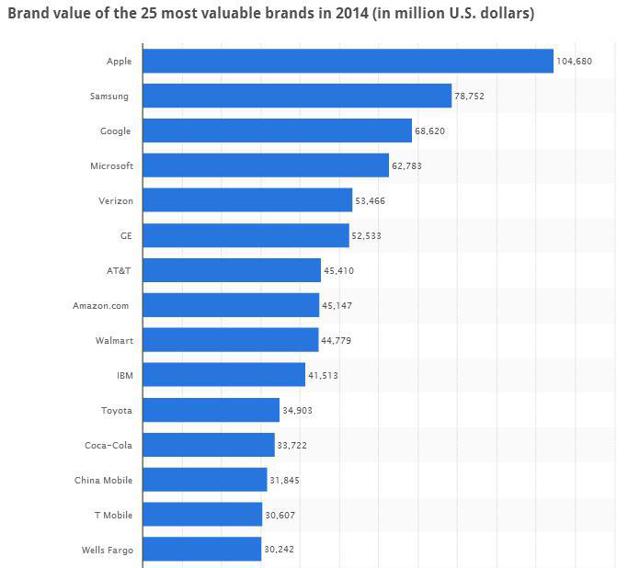 Lately, the company has been synonymous with innovation, beautiful looking products, and superior usability. The company was thrust out of the 2010 millennium after former CEO Steve Jobs spent a decade completely revamping and revitalizing the company that he once helped start; and then arguably helped tear down.
CEO Tim Cook continues to stand in the shadow of Mr. Jobs when many analysts and investors look at Apple's C Level suite. I, on the other hand, contend that Mr. Cook has done a stoic and steadfast job since he's been at the helm at Apple - and he's likely to continue doing so during his tenure.
My History with Apple
I've been writing about Apple since I've been on Seeking Alpha.
It's been one stock that's been fun to cover, because I'd been an Apple bull for as long as I can remember - even dating back to the days of Scully, Amelio and the Microsoft 7% stake in the company that made everyone cringe.
I finally took a stake in Apple before this past earnings report.
Having watched the stock rise and fall after quarter-over-quarter of what I thought was superlative performance (like raking in $50 billion per quarter), I decided to stop watching and dive in through Apple $520 calls. This call position I'm going to exercise or otherwise turn into a long position in Apple which I intend on keeping for the long haul.
I disclosed my long position via my StockTalks and my Twitter...

...after I predicted that 2014 was going to be a good one for Apple...

...and it has been.
Apple has been a cash cow for those that have invested dating back to the company's low point around $380 last year. Over the last 12 months, the company has gained in value by 38%. Since the beginning of 2014, the company has been up 9.5% and running.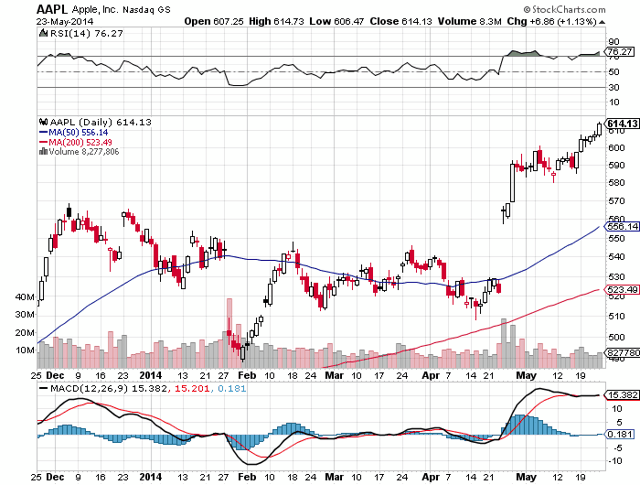 From a technical perspective, Apple's recent run can only be described as "blast off." After earnings, the stock shot higher which marked the beginning of a new, sustained uptrend. The company handily blew through its resistance at the $600 level and closed last week at $614.
The company is going to be heading into the new trading week with sustained momentum. The company's RSI dictates that it's in overbought territory, but there continues to be a bid put in under the company's stock - perhaps this is a product of not only investor demand, but the company's recently expanded buyback program.
Apple's Recent Earnings
(for more: Apple Beats Estimates and Bear Arguments)
Apple's recent earnings have done well to catalyze the stock moving upwards of 17% since they were announced. In addition to reporting earnings that beat on both lines, the company unleashed the floodgates on one of the most massive shareholder-friendly initiatives in the history of the world, raising its buyback to $90 billion and issuing a 7:1 split.
It's the biggest stock buyback in the history of the world - and Apple shareholders all stand to benefit from it.
It was a flexing of muscle that should do well to remind everyone: customers, investors, analysts, bears and bulls, that Apple is the most fundamentally sound company on the planet earth.
For its previous reported quarter, Apple reported EPS of $11.62, which beat by $1.44 - and revenue of $45.65 billion, which beat by $120 million. Both lines smashed estimates in what was supposed to be Apple's weakest quarter.
In addition to posting its fantastic numbers, Apple also announced a 7:1 stock split, raised its buyback from $30 billion to $90 billion, and raised its dividend by 8% to $3.29.
Additionally, the company committed to raising its dividends annually. The shareholder payouts are going to be coming for the foreseeable future.
The split of the share price is going to open up Apple's floodgates to a whole new level of retail investors. We are likely to see people pouring into this stock in a manner in which we haven't in years. Additionally, with the added security of the dividend, investing in Apple for value (alongside companies like Coke (NYSE:KO), J&J (NYSE:JNJ), 3M (NYSE:MMM), etc.) is going to be a more prudent reality.
Apple is a "Fundamentals First" Company
Put simply, this company doesn't trade like an innovation based technology company. It trades at a multiple suggesting it's akin to an oil and gas producer or someone in industry - someone that simply reliably cranks out a product quarter after quarter, showing mandatory growth while putting its aggressive growth days behind it.
However, that couldn't be further from the case. Those who think that Apple can't get bigger or trade at a more aggressive multiple are completely writing off this company's ability to innovate. I think that Apple will prove these people wrong within the next year, and I think that a forward P/E of 16-20 could be appropriate for Apple.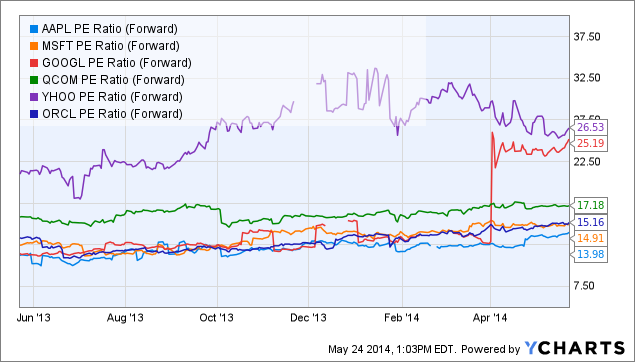 AAPL PE Ratio (Forward) data by YCharts
The company has a modest 4.35 price/book ratio, a market cap of $529 billion, and a modest 2.97 price/sales ratio. With $48 a share in cash, $41 billion in cash in the bank and a book value of $139.46, Apple's valuation is anything but aggressive or speculative. Put simply, this company has the fundamentals in place to continue growing, and the stock isn't showing that. In other words, I believe the stock is trading at a modest discount right now.
(click to enlarge - source)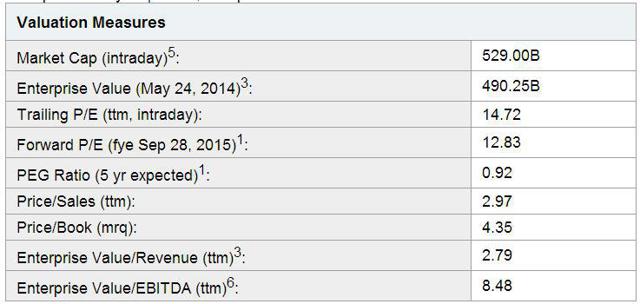 The company's net income continues to churn, and Apple generated operating cash flow of $53.94 billion in the trailing twelve month period.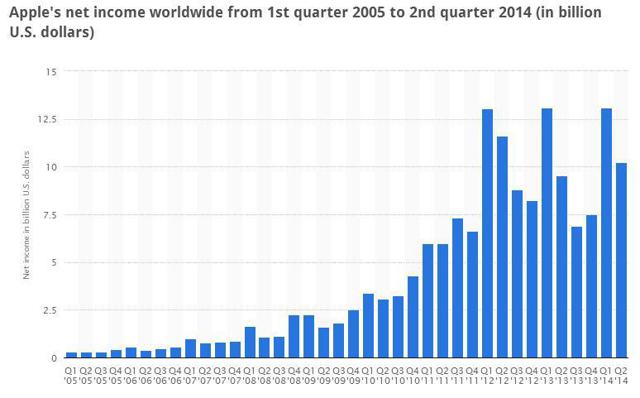 Apple has always been a fundamentals first company - stock its cash and shoring up its balance sheet. Now, I contend those fundamentals have offered up some breathing room for the stock to run.
The State of Mac: Massive Room for Growth
I've noted in a couple of article that I think Mac is going to be the coming secret weapon for Apple in the next couple of years.
While the market focuses on iPhone and iPad, we're forgetting about Mac in its 15 year long epic struggle to regain market share. And, regain market share it has. As new businesses continue to pop up, year after year, more and more of them are implementing Macs in the workplace. The cycle towards getting Windows out of the corporate world is still at the very beginning, but has at least started.
In the midst of the PC market's downturn over the past year, Mac has continued to gain market share and post respectable numbers for Apple. With the PC market hitting a bottom, Mac sales are likely to advance even further.
(click to enlarge - source article @ appleinsider.com)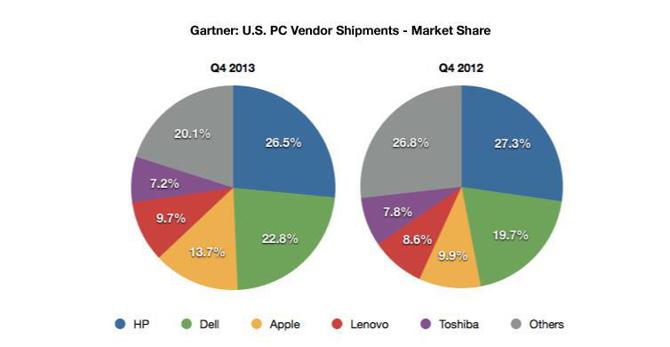 While it's true that Lenovo is the only manufacturer that saw YOY gains in PC shipments, Apple's growth loss is significantly less than HP (NYSE:HPQ) and some other PC makers. Importantly noted on this chart, also, is the fact that Apple didn't lose any market share YOY. This means that their lower shipments were basically a direct product of a sector-wide sales pullback. For all intents and purposes, Mac is weathering the storm.
(click to enlarge - source IDC)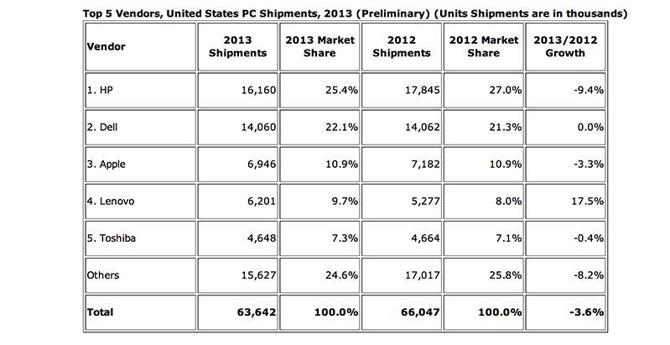 Thus, when the PC market rebounds, Apple's Mac sales should do the same - and the company should continue to grow its market share.
Put simply, Mac still has a lot of room to run. Even though the PC market continues to shrink, Apple continues to hold its own. I see this trend continuing through the next couple of years, at least.
The State of iTunes/App Store: Massive Room for Growth
iTunes is arguably one of Apple's biggest assets - and I contend that it's often overlooked.
As more and more Americans veer towards purchasing their music online, I continue to think that iTunes will remain dominant, and continue to monetize accordingly. According to the Verge, iTunes is out ahead by far:
The NPD Group has just released its quarterly report on the state of music sales, and unsurprisingly it says that Apple's iTunes store is dominating with 63 percent of digital music sales. Amazon came in second with 22 percent of all downloads by total volume, but even that number belies iTunes' reach, as eight of ten digital music buyers use iTunes for their purchases. However, NPD's numbers also contain some surprising, and perhaps sobering, results: only 44 million Americans purchased digital music at all in 2012. Digital music sales are also relatively flat over the past three years, increasing only six percent per buyer year-over-year.
Music and streaming video content that you can pay for is already an area that Apple is dominating. The iTunes store remains the top destination for purchasing music in the U.S. currently. Going forward, I believe we're going to see continued growth from Apple's iTunes store.
For the last year, I've been calling for the collapse of Pandora (NYSE:P) at the hands of Apple, and that keeps me watching for progress on the streaming radio front, via Apple's iTunes radio.
The speculation about the recent Beats deal lends another air of credence that Apple continues to think long and hard about how and when it plans on monetizing streaming radio.
As Apple disclosed in its latest earnings report, iTunes posted revenue gains of 11% from last year. App downloads from the App store continue to skyrocket.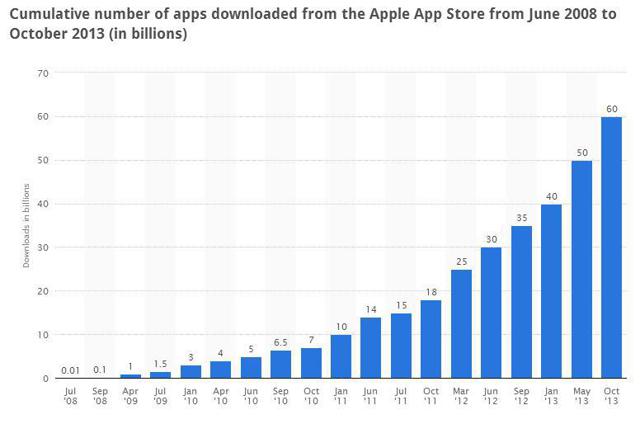 The State of iPhone: The Smartphone Everyone Else Follows
Say what you want about the iPhone and its struggle against Samsung (OTC:SSNLF) for the world's market share - the only thing you need to know is that in terms of innovation, the iPhone is held up on a pedestal and widely regarded as leading the pack in features.
I expect this to continue to be the same when Apple releases the iPhone 6 in the next couple of months. More on the iPhone 6 later.
As Apple disclosed during their latest earnings call, iPhone revenue increased by 17% YOY.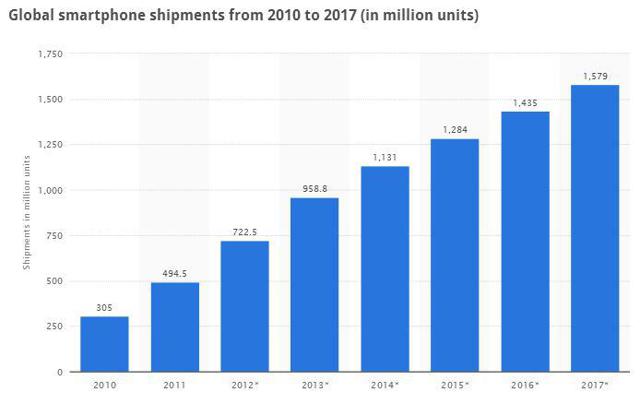 Throughout the rest of the year, we will also start to see some of the deal Apple struck with China Mobile (NYSE:CHL) coming into play. As China Mobile's sales of iPhone continue to ramp up, we should be able to see the monetization of this in Apple's numbers.
As global smartphone sales continue to rise, such will Apple's sales.
The State of iPad: Fastest Growing Tech Product in History?
The iPad has already become one of the fastest growth technology products ever made. In its first couple years for Apple, its growth has dwarfed that of iPhone and iPod. It's being used everywhere and for every purpose - aside from being a personal tablet, the iPad is often used at businesses in lieu of cash registers and at schools in lieu of laptops. The iPad keeps finding new uses via the apps that it can host, and it continues to grow significantly.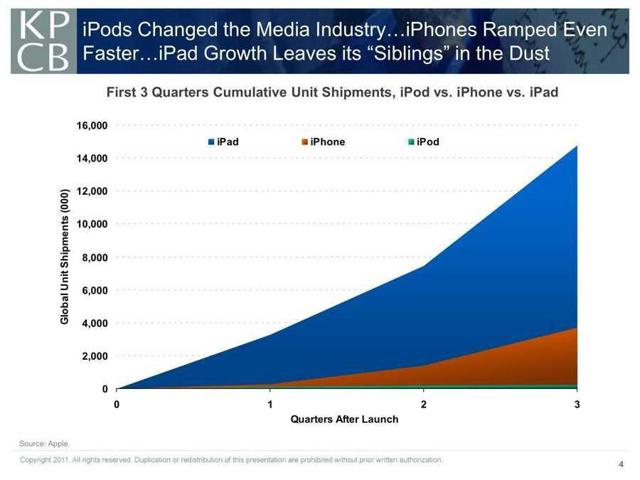 Additionally, we're going to be looking at some new iPads coming relatively soon. A refresh of Apple's iPads are coming around later this year.
According to Business Times:
The release of the refreshed iPads will be later this year. Analysts predict that release should be around September giving Apple time to incorporate the design and technology just in case. The landscape connector for the iPad has shown up several times in IP Filings back in 2010 and 2011. Apple has yet to include it in the Apple series with the numerous patents filed related to it.

Apple credits the following people: Steve Jobs, Jonathan Ive, Daniel Coster, Bartley Andre, Richard Howarth, Daniele De luliis, Mathew Dean Rohrbach, Shin Nishibori, Duncan Kerr, Richard Howarth, Calvin Seid, Douglas Satzger, Eugene Whang, Christopher Stringer and Rico Zorkendorfer for the invention.

9to5Mac also reported that Apple may be including a split-screen or multitasking support in the iOS 8 for the iPad. This can allow users to open two iPad applications simultaneously. The new feature can also allow users to drag most types of content across applications.
Apple Has Sexy New Products Lined Up
Interestingly enough, most people weren't expecting big iPhone numbers from the last quarterly report because they thought consumers were waiting for the iPhone 6 to come out. Whether or not it speaks to iPhone 6 demand or not, we'll have to wait and see - but iPhone certainly performed well in the past quarter. The iPhone 6 is going to be Apple's step forward for the smartphone that revolutionized the mobile phone industry.
The iPhone 6 is expected to be released this coming fall. The 6 is going to provide 4.7" and 5.5" screens, both made out of sapphire crystal, and sporting an A8 chip.
As you can see from the below graphic, it appears that consumers either want their smartphones big, cheap, or both. Hence the popularity in Android devices, some would think.
I think coupling those aesthetics with the pedigree and design of both the hardware and the iOS that Apple provides could make the iPhone 6 a great product.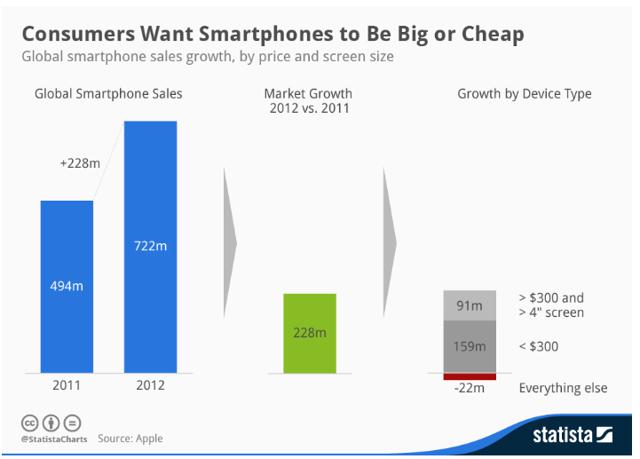 We all know the iWatch is coming - we've been talking about it for the better part of the last year. And Apple seems to certainly be taking their time to bring it to market, likely a sign of the company wanting to make sure that the product blows all other smartwatches out of the water.
As I said in a previous article, many people were nervous that Samsung's foray into smartwatch was going to "beat Apple to the market." A long time ago, I wrote an article about whether or not Samsung would steal Apple's thunder from being the first to the smartwatch niche.
I concluded:
For Apple, it hasn't really been about timing (possible exception being the iPhone), it's generally been about the quality of the product. Apple is of the mindset that they are producing the best quality and most innovative products in the world, and while they have a concern with shipping in a timely fashion, it's not what their model is based on.

You have your Apple cultists that have already committed themselves to the iWatch, before it's even arrived. And, you have your Apple "Ecosystem" crowd, who are already familiar with the brand. Finally, you have your Apple elitists that have bought into the fact that Apple is trying to simply create better and more innovative products than competitors.
You can tell that the interest in the iWatch continues to ring home with Apple owners. Those that aren't Apple owners could find themselves attracted to the product based on the innovation that it offers for a smartwatch. From there, it could wind up being an introduction point to the brand for certain people - the same way that iPhone was months ago.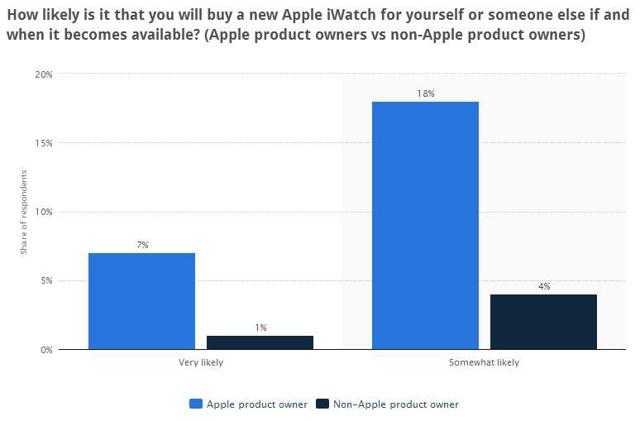 We'd have to do the math on number of potential consumers that are watch wearers, that don't currently own an Apple product.
Unfortunately, QTR is only one man, with only so much vodka in the freezer, so I'll have to get back to you on that one.
Continued Work on TV Set Top
Apple TV continues to compete with a vast field of products that are looking to take over your TV at home.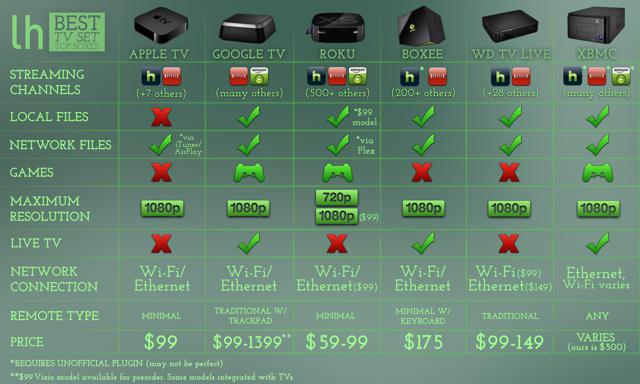 Some of the items that you can see above that Apple lacks - video game support, local files, and live TV - are all said to be being addressed in the company's new set-top box.
I'm expecting the latest iteration of the Apple TV to expand significantly on what the product is capable of now. Set top is a crucial component that Apple is going to have to get right if they want to continue to compete in the ecosystem competition.
Apple Offers Massive Shareholder Benefits
Apple is saying right out in the open that buying their stock is a good idea. They're upping their dividends every year now, and they're buying back their own stock at rates that were unheard of until Apple made their announcement.
This conversation all started with David Einhorn's letter to Apple over a year ago - he was one of the first to really shine the light on how much cash Apple had in the bank. It was as early as February of 2013 - more than a year ago - where I assured investors that Apple's massive "cash vault" was guaranteed to come unlocked at some point. I wrote:
Folks, this is no longer a question of "if" Apple is going to unlock more value from its balance sheet for investors, it's a question of "when." After investigating these media reports today, Apple doing nothing in this situation would be akin to committing shareholder suicide. While I don't think Apple is necessarily going to go Einhorn's requested route of preferreds, the company is clearly going to do something.

In turn, the stock is going to appreciate in value and people's investment in the company is going to be worth more than it would be simply reaping Apple's current 2.2% dividend yield.

Is there a risk of Apple doing nothing? Yes, there is. Apple is starting to establish a bit of a history being stingy and stubborn in court. Does it seem likely? Not at all. It's this investor's opinion that going long Apple, regardless of whether or not the company offers up a shareholder perk, is the right call.
Now, we find ourselves in the midst of one of the biggest shareholder payouts in history. It's a great time to be long Apple stock.
Recent News
(source: Apple "Breaking News" via Seeking Alpha)
Apple's recent deal with Beats has slowed down due to financial details.
Apple is one of Goldman's 50 most-loved hedge fund stocks.
Liquidmetal extends their exclusivity deal with Apple for one more year.
Apple's iPhone 6 is set to launch for August/September.
Canaccord and a slew of other analyst firms upgrade Apple, post-earnings.
Apple's latest debt offering raised $12 billion.
Major Investor and Institutional Support
Though I was never a supporter of Carl Icahn, he is just one of the famous names and institutions that have thrown themselves into Apple stock, a de facto validation that Apple stock is a great place for investors to put their money.
Much of Apple is held through conservative/retirement style funds and funding groups. Look at Apple's top institutional holders:
(click to enlarge - source Yahoo!)

Additionally, Bill Miller of Legg Mason seems to think that Apple is worth between $700 and $750 - and I tend to agree with him. This headline was pasted all over CNBC for all of last week. From a recent CNBC interview:
Apple's run isn't over, according to legendary stock picker Bill Miller.

The tech giant has seen its stock continue to climb, breaking $600 a share earlier this month for the first time since October 2012, and Miller thinks it will still go higher.

"It's not as attractive as it once was, but I still think it's worth $700, $750," he told CNBC's "Closing Bell" Tuesday.
Icahn also recently doubled down in his position in the company, heading towards the split with increased dividends and more retail likely to pile into the stock at cheap prices, why not?
Icahn's latest position was revealed in a Securities and Exchange Commission filing on Thursday and shows the activist investor now has more than 7.5 million AAPL shares, reports The Wall Street Journal.

At the end of trading today Apple's stock dipped to $588.82, meaning Icahn's stake in the company is worth over $4.4 billion.

The bullish buy was recorded for the March period, which came just before Apple announced a 7-to-1 stock split and share repurchase program. The board increased buyback authorization to $90 billion from a previous $60 billion, while the stock split will take place on June 2 with split-adjusted trading to commence on June 9.
Jim Cramer recently included Apple in a list of 3 stocks that he's also expecting to push higher over the coming trading days.
The decision has been made - nearly everyone is bullish on Apple.
Analyst Support: Strong Buy is the Suggestion Du Jour
Which makes a perfect segue into looking at how analysts from across the board view Apple's stock. The consensus recommendation is far deep into "buy" territory coming off of the momentum of the company's recent earnings.
Of those who rate Apple a buy, according to Nasdaq.com, an overwhelmingly majority of these analysts rate the company a "Strong Buy."
"Underperform" and "Sell," as analyst recommendations, aren't even represented in this pictogram.
Analysts have a consensus estimate of $615 for the stock, but that's on the lower end of the spectrum that ranges with predictions from $480 to $777. For Apple to sit at the average of their high and low prediction, the company would have to be trading around $628. I contend that the stock is more likely heading to $700+ relatively quickly.
(source - Nasdaq.com)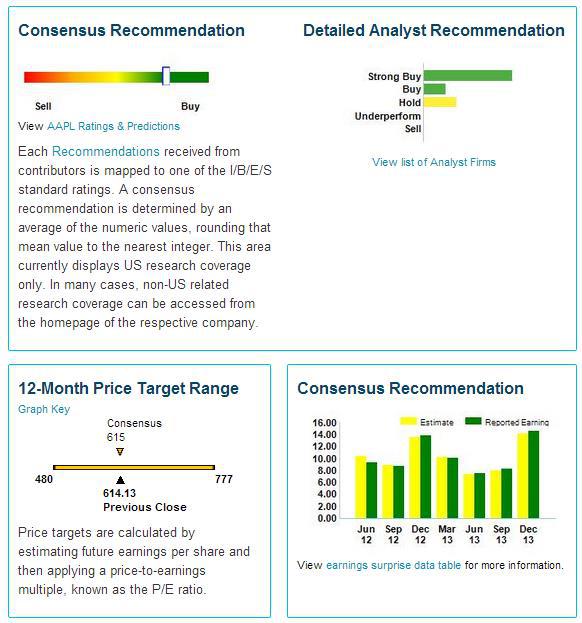 Bearish Arguments Refuted
iPhone is Under Attack, et. al.
Here I am refuting the bearish argument that the iPhone - where the smartphone industry did take and continues to take its lead from - is under some sort of attack.
Last Earnings, "Where's the Product?"
We all remember the foolish headlines after Apple handily destroyed earnings last quarter:

The bears all opined about the products, remember? As I said shortly after earnings, the products are coming, I assure you.
Why isn't the focus on the amount of iPhones Apple was able to move in a quarter where it was heralded that they wouldn't be able to sell enough because people were waiting about the iPhone 6? Can we stop fantasizing about products for just two short minutes to see that Apple is an absolute juggernaut of a company?
With these metrics, I wouldn't care if Apple was selling hot dogs, it's an impressive company.

-QTR
The important part of earnings was the massive shareholder give backs that Apple implemented, coupled with the fact that its numbers (for what was supposed to be a slow quarter) beat handily, sending the stock into the technical upward range that it's in now.
Michael Blair tries to introduce the concept of Apple products cannibalizing one another, especially in the event of an iPhone 6 success:
The iPhone 6 is an important step for Apple to stem the erosion of its worldwide share, and early indications are that demand for a larger screened iPhone could be very high but some observers think the iPhone 6 as likely to have a devastating effect on iPad sales. Influential Morgan Stanley analyst Katy Hubertychopped her 2014 forecast for tablet market growth from 26% to 12%. Huberty has been quite reliable in forecasting key items such as iPhone sales and her forecast should be not ignored.

One piece of analysis that investors need to consider is what the effect of a blow-out success of the iPhone 6 coupled with a decline in iPad sales will mean to Apple.
I have to disagree with Mr. Blair. As you can you see from the below chart, iPod has fizzed out - while iPad and iPhone continue to grow independent of one another. I don't think the argument of the iPhone 6 taking away from the iPad holds a ton of water right now, but I do think in the future that it's prudent to see the grey area between these two devices eventually disappear.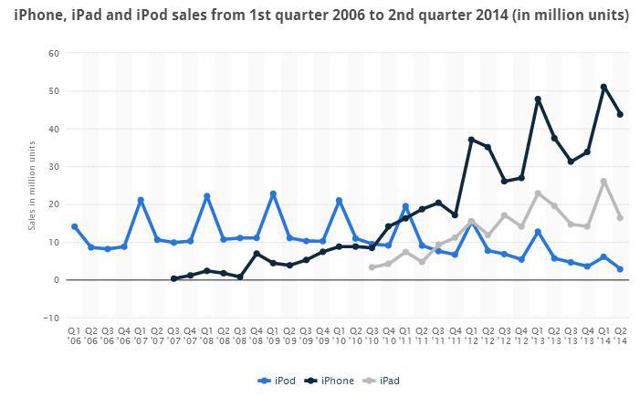 (with excerpts from "3 Reasons Apple Buying Beats is Smart")
The Beats deal - which hasn't even happened yet - is already starting to be used as ammunition for bears. The fact is, even if everything went horribly wrong, it's $3.2 billion that Apple wouldn't even miss.
People may be starting to see this deal as a backhanded admission from Apple that they need to look outside of their corporate realm to come up with innovation. I don't necessarily know if this is true, and if this deal isn't going to simply complement what Apple has coming down the innovation pipeline, instead.
Beats isn't a brand that's going to go away overnight, like some people suggest. Even if it did - in the absolute worst possible scenario, Apple would be out $3.2 billion - which could essentially go unnoticed.
But, this won't happen of course. Apple will monetize Beats and poach what they want from the company to generate new revenue for itself. I'm bullish on this acquisition, and think Apple is smart for buying Beats now, instead of waiting for the company to continue to grow at the rate which it has been.
Apple Is the Perfect Stock for Anyone
Are You Looking for Growth?
Apple remains a company that is still growing. With Mac market share to continue growing and Apple looking to expand into newer products that take advantage of the streaming revolution that is coming to TV and cable, Apple has a foot down in all the necessary niches to continue its growth.
Are You Looking for Conservative/Dividends?
Do I need to go back over the fundamentals of this company? Aside from being a dividend payer, the company has consistently grown alongside the bull market.
Remember what was said after last earnings:
Apple aims to deliver annual dividend hikes going forward, new CFO Luca Maestri states on the CC. With the company's domestic cash balance now at $18B, Apple will once more tap debt markets to help pay for its dividend and freshly-expanded buyback program. (CC live blogs:I,II)
The dividend will continue to grow and Apple will continue to buy back its stock going forward. Those, like two security blankets, should make Apple appealing for those that are in the stock for growth.
Are You Looking for Aggressive Growth?
We've got that, too.
With Apple's new products coming down the line and the chances they have to revolutionize both the consumer ecosystem and wearable, there's a serious chance for quick growth from Apple.
Often written off as a growth stock nowadays, Apple certainly has the channels to provide and support a brand new product niche for growth. Look for a foray into wearable (foreshadowed by the Beats acquisition and rumors of the iWatch) to potentially be Apple's new gold mine.
Additionally, revamping the Apple TV and using Apple's CarPlay are two ways that Apple is starting to nudge its way into all aspects of the home consumer ecosystem.
Are you Looking for Catalysts?
Four times a year Apple reports earnings and has a chance to outdo what analysts and investors have set for them. Last quarter, you got a taste of what can happen when the company decides it wants to flex its muscles. Additionally, Apple has product launches, MacWorld, Worldwide Developers Conferences, and numerous other forums to release stock catalyzing news.
Are You Looking for Defense?
Apple should continue to be a staple in any defense-minded portfolio. Aside from being a dividend payer that's buying back its own stock, Apple remains a low beta name that isn't necessarily susceptible to major macro market swings.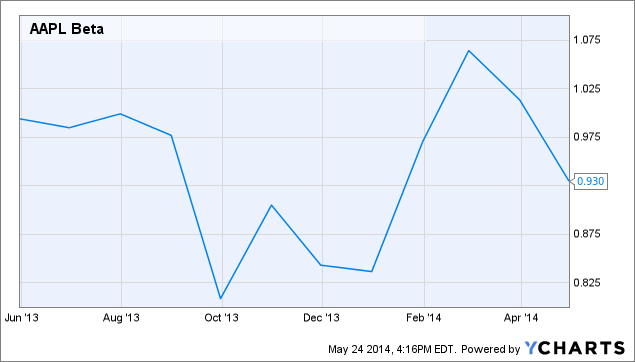 As you can see from the below chart, Apple's beta is as high as it is because it has outpaced the market significantly since it has gone public and is likely to continue doing so as time marches forward.
(click to enlarge - source Yahoo!)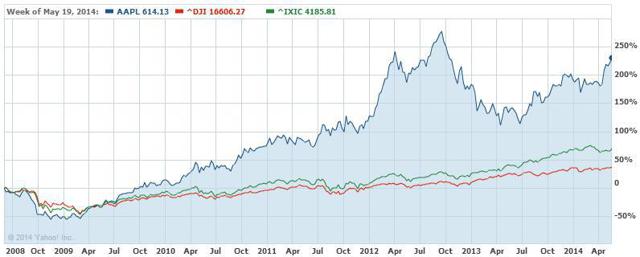 Conclusion
There is no doubt to me that Apple finds itself in a perfect storm right now - one that makes it possibly the most attractive as a buy in the company's history. The unique combination of the shareholder payouts coming unlocked, the coming innovation, and continued success quarter over quarter and year over year is the result of the last 10 years of the company revolutionizing itself and doing everything right.
For 10 years, shareholders have watched Apple turn things around, vehemently defended the company, and made gains on the stock's ride upwards. After Apple's clipping off its highs and losing 50% of its value, bears had their say and doubt was running rampant.
Now, Apple is poised to set all time highs.
It's time for shareholders to sit back under the security blanket of the largest buyback in stock market history, collect their dividends, and continue to watch Apple exceed expectations in the coming years.
Best of luck to all Apple longs; I'm with you.
Additional sources:
(1) Most charts sourced through Statista, the statistics portal.
Disclosure: I am long AAPL. I wrote this article myself, and it expresses my own opinions. I am not receiving compensation for it (other than from Seeking Alpha). I have no business relationship with any company whose stock is mentioned in this article.