The stock market has fallen flat in recent months. After recovering smartly from the pullback in late January and early February, stocks as measured by the S&P 500 Index have essentially entered into a sideways pattern. Gains have been generated along the way, but they have been hard won and incremental at best as the S&P 500 continues the long battle to overcome the 1900 mark. With many anticipating the onset of the next bear market any day now, investors are understandably wondering whether this recent grind may be the last gasp peak before stocks turn definitively lower. But while it may seem counterintuitive, the languid performance of stocks over the last three months is actually short-term bullish for the market to move decisively in reaching fresh new highs in the coming weeks. What lies beyond any higher peaks, however, may be an entirely different bearish story for investors.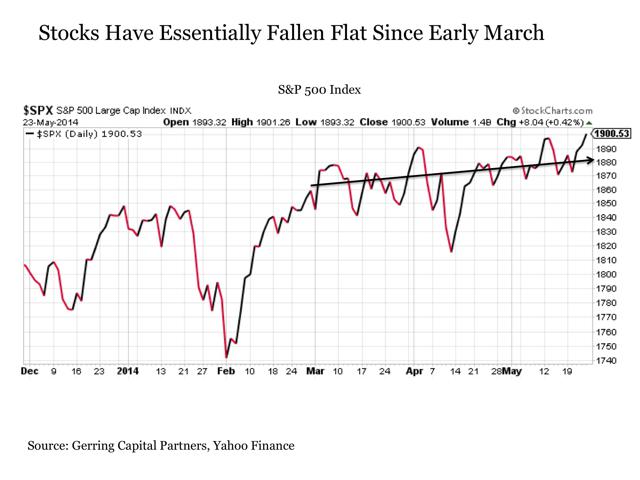 What exactly about a sideways grinding market could possibly be bullish for stocks in the short-term? The answer is simple. Historically, major bull markets have almost never reached their final peak in a sideways grinding pattern. Instead, they have almost always peaked with flourish including one final crescendo toward a new all-time high before finally rolling over and succumbing to the forces of the new bear market.
The following is a look back at the last eight major bull market peaks before stocks entered into a sustained decline of -25% or more. Charts prior to 1950 use the Dow Jones Industrial Average (NYSEARCA:DIA), while those after 1950 use the S&P 500 Index (NYSEARCA:SPY).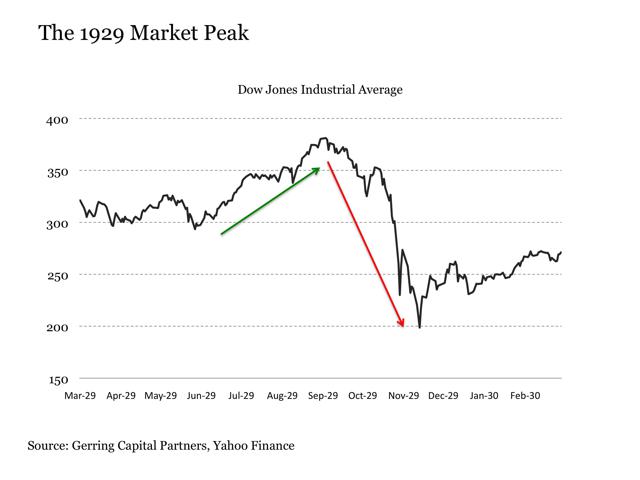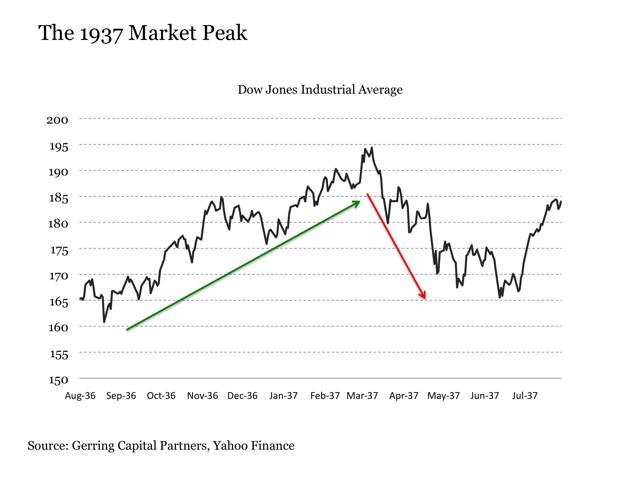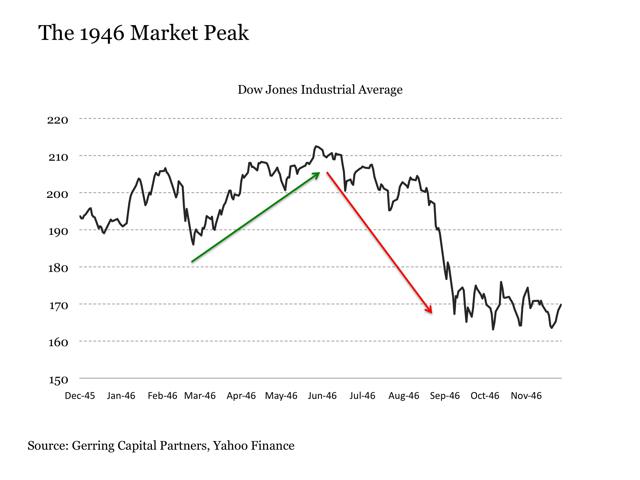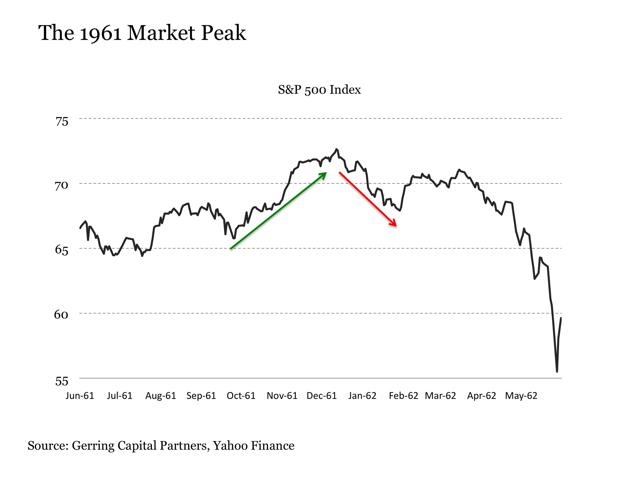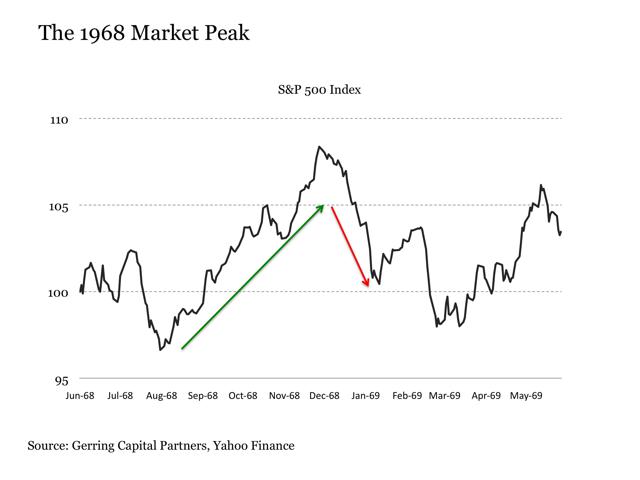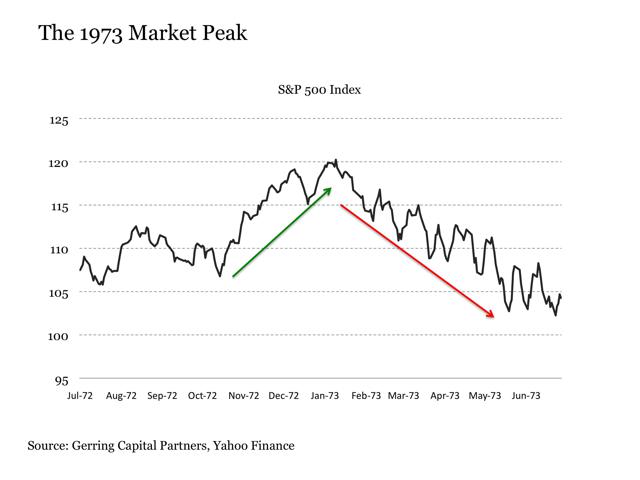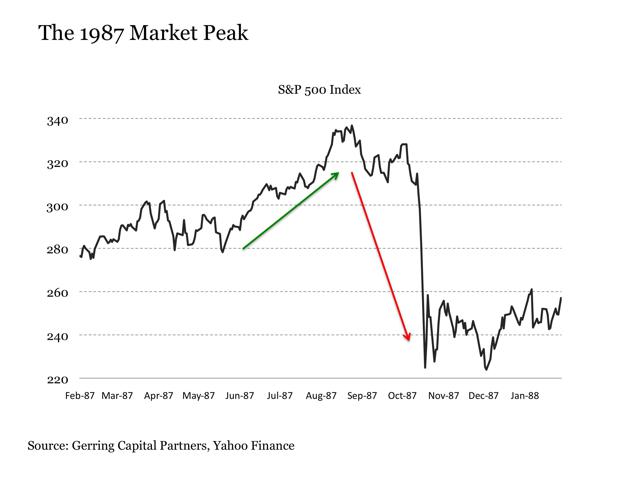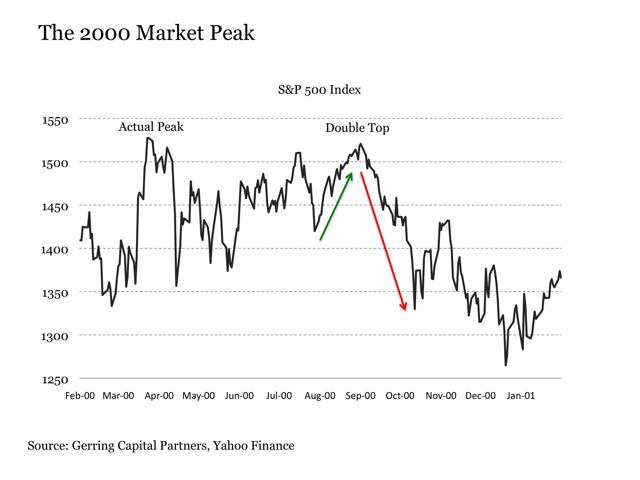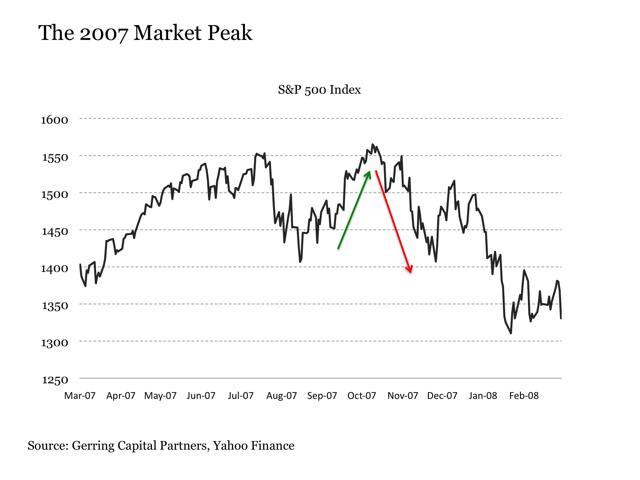 In each instance shown above, stocks made one final definitive move higher over the course of several weeks to a few months (the green arrows) to reach a final peak. What came afterwards was often just as dramatic if not more so to the downside (the red arrows) once the bear market finally took over.
This does not necessarily mean that the same will happen today. Perhaps the market will simply expire at current levels and roll over. But such an outcome would require the proclamation that this time is different, which is an expression that I have little comfort uttering when it comes to investment markets. Of course, the current bull market could go on for a few more years before finally expiring. It has defied fundamental logic in many respects up to this point, and as long as the trend remains definitively higher, this fact alone must be respected from a portfolio allocation standpoint.
With that being said, two important caveats warrant mentioning when considering today's market in the context of one final peak before entering a new bear market.
First, markets are continuing in uncharted territory from a monetary policy perspective. Never before has the U.S. stock market had so much artificial liquidity pumping through its veins for so long. Thus, there is no telling how the current episode might end this time around, particularly as the Fed is currently in the process of slowly winding down stimulus with the likely intent of not returning to any such program in the future. If ever we were going to see a different pattern develop at a market peak, today's market would be the time.
Also, today's market does bear a notable resemblance at least from a chart pattern standpoint to the bull market peak from May 1946.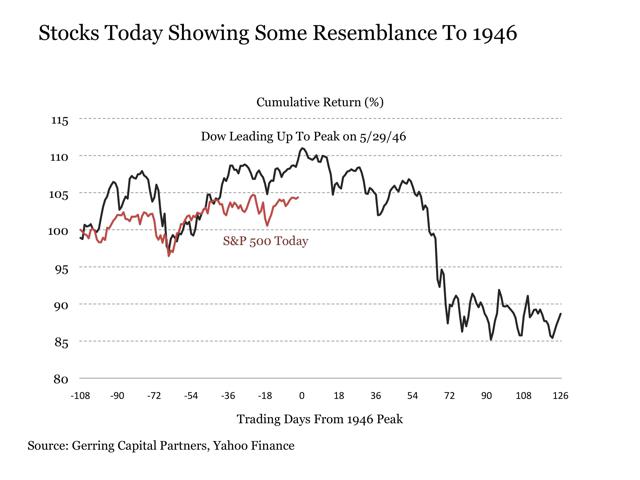 While the amplitude of the market movements is considerably more muted today, the trading pattern is almost exactly the same when adjusting for this amplitude difference.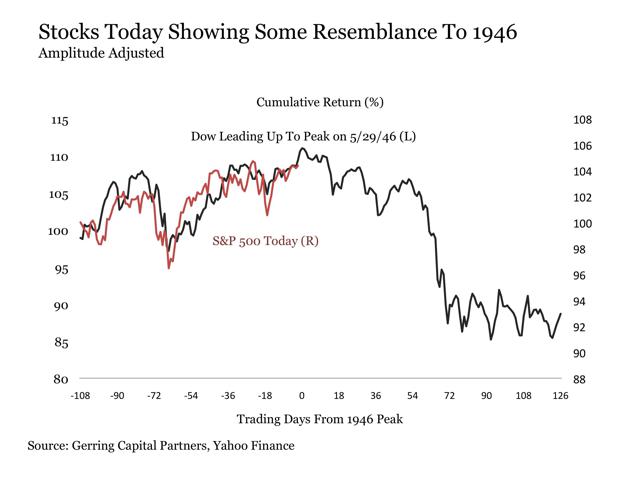 Coincidence? Likely. And the amplitude adjustment is clearly a reach to demonstrate any potential correlation between 1946 and today. But if nothing else, it does provide an illustrated precedent of how the market might arrive at a peak sooner rather than later in today's market. But once again, this would be the exception and not the norm given the muted sideways pattern the market has found itself in the last few months.
Bottom Line
While stocks have been effectively trading sideways for the last few months, this is actually a short-term bullish development for the market, as stocks historically advance to one final definitive peak before rolling over and entering a new bear market. As a result, investors may be well served on any decisive advance higher in stocks over the coming weeks or months to use it as an opportunity to selectively lock in gains and reallocate to better protect against the growling bear that may be lying in wait on the other side of the market mountain.
Disclosure: This article is for information purposes only. There are risks involved with investing including loss of principal. Gerring Capital Partners makes no explicit or implicit guarantee with respect to performance or the outcome of any investment or projections made. There is no guarantee that the goals of the strategies discussed by Gerring Capital Partners will be met.
Disclosure: I have no positions in any stocks mentioned, and no plans to initiate any positions within the next 72 hours. I wrote this article myself, and it expresses my own opinions. I am not receiving compensation for it (other than from Seeking Alpha). I have no business relationship with any company whose stock is mentioned in this article.
Additional disclosure: I am long stocks via the SPLV and XLU as well as selected individual names. I also hold a meaningful allocation to cash at the present time.