Stocks in "defensive" sectors (like consumer staples, healthcare, and utilities) typically have low relative betas since these companies tend to generate stable cash flow regardless of the state of the overall economy.
That said, we recently scanned our entire dividend stock universe and came up with our current "All-Defensive" Team. This team is made up of 25 "defensive" dividend stocks with the highest Parsimony Ratings (that also meet the parameters below):
Beta (5-year) < 0.70
Dividend Yield > 2.5%
Parsimony Rating > 75
We will highlight each of these stocks over the course of a 5-part series. Below is a schedule of the entire series. Please make sure to "follow" us so that you will be notified when each new article is published.
Part 1: Honorable Mention (stocks #21-25)
Part 2: Fourth Team (stocks #16-20)
Part 2: Third Team (stocks #11-15)
Part 3: Second Team (stocks #6-10)
Part 4: First Team (stocks #1-5)
The All-Defensive Team: Fourth Team
Our 25 All-Defensive Team stocks have an average beta of 0.46 and an average dividend yield of 3.4%. This article highlights the 5 stocks that made the Fourth Team (stocks ranked #16-20). The tables below summarize some of the key data points that we analyze when ranking our dividend stocks.
#20 Northeast Utilities (NU)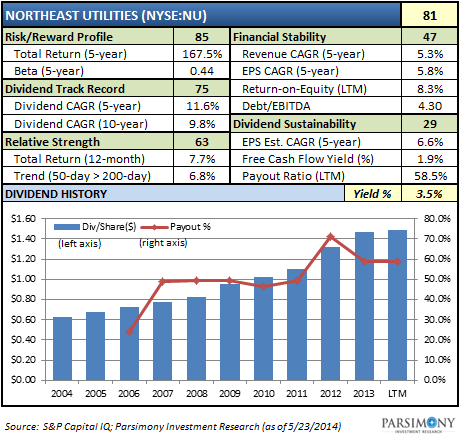 Prior to briefly terminating its dividend in 1997 (due to regulatory changes that opened up competition in NU's markets), NU paid a dividend to shareholders for 30 consecutive years without a decrease. Since reinstating the dividend in 1999, the company has increased its distribution every year (including a solid 6.8% increase for 2014). Despite breaking the "golden rule" of many dividend investors (cutting its dividend), we believe NU has reestablished itself since restructuring and the stock warrants consideration in a long term dividend portfolio.
#19 Dominion Resources (NYSE:D)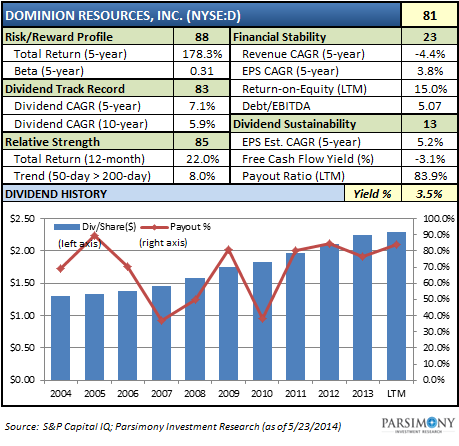 Dominion has paid a dividend to its shareholders for 345 consecutive quarters (that is over 86 years if you are doing the math at home). In addition, recent dividend growth has been very steady as well with 5-year and 10-year CAGRs of 7.1% and 5.9%, respectively. This is definitely one utility to keep on your radar!
#18 Merck & Co. (NYSE:MRK)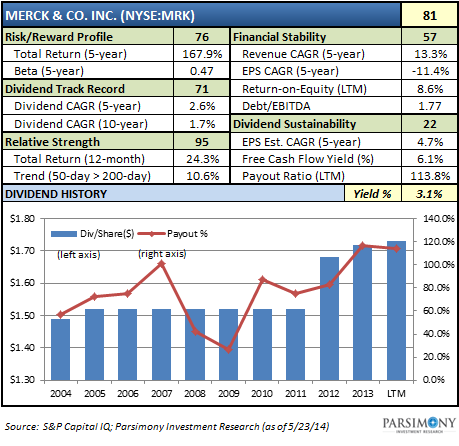 After holding its dividend steady for 6 straight years, Merck finally increased its dividend payment in 2012 (+10.5%) and 2013 (+2.4%). While we don't expect the company to grow its dividend by double digits going forward, it seems that management has realized the importance of consistent annual dividend increases for shareholders and investors should expect Merck's dividend growth to keep pace with the rate of inflation (2%-4%).
#17 Kinder Morgan Energy Partners (NYSE:KMP)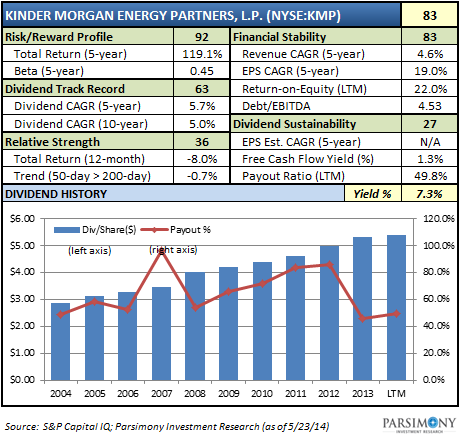 Master Limited Partnerships ("MLPs") are not traditionally considered to be "defensive" in nature. However, we believe that the large cap diversified MLPs are very "utility-like" in that they tend to deliver stable and consistent income in any market environment. For example, KMP has increased its dividend at a compound annual rate of 5.7% over the past 5 years, while delivering shareholders a total return of 119%. In addition, KMP has a low beta (0.45) and it had a relatively small maximum drawdown (28.0%) during the recession (which is why its Risk/Reward Rating (92) is so high). Also, KMP has a very attractive dividend yield of 7.3%.
#16 PepsiCo (NYSE:PEP)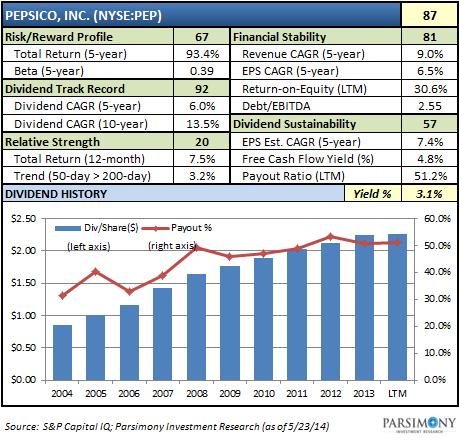 PepsiCo has great ratings for Financial Stability (81) and Dividend Track Record (92) and it has increased its dividend at a compound annual rate of 13.5% over the past 10 years. In fact, the company has paid consecutive quarterly cash dividends since 1965, and 2014 marked the company's 42nd consecutive annual dividend increase. This is another decent core stock for a retirement portfolio, in our opinion.
Summary
If you are looking to generate safe and stable income in a volatile market environment, low beta dividend stocks in defensive sectors are a great way to accomplish this goal. We believe that any of the 25 stocks on our All-Defensive Team would make a nice addition to a long-term dividend portfolio.
Disclosure: I am long KMP, D. I wrote this article myself, and it expresses my own opinions. I am not receiving compensation for it (other than from Seeking Alpha). I have no business relationship with any company whose stock is mentioned in this article.