Before I begin to express my reasons for liking Ikonics Corp. (NASDAQ:IKNX), I probably need to give the company an introduction. It is easy to forget that this Duluth, Minnesota-based company only has a $50 million market cap and 2 million shares outstanding. Ikonics corporation operates in 6 divisions and conducts business in over 90 countries. The company has been a leader in the development of imaging technologies for over 50 years.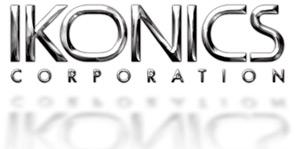 Ikonics Divisions
Chromaline Screen Print Products: provides a full line of capillary film, screen chemicals, transfer emulsions, and inkjet films for use in screen printing.
Ikonics Imaging: sells quality sandcarving equipment and products; primarily sells products to sandcarving businesses; in Q1 2014, compared to Q1 2013, sales in this division grew from $718,000 to $1,562,000.
Ikonics Digital Texturing: the primary focus of this article; the rapid prototyping consumables are of particular interest relative to 3D printing application; this division offers revolutionary methods of placing texture patterns into molds at lower costs than traditional methods.
Ikonics Micro-Machining Solutions: "Patent-pending breakthrough technology makes quick work of perforating and cutting composites... does it without de-lamination, burnishing or need for de-burring." This is another reason Ikonics has 3D printing analysts raising their eyebrows; this division is currently working with Lockheed Martin (NYSE:LMT) and serves as a second tier supplier to Airbus and Bombardier.

Ikonics Custom Inkjet and Substrate: focuses on providing contract research and development; provides specialty services for custom product development.

Ikonics International: this division conducts business sales outside the U.S.; international sales provide one third of the company's revenue.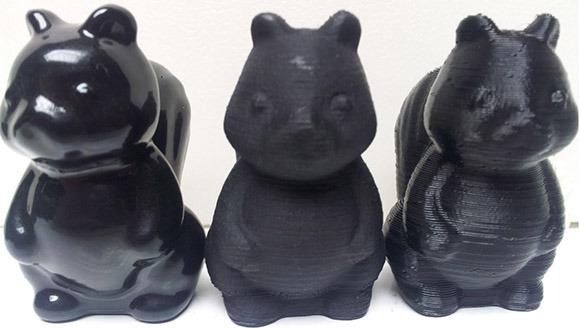 Sealing the Deal
As shown in the image to the left, the vertical layers in most consumer 3D printed objects are relatively easy to recognize. As noted in the picture's website, all three of these figurines are 3D printed.
The figurine to the far left achieves its quality finish by undergoing a "pretty simple" manual process. This process involves acetone, a build plate, and a glass jar. Although this particular case only involves an aesthetic problem, many commercial and industrial applications require a consistent, flawless seal. Based on progress made in its DTX business initiatives, Ikonics appears to be the best candidate to fill this gap.
Sealing Fused Deposition Modeling (FDM) Parts
On their website, Stratasys Ltd. (NASDAQ:SSYS) weighs the pros and cons of five different solutions for sealing its FDM parts.
Smoothing Station: This works by exposing printed parts to a vaporized smoothing agent. Benefits are ease of use and preservation of integrity. The main limitation is that it can only perform when temperatures are less than or equal to 212oF (100oC).
Epoxy Coating: Benefits include maintaining an airtight seal until pressure exceeds 65 psi, tolerance of high temperatures, and resistance to chemical agents. Negative aspects include difficulty in sealing large parts, difficulty in sealing intricate parts, failure in penetrating porous surfaces, and dimensional inaccuracy.
Epoxy Infiltration: The only difference between this and epoxy coating: infiltration is more expensive; infiltration succeeds in penetrating porous surfaces.
Dipping: Obviously not the method of choice; a less accurate version of the smoothing station.
Painting or Filling: Advantage is that it's cheap. Disadvantages include a heavy reliance on user skill level, it is not air tight, and it has extremely low resistance to temperature and chemicals.
I believe Ikonics DTX can easily provide better surface solutions than any of the options listed above. This is why I view their announcement to enter the 3D printing market as significant.
How is 3D Printing Used in Digital Texturing?
Project Manager Jeremy Peterson explains why Digital Texturing is a break through mold texturing technology in a video on the company's website. He was nice enough to give me some details about the technology:
I feel the best description of our technology would be 3D prototype texturing, wherein we create realistic 3-dimensional textures using our inkjet technology. One aspect that makes our product offering unique is the ability to stretch and wrap the 3D-printed films, so that they may be applied to a variety of products to create a realistic prototype part.
Upon learning this, I realized that this application could be much bigger than just providing a superior 3D printed texture to 3D printed objects. The main objective is to provide a faster, less expensive, and better quality surface texture than can be obtained with traditional methods. I asked Jeremy which markets should benefit the most from Digital Texturing. He replied:
Our main focus at the moment is automotive, but there are possibilities in many areas. For example, design studios for many industries could take advantage of this technology to create/illustrate initial concepts, and for creating quick mock ups for potential clients.
My next question was whether or not 3D printed digital texturing was going to be used as a surface finish for 3D printed parts (i.e., in conjunction with Stratasys objects). His answer:
There have been discussions of using our films in conjunction with 3D additive manufacturing parts.
Jeremy goes on to distinguish this technology from typical 'additive manufacturing':
One distinction I would make regarding our 3D prototype texturing (versus what is normally referred to as 3D prototyping) is that what we create is not what we would consider 'additive manufacturing' (compared to how 3D companies such as Stratasys would describe their business).
No. It's not doing the same thing as Stratasys and 3D Systems. But it is now clear to me that 3D prototype texturing is poised to break the engineering commandment by being faster, better, and cheaper than traditional texturing methods.
Ikonics has Zero 3D Printing Hype Built into its Price
In March 2013, one Seeking Alpha author was already making the case that Ikonics and its Digital Texturing would have a role in additive manufacturing. At that time, the company's share price and volume were both increasing. This was primarily a result of positive news related to Ikonics Micro-Machining and aerospace. I do not believe the run in 2013 had anything to do with 3D printing hype.
On February 20, 2014, Ikonics had a 50% gain upon the announcements of 2013 sales, the largest single order in company history, and forward looking statements regarding Micro-Machining. This too did not occur from 3D printing hype. This stock was trading at $25/share with no formal announcement of 3D printing.
On March 5, 2014, Ikonics released its Form 10-K. In the last sentence of the third paragraph of the "Future Outlook" section, the following statement was made: "The company has modified its DTX technology to enter the market for prototyping and 3D printing." Even though the share price experienced a quick rise above $30, the stock's price found its way back to $25 within a few days.
My point is that even though the price of Ikonics shares have tripled in the past sixteen months, none of their value comes from news relating to 3D printing. Because I believe Ikonics will ultimately succeed in the 3D printing market, I see further upside for the company.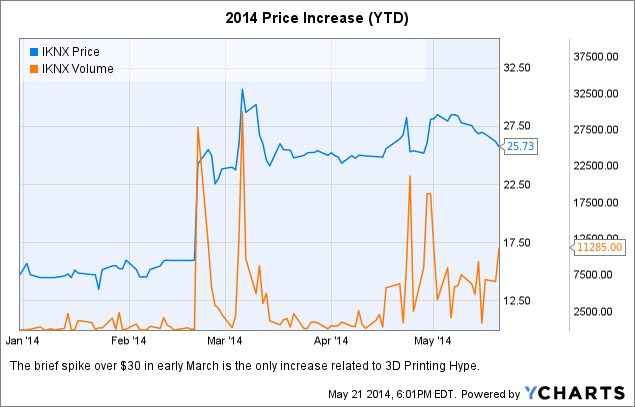 Ikonics Shares Should Continue to Trade Above $25
As indicated by the chart above, price per share has stayed near or above $25 since the jump on February 20. Part of the reason the price per share has been able to maintain this level so well is investor confidence. Most of the 2 million outstanding shares are owned by investors who are unwilling to let go of their shares. A prime example of this is Beneficial Owner Nerges, who currently owns more than 20% of Ikonics. On April 28, Nerges reported a direct purchase of 4,867 shares between the price of $24.75 and $25.19. To top that off, during the last six months there have been eight insider purchases and zero insider sales.
Could Ikonics be on the Radar for Apple or Google?
Rumors are flying that Google Inc. (NASDAQ:GOOG) and Apple Inc. (NASDAQ:AAPL) are both working on making "all-in-one" 3D printers. These players would not be entering the 3D space unless they had confidence in the viability of 3D printing. An "all-in-one" type of gig would probably include texture printing options. If Google Project Tango has anything to do with consumer 3D printing, then they will probably go the route of acquisition or partnership.
3D Systems Corp. (NYSE:DDD) has been meticulously working for over twenty years to get where they are today. Ikonics has been developing imaging technologies for over fifty years. I wouldn't be that surprised if one or both of these companies are acquired because of their unmatched level of quality in their respective fields.
Risks, Concerns, and Questions
Ikonics has 2 million shares outstanding and a market cap of about $50 million. This stock is capable of having some painfully low volume. Sometimes it can be very difficult, if not impossible, to make large transactions. As with all stocks that have less than a $100 million market cap, investors should be aware of the associated risks.
If they have been around over 50 years, why are they just now starting to take off?

Ikonics has been a successful company since they were founded in 1952. It is clear that their research and development department has been on a hot streak during the last few years. This is a company that has always provided niche products and services at a superior quality; now there is a lot of demand.

Are they trying to jump on the 3D printing bandwagon? No. If anything they are trying to stay away from that affiliation. Perhaps if their annual earnings report didn't mention 3D printing plans,

Ikonics shares would be trading higher.

Ikonics has some very large orders. While this is normally a good problem to have, it can also incorrectly skew quarterly performances. Be careful when reading financial statements. Also, losing a single large customer can have a detrimental impact on a small company's performance.
Conclusion
I believe that Ikonics shares are worth more than $25 because of their potential in the 3D printing industry. Given the associated short-term risks, I would not pay over $30/share at the present time. Whether or not Ikonics has a major presence in 3D printing, I am very confident that this stock will be a great long-term performer.
I don't believe that shares will trade lower than $25. I base this opinion on the stock's recent performance, positive future outlook, and a recent insider purchase of 4,687 shares between $24.75 and $25.19.
Three of Ikonics's business divisions are poised for unprecedented market growth. These divisions are Ikonics Imaging, Ikonics Digital Texturing, and Ikonics Micro-Machining Solutions. I believe this fully justifies its P/E ratio of 52.
Based on evidence provided in this article, I believe that Ikonics Digital Texturing has technology that can significantly raise the standard of surface texture quality for many consumer, commercial, and light industrial applications.
Disclosure: I am long IKNX, DDD, SSYS. I wrote this article myself, and it expresses my own opinions. I am not receiving compensation for it (other than from Seeking Alpha). I have no business relationship with any company whose stock is mentioned in this article.
Editor's Note: This article covers one or more stocks trading at less than $1 per share and/or with less than a $100 million market cap. Please be aware of the risks associated with these stocks.