Nvidia Corporation (NASDAQ:NVDA) recently received an upgrade to Outperform from RBC Capital Doug Freedman. Mr. Freedman sees Nvidia, along with other semiconductor players, generating stronger revenue as the entire industry grows into a "more mature era."
My own take on what mature era means is that tablets grows capable enough to replace laptops as mobile gaming devices. Nvidia, along with Advanced Micro Devices (NYSE:AMD), are the two companies with strong experience in GPU and are poised to dominate the gaming tablet category.
Nvidia's growth potential also gets a huge boost from Xiaomi's iPad Mini clone, Mi Pad. The Xiaomi Mi Pad is the world's first ever tablet to use Nvidia's Tegra K1 SoC. It is intended for the huge Chinese market but I expect it to be available for others soon. There's a booming market for Chinese mobile gamers and the 192 Nvidia CUDA cores and Kepler architecture makes a K1-powered tablet a monster mobile gaming device.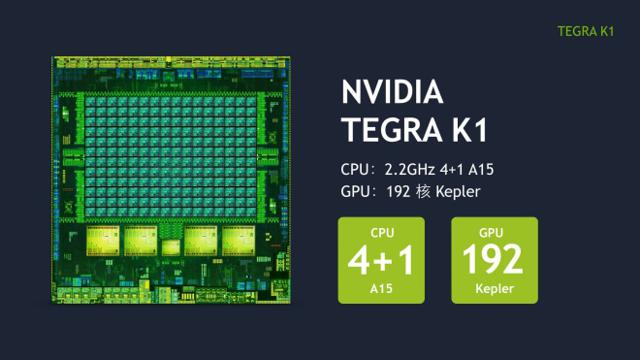 Source: blog.gsmarena.com
Nvidia's Tegra division can surely benefit from the rapidly growing number of Chinese mobile gamers. The future of K1 lies in its superior gaming performance compared to Qualcomm's Snapdragon offerings. Xiaomi is the right partner for Nvidia to saturate the Chinese tablet market with the Tegra K1. The low price tag of the Mi Pad and the cult-like devotion of Mi3 phone buyers will also extend to tablet buyers.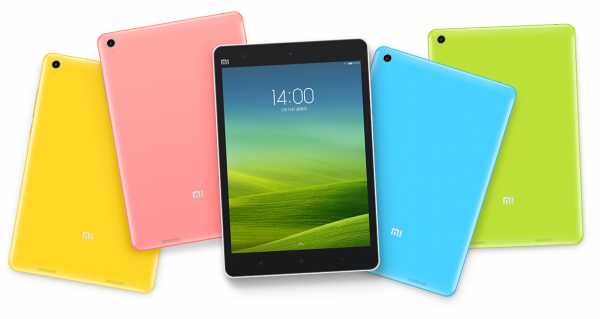 Source: Xiaomi
I thought that Xiaomi's decision to use Qualcomm's Snapdragon 801 for the new Mi3S smartphone meant it will no longer support the Tegra K1. It's a blessing in disguise, Nvidia lost the new smartphone but gained the Mi Pad. The Xiaomi tablet, with its large 7.9-inch Retina resolution (2048 x 1536 and 326 PPI) is perfect for mobile gaming.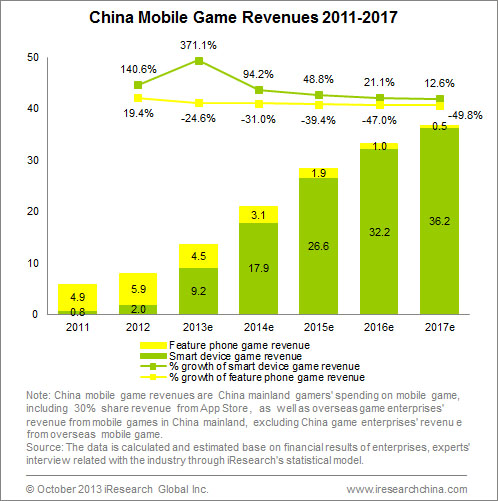 The Mi Pad is Cheaper and More Powerful
The Mi Pad's most compelling feature is not that it looks like an Apple (NASDAQ:AAPL) iPad Mini nor its low price tag of $240 (for 16GB model, the 64 GB model is $275). While some western writers disparage the copycat looks of the Xiaomi Mi Pad, I say that this cheap tablet is the most powerful iPad version that Apple never released.
Feature for feature, the Mi Pad is really a better value for the money. The quad-core K1 benchmark scores and the huge 2GB ram inside the Mi Pad make it the most competent gaming tablet on the market today. Xiaomi is right to use Nvidia's product in its tablet. K1 simply outperforms the Snapdragon 801.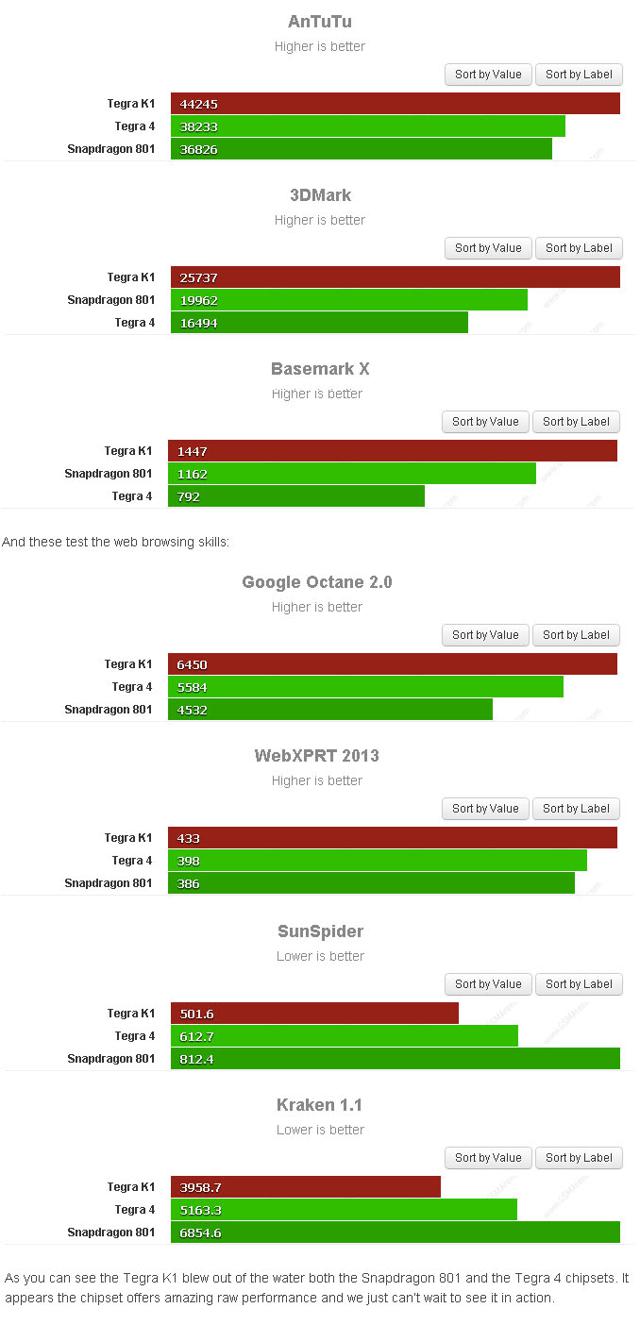 The K1's alleged power-hungry handicap is of little problem because the Xiaomi Mi Pad comes with a 6700 mAh battery. The low price tag also allows buyers to buy two Mi Pads for the price of an Apple iPad. Xiaomi sells more phones than Apple does in China. This is a great feat considering Apple has a deal with China Mobile while Xiaomi only sells its phones from its online store.
I surmise that Xiaomi will sell more Mi Pad tablets than Apple can do with the iPad in China. This fact is to the great benefit of Nvidia. The more K1 shipments it does for the Mi Pad production, the more the stock market will love NVDA.
Nvidia has more urgent need to prove its ARM products can really compete now that AMD is already entering the consumer 64-bit ARM microarchitecture.
AMD has suffered great misfortune based on its 10-year historical performance. However, AMD is recently on an upside run due to its huge win with the PlayStation 4 and Xbox One. Nvidia, since it doesn't make x86 chips has no chance of ever getting a console win from Sony or Microsoft.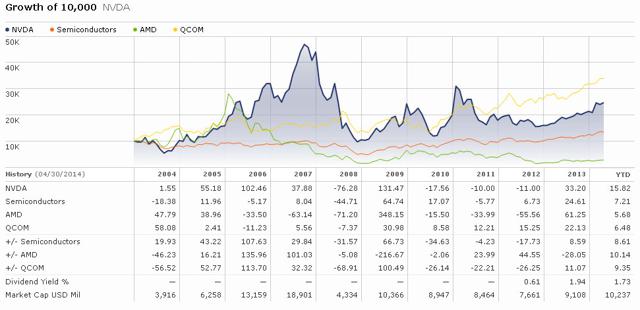 The $240 Xiaomi Mi Pad, given the Chinese company's record-setting sales growth, will sell a lot in China. A 10 million sales estimate for 2014 is within easy reach. Nvidia supplying 10 million K1 chips for Xiaomi will not be as rich as supplying SoCs for the PlayStation 4. However, anything that significantly improves Nvidia's Tegra business is a strong tailwind in my book.
Nvidia can no longer depend solely on its GPU business. Despite the 6% quarterly improvement on its Tegra sales and strong 14% Year-over-Year increase in GPU revenue (81% of total company sales), the market still pummeled NVDA down after post-earnings. AMD's cheap APU and discrete GPU products, coupled with Intel's integrated GPUs, threaten the core business of Nvidia.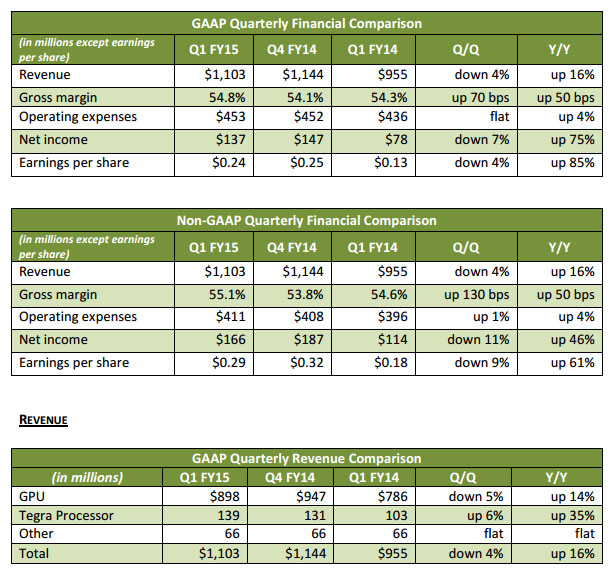 Source: Nvidia
Conclusion
Nvidia's heavy reliance on GPU sales makes it vulnerable to price wars and market recession. I am therefore happy with the company's mobile computing efforts and entry into server GPU with its GRID product. Xiaomi's global expansion is also a strong tailwind for Nvidia.
I look forward to buying the 64GB Mi Pad here in the Philippines. Alpha Omega Mathematica's valuation algorithm only rates NVDA a Hold. I'm a gamer so I understand the importance of the K1 win in the Mi Pad. I therefore rate Nvidia a Buy as a long-term bet.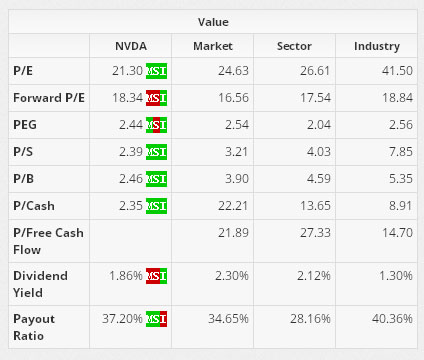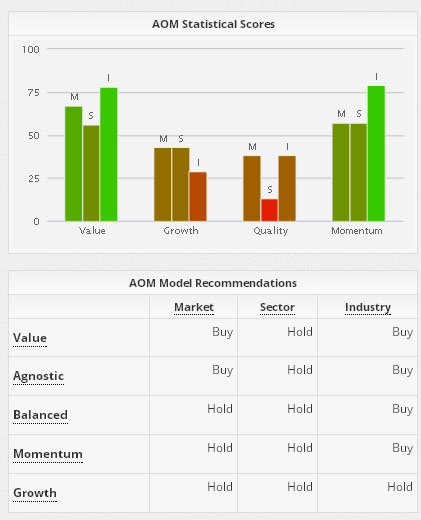 Charts from getaom.com
My Buy rating for NVDA is in line with the votes of 9 other analysts at Barchart.com. Nvidia's K1, unlike AMD's Mullins, already found a big OEM tablet company client in Xiaomi.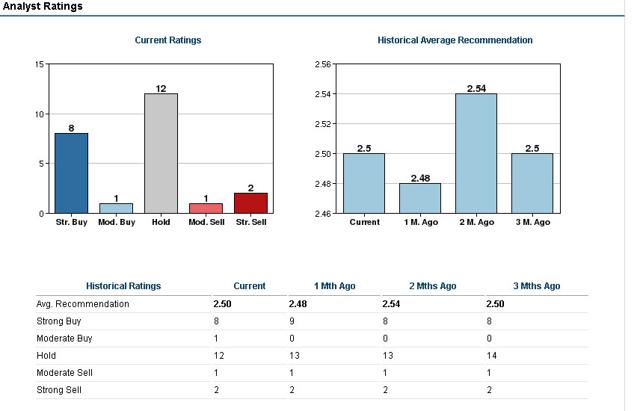 Disclosure: I am long AMD. I wrote this article myself, and it expresses my own opinions. I am not receiving compensation for it (other than from Seeking Alpha). I have no business relationship with any company whose stock is mentioned in this article.