Broadcom Corporation (BRCM) posted disappointing first quarter results as the firm lost market share in its Mobile and Wireless segment. First quarter revenues declined 1% y/y while my expectation was for full year revenues growth of 6%. Consequently, the full year revenues growth expectation has been reduced to +3%.
While BRCM lost market share in its Mobile and Wireless segment, as revenues from 4G cellular SoCs didn't offset declines in revenues from 3G SoCs, the firm gained market share in Networking and Infrastructure, which is the most profitable segment on a margin percentage basis. The Broadband Communications segment, with its solid profitability, posted revenue growth of 4%.
While the underlying fundamentals of the business may warrant a $57 per share valuation, it'll be tough to get there without growth. The convergence appears to be a multi-year process that would be reached on strength in Broadband Communications, Infrastructure and Networking, and profitability margin expansion. Additionally, news of Mobile and Wireless design wins could trickle in during the back half of the year.
Recent Developments
Broadcom's 2X2 MIMO 5G WiFi combo chip is in Xiaomi's 4k Mi TV2.
A new Bluetooth Smart SoC, that adds advanced security features and iBeacon technology support, was introduced into the Wireless Connectivity for Embedded Devices family.
The board of directors declared a $0.12 dividend to be paid on June 16, 2014 to holders of record at the close of business on May 30, 2014.
Broadcom's quad-core HSPA+ turnkey platform will be featured in Lava's QPAD e704 tablet.
The industry's first six-stream 802.11ac MIMO platform for home networks was introduced.
Broadcom is rolling out a smart sprinkler, The Droplet Robotic Sprinkler.
Analyst's Note
Broadcom provides chips for technologies such as enterprise networking, set-top boxes, and mobile connectivity functions. BRCM has an extensive R&D staff, as the majority of its employees work in R&D. This impressive human capital should help the firm develop and integrate new technologies.
There has been a significant amount of criticism of BRCM's stock-based compensation expenses, which I think is unwarranted. To put the stock-based comp in perspective for readers, BRCM paid out $84 million in stock-based comp to its R&D staff during the first quarter; that equates to $8,750 per person, or about $35,000 per year. The salaries and benefits per year, per capita is approximately $155,000. The total estimated compensation of $190,000 is in line with compensation for highly competitive R&D positions at leading corporations. Consequently, the annual expense of $518 million for stock-based compensation spread over an entire organization isn't an extraordinary amount when taken on a per capita basis. Management isn't paying the employees $1 million per year in stock-based compensation, which goes to say that they aren't fudging the cash flow from operations numbers.
Revenues were originally expected to increase 6% this year, but the y/y decline of 15% from the Mobile and Wireless segment adversely impacted that expectation. On the other hand, Infrastructure and Networking showed promise during the first quarter. With that stated, declining sales from 3G cellular SoCs may not be offset by increasing sales of 4G cellular SoCs during this fiscal year, and consequently the revenue forecast has been decreased to +3% y/y. The operating margin is still expected to be 10% with a net profit margin of 9.5%. Below is a table with the updated expectations.
| | | |
| --- | --- | --- |
| For the year ending (in millions of dollars expect per share data): | 2013-12 | 2014-12E |
| Revenues | 8305 | 8554 |
| Adjusted operating income | 892 | 855 |
| Adjusted net income | 827 | 813 |
| Adjusted diluted EPS | $1.42 | $1.35 |
The operating results from 2013 are adjusted to reflect non-reoccurring items. No such adjustments have been made to the pro forma results from operations for 2014.
The cash flow from operations came in at a run rate that is above my forecast for the full year. A one-time item positively impacted the first quarter. I'm forecasting cash flow provided by operations for the full year of $2.14 billion with free cash flow to the firm of $1.92 billion. Free cash flow to equity is forecasted to be $1.89 billion. My stock repurchase expectation is staying at $600 million, which should be roughly in line with the common stock issued.
BRCM is losing market share in Mobile and Wireless, but gaining market share in Networking and Infrastructure. The profitability is better in networking, so I really don't mind that the firm is losing market share in mobile and gaining in networking. This trend will be monitored in the coming quarters. BRCM is expected to generate a return on equity in 2014 that is roughly in line with its cost of equity.
Portfolio & Valuation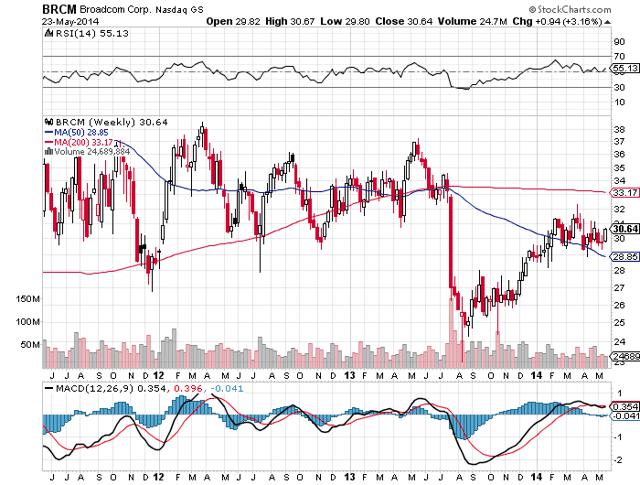 BRCM is in a bull market of primary degree and a bear market of intermediate degree. The technicals are reflecting the underlying fundamentals. With that stated, the share price could get a lift to the $35 per share zone as the consolidated results of operations improve.
| | | | |
| --- | --- | --- | --- |
| Monthly expected return | Quarterly expected return | Quarterly standard deviation of returns | Sharpe ratio |
| 1.19% | 3.58% | 15.70% | 0.18 |
| | | |
| --- | --- | --- |
| | Intrinsic value estimates | Forward multiplier model valuations based on base case intrinsic value |
| Optimistic | $78.84 | P/E: 42.44 |
| Base case | $57.34 | P/S: 4.03 |
| Pessimistic | $28.67 | P/BV: 3.91 |
| | | P/CFO: 16.13 |
The underlying fundamentals of the business are generally the same, and consequently the base case intrinsic value estimate is the same. But that intrinsic value estimate comes with a decreased expectation for near-term growth and thus higher price multiple valuations. Simply stated, BRCM at $57.34 per share would be trading at 42.44 times 2014 earnings while the previous expectation was for 41.25 times 2014 earnings. The convergence to the intrinsic value estimate is likely to be a multi-year process.
General Risks
The share price is likely to remain volatile and investors could lose a portion or all of their investment.
Investors should judge the suitability of an investment in BRCM in light of their own unique circumstances.
A decline in the global economic growth rate and/or a decline in the pace of economic growth in the United States could adversely impact the results of operations and the share price.
The technology industry is characterized by rapid technological change, which could materially adversely impact the results of operations.
Competition in product development and pricing could adversely impact performance.
Incorrect forecasts of customer demand could adversely impact the results of operations.
Higher interest rates may reduce demand for BRCM's offerings and negatively impact the results of operations and the share price.
This section does not discuss all risks related to an investment in BRCM.
Disclosure: I have no positions in any stocks mentioned, and no plans to initiate any positions within the next 72 hours. I wrote this article myself, and it expresses my own opinions. I am not receiving compensation for it (other than from Seeking Alpha). I have no business relationship with any company whose stock is mentioned in this article.