In the last several days I've done a tremendous amount of due diligence on PetSmart (NASDAQ:PETM). My conviction is extremely high and I've invested accordingly. In fact, it's now my 6th largest position in a portfolio of 21 stocks.
As the stock has tumbled from $65.19 down to $63.19 to $57.82 and then down to $55.74, I've been buying hand over fist. My cost basis is $60.30 which I'm happy with.
I'm trying not to be emotional about this, but honestly I'm tickled pink that the stock has been crushed. It's allowed me to pick a large number of shares at prices I love.
All this being said, PetSmart isn't the "perfect" stock and there are some things I don't like. I'll explain what I like and don't like as clearly as I can so that you can judge for yourself.
Observation One: Big Gorilla, Small Gorilla
I've read that PetSmart commands 40% marketshare. And, for reference, from the 2013 10-K:
"Based on our 2013 net sales of $6.9 billion, we are North America's leading specialty provider of products, services, and solutions for the lifetime needs of pets. As of February 2, 2014, we operated 1,333 stores, and we plan to continue our store growth in 2014. Our stores carry a broad assortment of high-quality pet supplies at everyday low prices. We offer approximately 11,000 distinct items in our stores and 9,000 additional items on PetSmart.com, including nationally recognized brand names, as well as an extensive selection of proprietary brands across a range of product categories."
PETM is often compared to Wal-Mart (NYSE:WMT) and Target (NYSE:TGT) simply because they are bricks-and-mortar retailers. But, whereas they are broadly focused, PetSmart is niche focused.
This gives PETM the advantage of exclusivity, branding and focus. I believe being the largest niche player simultaneously provides economies of scale with focused attention on their customers. They are both small and big. It's a comfortable position.
Observation Two: Amazon's Wag.com Is Minor Threat
Without getting into every single detail, I think it's important to realize what Amazon's wag.com is really all about:
"Wag.com carries thousands of pet products - from food, treats and toys to collars, habitats and grooming essentials - across all the brands you already love, and lots of new brands to discover."
They sell pet products online. They are an online retailer but as I recently pointed out, PetSmart is primarily an offline retailer.
PetSmart also has a moat that wag.com and other online retailers cannot do much about. Namely, PetSmart offers vet services, grooming services, boarding, more. It's same reason that it's so hard to outsource dentists, auto repair and carpet cleaning to China.
"The sales mix for the quarter included consumables at 54.5%, hardgoods at 31.7%, services at 11.6%, live pets at 1.6%, and other revenue at 0.6%."
And I believe that although services contribute "only" 11.6% they increase foot traffic, product awareness, branding, goodwill and much more. In other words, services drive sales of consumables and hardgoods and I don't see that being well reflected.
Now switching back to the big boys, WMT and TGT are not focused on these types of services and I don't believe their infrastructures and sales models are designed to handle these services. That said, WMT and TGT are a bigger threat than Amazon (NASDAQ:AMZN) right now although in the future, online competitors might be more important.
Observation Three: Massive Sell-Off
I'm a fan of buying stocks when they are near historical lows. I don't try to time things exactly but I do generally avoid stocks trading at high points.
As a simple proxy, I also look for historically low P/E. As you can see, PETM hasn't been this "damaged" since late 2009. The earnings of PETM have been quite reasonable for years but the price hasn't been keeping ahead of the value.

I've read that the reason for the price punishment is because of reduced expectations for the rest of 2014:
"For the year, PetSmart now expects earnings of $4.29 to $4.39 a share and flat same-store sales growth, compared with its earlier forecast of earnings between $4.42 and $4.54 a share and same-store sales growth of 2% to 4%. The company also forecast net sales growth in the low-single digits for the current fiscal year, down from its prior forecast of 4% to 6% growth."
Although this isn't great news, it's not horrific given the economy and the weather issues that all brick-and-mortar retailers have mentioned. Mr. Market is definitely reacting very strongly; too strongly, which creates a larger value gap and opportunity.
Observation Four: Excellent Dividend History
As I previously pointed out, PetSmart has been increasing its dividend for 5 years in a row. It's well ranked compared to 500+ companies paying dividends for 5 years or more. As the price drops, the ranking just gets better.
PETM's payout ratio has been right around 20% for several years now. Earnings have been consistently rising and the dividend has been increasing steadily. In short, earnings are covering the dividend but earnings have also easily allowed for growth and buybacks. Everything is getting done, consistently.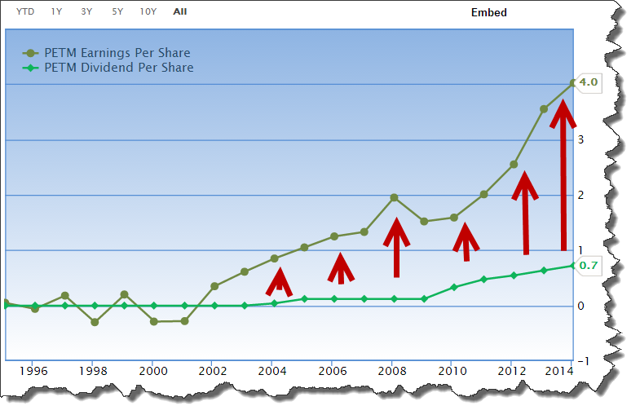 The yield's pretty low (right about 1.4%) but the dividend growth rate has averaged about 15% over the last three years.
On the one hand, the 1.4% is useless for dividend growth investors because the starting yield is so low. However, according to David Fish, the Chowder Rule on this is a whopping 43. That's because of the outstanding dividend growth rate which I feel will continue to be robust given the proven earnings power of PETM.
Oh, and speaking of buybacks, here's a nice visual (ref: GuruFocus):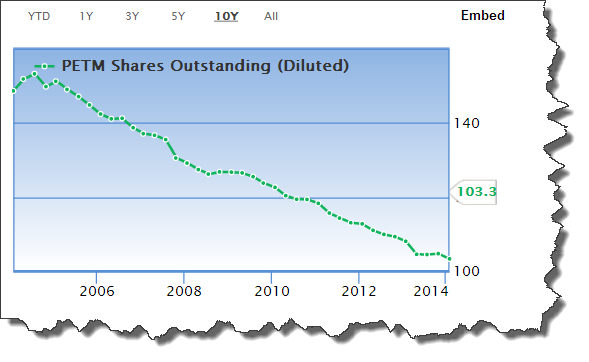 About 30% of all PETM shares have been retired in 10 years. Given the steadily rising price but also the steadily rising value of PetSmart, and without getting far into fancy pants equations, these buybacks appear to have been accretive.
When you add the 1% dividend plus the 3% buyback per year, owners are getting 4% back year after year, on top of strong growth year over year.
Observation Five: Relentless Positive Movements
Thanks to GuruFocus, I can also get the following picture at a glance: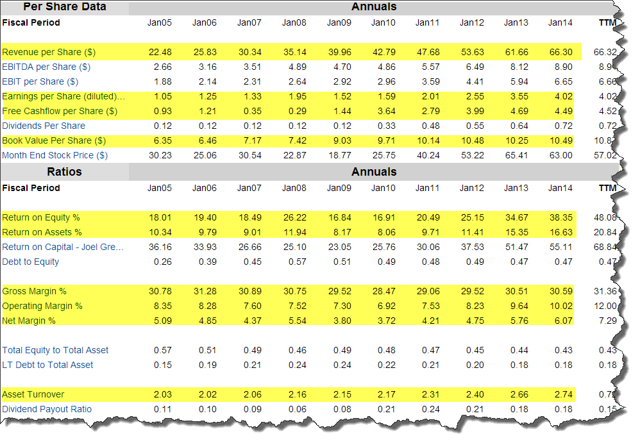 Revenue has gone up non-stop
EPS and FCF have gone up almost continuously
Book value has nearly doubled; steady increases
ROE has roughly doubled
ROA has steadily moved up by about 60%
Gross Margins are strong and steady at 30%
Operating and Net Margins steady up and up
Turnover has steadily improved YOY
I see that debt to equity has increased which drives up leverage and all that. But, the balance sheet is strong and there are no worries about interest coverage.
I really like to see it when Total Liabilities are completely covered by Total Current Assets. We're mighty close with PETM: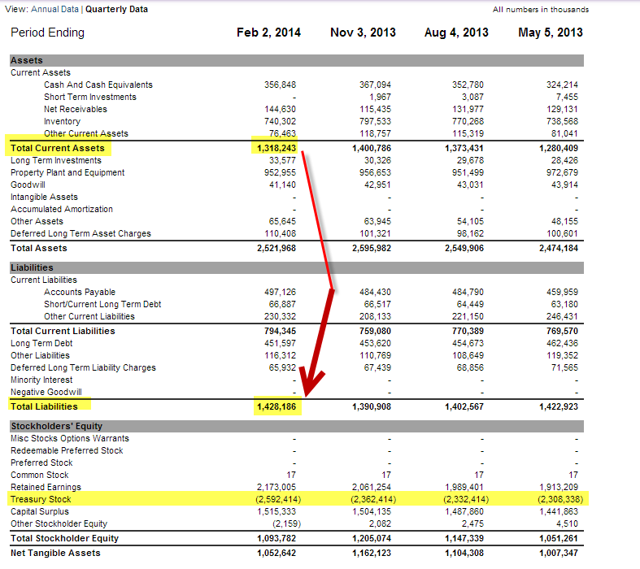 The idea is simple. If your current cash and inventory can pay off all debts, you're left with assets that can generate more cash without any obligations, especially if those assets are largely long-term investments and property, plant and equipment vs. goodwill.
(It's like having enough money in a savings account to pay off your mortgage. If you cleaned out that cash account, you'd be free and clear but still get full enjoyment of your home. Rough analogy, but I bet you follow.)
By the way, I also highlighted the growing Treasury Stock. That's a good indication of stock buyback growth. I like what I see. Just below that, you can see Capital Surplus increasing, too.
Observation Six: Favorable Demographics
According to the Humane Society:
"Pet ownership in the U.S. has more than tripled from the 1970s, when approximately 67 million households had pets, to 2012, when there were 164 million owned pets. In other words, in 2012, 62 percent of American households included at least one pet."
And, according to the American Pet Products Association: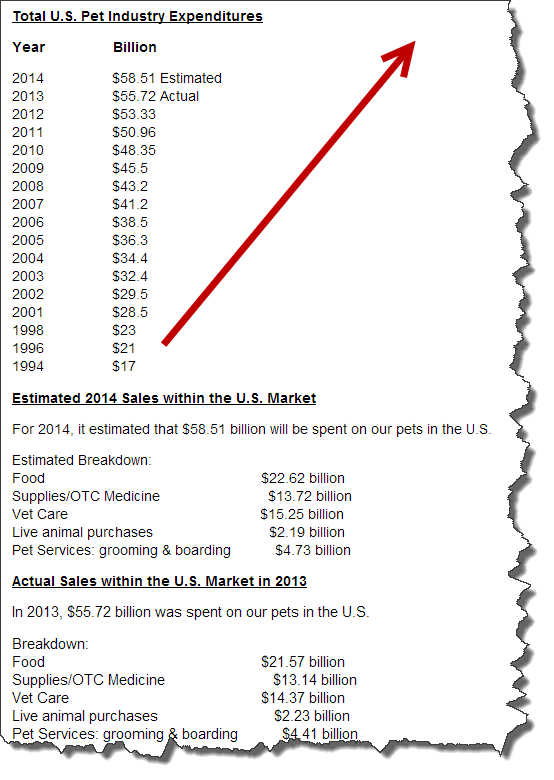 More than $50B is spent per year. PETM is the largest public company in this niche with 40% marketshare. The opportunity without growth is huge, but the numbers just keep going up. Even without much growth (or loss of marketshare) the pie just keeps getting larger. You can still make a tremendous amount of money if your piece of the pie shrinks when the pie grows faster than the loss.
But, I digress because PETM is growing and they don't appear to be losing marketshare where they play. Remember, they aren't losing marketshare to Amazon because they're not competing against Amazon at present. Amazon isn't doing medicine, vet care, boarding, and the like. Wal-Mart and Target don't play in that space either.
Observation Six: Mr. Market Irrationality
The gap between price and value appears to be enormous with respect to 15 years of history per this F.A.S.T. Graphs chart: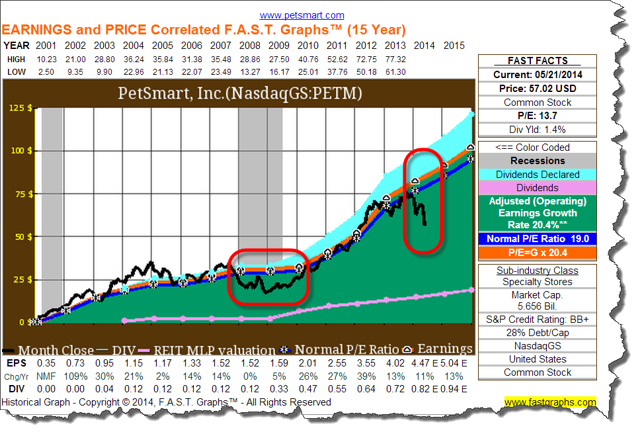 In fact, even during the Great Recession, PetSmart wasn't punished like this. The gap between value and price has grown very wide. Consider the following:
No dividend cuts (ever)
BB+ credit rating (just below investment grade)
28% Debt/Market Cap
For this 15 year period, the "normal" P/E has been 19 but now it's under a P/E of 14. As I mentioned previously, this is a large delta.
Even without looking at growth prospects, it's hard to ignore the potential for reversion to the mean to kick in. I wouldn't count on any sort of instant P/E expansion but given the dark outlook, even a modest uptick in performance will kick the price back toward a P/E or 15 or greater, which would move the stock up many dollars. And again, this is without any real growth pulling up the price via full blown value creation.
Observation Seven: Insiders and Gurus
I really like to see insiders buying. I don't care much about selling because that's done for so many reasons. But when insiders buy that's a delightful signal. There's been no insider buying that I can find.
Also, I like to see strong inside ownership. But, PETM is heavily owned by institutions. There's less skin in the game than I would like by management.
Finally, I'm not seeing real ownership by various gurus, like Warren Buffett or any other investors with excellent track records.
Overall, this neither adds nor subtracts value in my mind.
Observation Eight: "Caveman Simple" Valuations
Let's look at average operating earnings growth rates over several periods of time:
15 year Growth Rate 20.4%
10 year Growth Rate 14.1%
5 year Growth Rate 20.4%
3 year Growth Rate 12.9%
Now, let's look at what Carrie Teffner said about 2014 earnings:
"We expect earnings before tax growth in the mid-single digit range with some gross margin deleverage and OG&A leverage. We anticipate the tax rate to be around 38% and earnings per share growth between $4.29 and $4.39. Operating cash flow is now expected to be between $600 million and $625 million."
Next, here's what the stock market has returned on average over several time periods:
20 year return 11.11%
15 year return 7.95%
10 year return 10.97%
5 year return 9.19%
3 year return 16.31%
Consider these rates of return as possible discount rates, although I realize that using the stock market returns this way can be a bit of a stretch.
In any event, I have enough information here to run a worst case Discounted Cash Flow analysis all the way through the best case Discounted Cash Flow analysis.
Assuming $4.29 earnings per share, with a 10% annual growth rate (2.9% below our worst number), for the next 5 years, and a lame 2% terminal growth rate, against a 16.31% hurdle, we get a value of $41.34 per share. That's about 25% lower than today's close of $55.74 per share.
Let's see what happens at the other extreme. Assuming $4.39 earnings per share, with a 20.4% annual growth rate for the next 5 years, and a more reasonable 3% terminal growth rate, against an 11.11% hurdle, we get a value of $102.90 per share. That's close to 100% greater than today's close of $55.74 per share.
And lastly, let's land closer to the middle. Assuming $4.34 earnings per share (middle of the guidance), with a 12.5% annual growth rate (assume some slower growth from here forward) for the next 5 years, and the stricter 2% terminal growth rate, against the 20-year hurdle of 11.11%, we get a value of $74.24 per share.
(Truth be told, I don't use DCF analysis very often. I think it's too rigid and the assumptions you make can swing the "truth" around too easily. You can fool yourself. Caveat emptor.)
Taken together we see the DCF yielding a low of $41 per share through $103 per share. I think a value of $70-75 just based on the DCF analysis is probably fair. That's an upside of about 35%.
To me, that upside is the margin of safety you can get right now. Even at my average cost of about $60 per share, I've got a 20-25% margin of safety. I believe that this "air gap" in the market will be closed in 12-18 months.
Disclosure: I am long PETM. I wrote this article myself, and it expresses my own opinions. I am not receiving compensation for it (other than from Seeking Alpha). I have no business relationship with any company whose stock is mentioned in this article.