Daily, General Motors (NYSE:GM) has been in the media daily regarding an ever-mounting litany of recalls; the most troubling a 2.6 million vehicle recall involving a defective ignition switch that has lead to at least 13 deaths.
The purpose of this article is to offer some investment perspective on the current events, including review of another massive auto recall and its outcome.
The GM Recall by the Numbers
To-date, General Motors has recalled a total of 15.8 million vehicles worldwide and taken a $1.7 billion charge. At the core is the aforementioned ignition switch recall.
The prospective outcome of these events has the ability to damage GM in 4 ways:
Recall and repair costs
Plaintiff litigation expense, judgments, and settlements
Regulatory fines
Reputation damage, presumably spilling over as lost sales
Recall and repair costs are quantifiable. Currently, the charge remains under $2 billion. Regulatory fines to-date have been minor. The Federal government has fined GM $35 million, the maximum permitted, for delaying recall of the faulty ignition switch. It's highly likely additional fines and penalties will be levied.
Settlements and litigation will cost General Motors a great deal; it is not possible today to determine, with any certainty, the ultimate result.
However, Mr. Market has already weighed in on the matter.
Mr. Market Does the Math
Prior to the recall issue hitting the newswires, General Motors' common stock traded at $41 a share. There are ~1.6 billion shares outstanding. Therefore, earlier this year, GM had a market cap of about $68.8 billion.
Subsequently, despite wave after wave of bad news, the stock has stabilized (for the time being) at $33 a share. It's toed this line at this price for about 3 months now. Given the number of shares out has not changed materially, the current market cap is $55 billion. This means that investors have shaved approximately $13 billion off the value of General Motors' stock.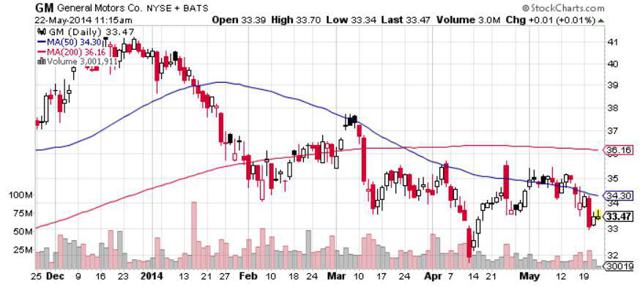 Click to enlarge courtesy of stockcharts.com
(Readers may note share volume has generally been falling since the initial January 2014 announcements and impact.)
Known costs related to this incident are now less than $2 billion. This implies investors are currently expecting over $11 billion of additional expenses, fines, and settlements.
What do you think?
Let's look at another massive recall and its outcome.
2009-2011 Toyota Recalls
At the end of 2009 and start of 2010, Toyota Motor Corporation (NYSE:TM) initiated 3 separate auto recalls after reports that several vehicles experienced unintended acceleration. Ultimately, 9 million vehicles were recalled worldwide. The U.S. National Highway Traffic Safety Administration claimed 37 deaths resulted from the defect. Press coverage was rampant and the number of alleged fatalities escalated. For months, a combination of regulators, industry experts, the public, and Toyota officials argued the scope of and liability for the problem.
The media had a field day. Previously, Toyota had been noted as among the most reliable and dependable automobile manufacturers on the planet. Reports of Toyota losing generations of customer goodwill ran wild.
The recalls and repairs cost Toyota over $2 billion. This past March, the company settled with the U.S. government by accepting a $1.2 billion fine for misleading regulators. Here is an excerpt from the March 19, 2014 CNN report regarding that settlement:
According to the agreement, Toyota admitted to deceiving U.S. safety regulators and members of Congress who conducted a separate inquiry.

Manhattan U.S. Attorney Preet Bharara said the company's deception even raised concerns among employees.

Bharara noted that one employee, in January 2010, said in response to the company's misleading public statements: "Idiots! Someone will go to jail if lies are repeatedly told. I can't support this."

Christopher Reynolds, chief legal officer for Toyota Motor North America said the company has made changes to be more responsive to customers.

"In the more than four years since these recalls, we have gone back to basics at Toyota to put our customers first," he said.
(emphasis by author)
In addition, back in 2012 Toyota announced it would spend more than $1 billion to settle a class action lawsuit involving including compensating owners for lost resale value. Several wrongful death and personal injury lawsuits remain pending.
Next, here's a chart illustrating Toyota common stock prices between 2010 and 2012: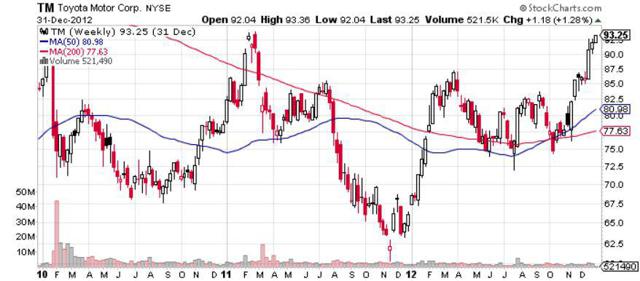 Click to enlarge courtesy of stockcharts.com
Backdrop: The media ran with story in early 2010. The stock fell precipitously on the news, tumbling from $90 to $68, or a 24% drop. This represented nearly a $35 billion hit to market cap.
By 2011, the shares had recovered.
I included the proceeding 2 years share prices for context. It should be noted that 2011 was a terrible year for automaker stocks in general. Ford (NYSE:F) stock fell 36%. GM stock fell 41%. By contrast, Toyota shares only dropped 17% that year.
An investor could have purchased shares of TM stock at the depths of the debacle for about $70. Two years later, sans dividends, the stock appreciated to $93 or a gain of 33%. Today, Toyota stock trades at about $110 a share, down from a mid-2013 high of $130.
Notably by 2012, the company had regained its position at the #1 automaker by sales. It retained this crown in 2013.
Additional Perspective Around the General Motors Recalls
GM investors may wish to consider several other factors in their decision about the company and the stock.
The facts around the wrongful death liabilities and litigation will be tried in court, not the newspapers.
All vehicle deaths are a tragedy, especially if these were preventable. We have a system of courts to review the entire body of evidence around negligence, wrongful death claims, and criminal actions. Reading past the headlines may provide additional color, but it still isn't a substitute for the judicial system.
Investors may wish to review a link to an April 2014 piece from the Detroit Free Press about the GM-related ignition switch deaths. It includes background and circumstances about some of the victims.
General Motors emerged from bankruptcy in 2009
GM wants to dismiss a collection of lawsuits unrelated to 13 deaths or others injuries tied to the defective ignition switches covered under the recall of 2.6 million vehicles. These suits are purely economic claims related to the recall, such as suing over the loss of a car's value or other economic reasons. Bankruptcy law is quite clear in these cases unless criminal intent or fraud is proven. Another article via the Detroit Free Press reports a legal motion among General Motors' court filings:
It was an absolute condition of New GM's purchase offer that New GM not take on all of Old GM's liabilities. That was the bargain struck by New GM and Old GM, and approved by the court as being in the best interests of Old GM's bankruptcy estate and the public interest.
Investors must decide how this issue plays out, and handicap these risks accordingly.
CEO Mary Barra has taken action
Investors may argue motivation and intent, but the fact is that new CEO Mary Barra has clearly taken action in the face of a crisis.
She has initiated a full internal investigation of this matter; plus the company accepted unprecedented government oversight and agreed to make the entire content of the report available to regulatory community.
There have been changes made to several top and mid-level management positions; including legal, safety engineering, and regulatory oversight. GM has staffed up additional safety inspectors and engineers.
In addition, General Motors has initiated general recalls of anything that may remotely be considered a safety issue. The number of recalled vehicles has now reached ~15.8 million. This is approximately the total number of vehicles that were sold in the United States for all of last year.
Finally, Ms. Barra has stated she was unaware of the ignition switch problems, and has testified in front of U.S. Congress as such. If she is not telling the truth, it will be a huge problem for General Motors. Some plaintiffs insist this is the case. However, nothing has surfaced to-date to corroborate this view point. Like so many other items reported in the media; facts, perception and editorials are all mixed together as part of the 24/7 news cycle.
Summary
Unquestionably, General Motors has an enormous problem on its hands. The market has reacted accordingly, slicing $13 billion off its market cap. Toyota Motor Company faced similar recall and associated litigation problems beginning in 2009, and was found in violation of various laws and regulations, including admission of an internal cover-up. While difficult to pinpoint, it appears Toyota will spend something in excess of $4 billion to settle the matter.
Negative press coverage peaked in 2010. By 2013, Toyota had regained its position as the #1 car manufacturer in the world. The stock fully recovered from its 2010 lows within a year after the event and tragedies went public.
Disclaimer: Please do you own careful due diligence before making any investment. This article is not a recommendation to buy or sell any stock.
Disclosure: I am long GM. I wrote this article myself, and it expresses my own opinions. I am not receiving compensation for it (other than from Seeking Alpha). I have no business relationship with any company whose stock is mentioned in this article.
Additional disclosure: I am long GM common shares and warrants.