Banco Santander (NYSE:SAN) has increased 14% since my February article. The company reported an increase of 8% in net profit for Q1 2014, helped by an improving economy and falling charges on bad loans. Banco Santander is experiencing growth in certain regions. This is something that I wanted to highlight for investors so that they can see where the company is excelling geographically. The valuation and long-term growth still looks attractive for the company.
Banco Santander operates across 11 main countries/regions. Brazil and the United Kingdom produce the highest percentage of company profits at 20% each. Spain is the next highest profit producing country for Banco Santander with a 14% share. I will discuss the performance of the companies with largest percentage of company profits. The entire breakdown is shown in the following chart: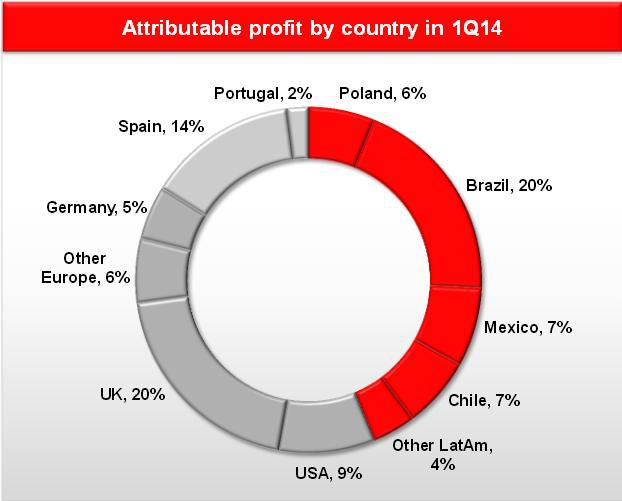 Chart Source: Banco Santander Q1 2014 Investor Presentation
In the United Kingdom, Santander achieved a 14.3% increase in net interest income (NYSEMKT:NII) plus fee income for Q1 2014 over Q1 2013. Over the same period, operating expenses only increased by 2.5%. The company was able to achieve these results due to the transformation of the retail and commercial banking franchise. The transformation involves enhancing service quality for customers via more regional centers and more relationship managers. The company has been the leader in the U.K. in capturing bank switchers for the past two quarters. This is apparent as Santander experienced a 70% year-over-year increase in current accounts. Santander has also been able achieve 12% growth for corporate loans in the U.K. while the market has been flat. All of this has the U.K. business looking good for the future.
The economic slowdown in Brazil has led to declines for Santander in Q1. Santander's Brazil business experienced a decline of 2.4% in NII + fee income. At the same time operating expenses increased by 2.4%. This led to a year-over-year decline of 12.4% in net operating income. Brazil is experiencing inflation of 6% and the economy is growing at a sluggish 1% to 2%. Looking forward, I think that the Brazil business can improve. Santander is working on improving efficiency and it expects the cost of credit to decline. These efforts should help the Brazil business improve. Santander needs to find a way to connect with customers in Brazil similar to how it is achieving success in the United Kingdom.
In Spain, Santander achieved a 2.9% increase in NII + fee income and a decline of 6.2% in operating expenses. This led to a 6.4% increase in net operating income. The company benefitted from a turnaround in GDP growth in Spain, where the past three quarters had positive growth, after multiple years of negative GDP growth. The Spain business experienced improvements in commercial revenues due to lower costs of deposits and the end of mortgage re-pricing. This business also experienced improved profitability through the outflow of expensive deposits and and a 205 basis point increase in mutual funds. The Spain business should continue to improve as the economy there continues its recovery.
In the United States, Santander achieved strong growth with a 16.1% increase in NII + fee income with an 11.2% increase in operating expenses. Total net operating income increased by 19.4% in the U.S. Costs were impacted by the continued U.S. expansion. Higher provisions were achieved through increases in new lending and loan retention. The U.S. business looks good going forward as it continues to expand and capitalizes on this growth.
Mexico achieved a 4.7% increase in NII + fee income, while simultaneously experiencing an increase of 11.4% in operating expenses. This led to a 6.4% decrease in net operating income. However, this decline was more due to seasonality and not a trend as pointed out in the company's Q1 conference call. The longer-term trend shows that the Mexico business is growing at a faster pace than the market. Costs increased because Santander is adding branches and ATMs in the country. Santander is planning to open over 100 branches in Mexico this year. The Mexico business should see higher before tax profit this year, but weaker after tax profit due to an increase in the tax rate from 12% to 14% to nearly 30%. The Mexico business is expected to continue to grow faster than the market due to the expansion of its branches.
Chile achieved strong growth for the first quarter as it posted a 15.8% increase in NII + fee income with only a 5.8% increase in operating income. This led to a strong 26% increase in net operating income. The growth was attributed to a double-digit increase in loans, a better deposit mix, higher inflation, larger volumes, and a lower cost of funding. Provisions and the cost of credit also continue to improve in the Chile business. Going forward, the Chile business should perform well on higher volumes and higher inflation that will maintain strong revenue. These conditions should be conducive to growing market share.
The Poland business increased its NII + fee income by 14.9% and reduced its operating expenses by 5.3%. This achievement led to an increase in net operating income of 18.8% for the first quarter. This strong performance was attributed to increased productivity and commercial activity resulting from the launch of Next Generation Bank. The Poland business experienced a better environment with a lower cost of funding and increased volumes. Operating expenses were reduced as a result of stable provisions and cost of credit. Looking ahead, this business should continue its strong performance as the company is focused on gaining new customers through a larger branch network and by increasing loans and fee income.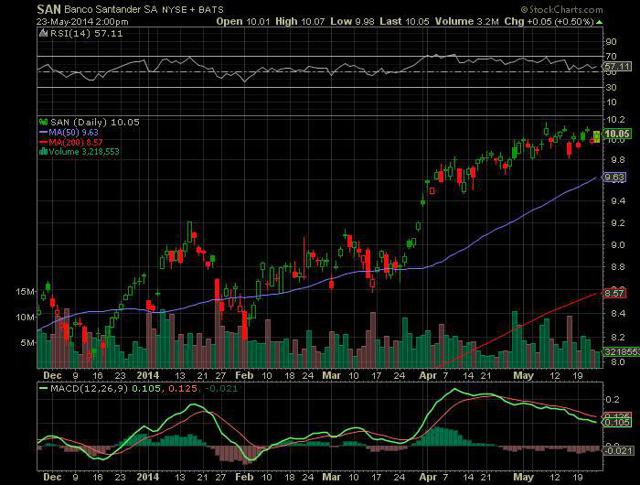 The Takeaway
Santander is experiencing growth in most countries. Brazil remains a challenge, but this can be fixed by focusing on customer relationships and by improving productivity and commercial efficiency. Santander's valuation remains attractive as it trades at only 13.8 times next year's earnings. The stock is also attractively valued in terms of its balance sheet as it trades at only 1.16 times its book value per share. This is slightly lower than the metrics for the Financial Select Sector SPDR ETF (NYSEARCA:XLF), which has a forward PE of 14 and a price to book ratio of 1.3.
Santander rewards investors with an attractive dividend of 6.4%. Investors are also likely to enjoy more capital appreciation as the company is expected to grow earnings at 17% in 2014 and close to 18% in 2015. This growth should help catalyze the stock over the next few years.
Since the company has its business spread among many countries, the main risk for investors is another global economic slowdown. This would likely have a negative effect on the stock price as demand for its loans and other services would likely suffer. However, the current global environment that Santander operates in is making steady gains, so I don't anticipate any economic related issues for the company in the near future.
Given the valuation and the projected earnings growth, I see the current stock price of $10 growing to about $14 in two years. This would represent a 40% gain. With likely stock gains and a 6.5% dividend yield, investors can have their cake and eat it too.
Disclosure: I have no positions in any stocks mentioned, and no plans to initiate any positions within the next 72 hours. I wrote this article myself, and it expresses my own opinions. I am not receiving compensation for it (other than from Seeking Alpha). I have no business relationship with any company whose stock is mentioned in this article.