In my article prior to HP's earnings call, I presented the case that HP (NYSE:HPQ) was materially undervalued, and that the bar for outperformance was set quite low. In line with my expectations, HP delivered -1% YoY revenue (flat in constant currency). The company also announced an additional 16,000 layoffs, leading to incremental savings of $1B by 2016. Investors who bought ahead of earnings have earned a nice bump (see below), however, it is still not too late to pile on. Based on my update to the model, which takes into account the identified savings and slightly updates the revenues and margins based on current performance, the shares are fairly valued at $42 - a 25% upside.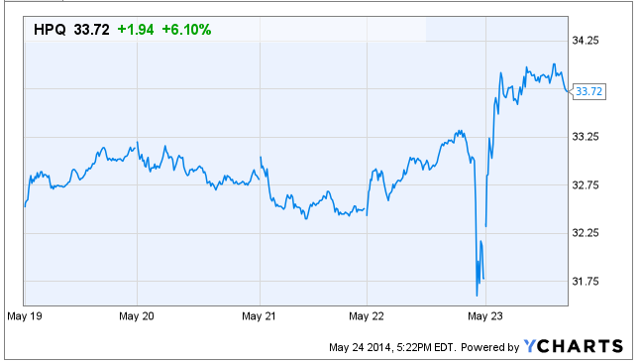 Business unit performance summary
Personal systems growth was very healthy at 7%, driven by the commercial PC refresh as I had mentioned in my analysis. Margins also inched up slightly to 3.5%.
Printing revenue was down 4% driven by lower toner sales - this is a concern since supplies are high-margin for HP. Encouragingly, in spite of lower revenues, operating margins for the printing segment came in at 19.5%; 350 basis points higher YoY, reflecting the progress made on operating expense discipline. In my model, I had printing operating margins flat at 16.3% - even a marginal improvement in margins here will have a significant impact on HP's profitability and valuation.
Enterprise group revenues were down 2% driven by expected declines in technology services, storage and business critical systems. Operating margins were down YoY due to investments in R&D (the emerging Moonshot line of servers) as well as increased competitive pressures.
Enterprise services revenue was down 7% due to account run off, and margins were flat at 2.5% YoY (though up sequentially). This segment should bottom out soon, and the investment in strategic accounts should start paying off in the form of margin expansion to the targeted levels of 3.5-4.5%.
Software revenue was roughly flat YoY, with license revenue growing 8%. Operating margins were at 19.2%, up sequentially but below 2013 full-year levels of 22%.
HPFS revenue was down 2% with 11.2% operating margins, in line with my model.
Additional efficiencies
During the earnings call, HP communicated that it would attain $1B in additional efficiencies by 2016 through 16,000 layoffs. These actions would start in H2 of FY14 and continue through FY15. The company will take an additional $500M charge against this, and the actions will result in $200M of incremental cash flow in FY14.
Updated valuation
After the earnings announcement, I updated my valuation model to take into account these efficiencies. I also updated my FY14 expectations of revenue growth downwards - I now expect revenue to decline 1.6% in FY14, down from 0.6% growth in my previous model. I have also adjusted my margin expectations for the Enterprise and Software groups downward, in line with current performance. In printing, I have adjusted these upward slightly. I assume net costs of $300M in FY14 from the restructuring program, and additional operating income of $750M in FY15 and $1B starting in FY16. The complete valuation model is attached below (the impact of additional restructuring is highlighted).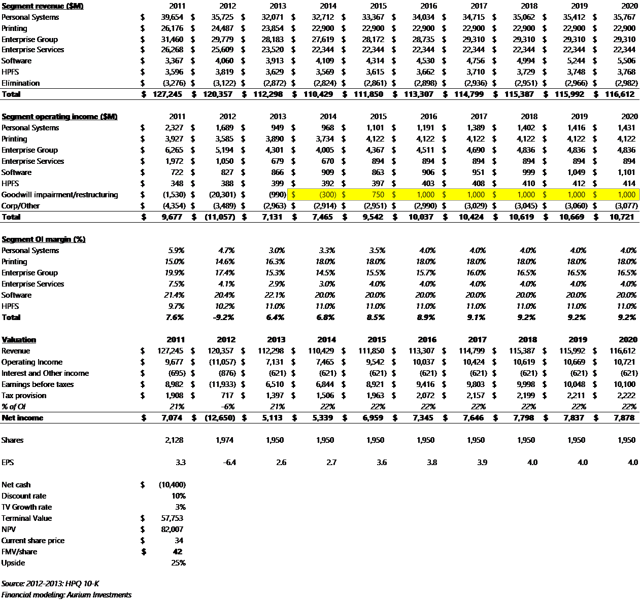 Summary
Based on my updated analysis, HP shares are worth $42, a 25% upside to current prices. As before, these do not assume any outstanding top-line performance. On the contrary, I have adjusted my revenue expectations downward - hence any outperformance on the top line would mean further upside to the shares. In an environment where it is becoming hard to find true bargains, HP certainly looks like one. Shares are even a stronger buy than they were a week ago.
Disclosure: I am long HPQ. I wrote this article myself, and it expresses my own opinions. I am not receiving compensation for it (other than from Seeking Alpha). I have no business relationship with any company whose stock is mentioned in this article.
Additional disclosure: I am short HP $24 puts.