Overview
Recently, I have been writing a series of articles related to The Best Dividend Growers. In each article, I take a look at a specific industry sector of the S&P 500 (based on GICS sub industry) and review the available stocks to determine which stock(s) out of the group are the best long term options for income investors. You can see Part 1 here and the latest part (part 13) here.
For some of the GICS Sub Industries, there are only two to three stocks available, so instead of focusing on dividend growth I have decided to just review the available stocks in these sub industries to determine whether they should be considered as possible buys for long term investors. I recently did this for the Leisure Products GICS Sub Industry in reviewing Hasbro and Mattel.
For this article, I will be taking a look at the GICS Sub Industry Distillers & Vintners, which includes Brown-Forman (NYSE:BF.B) and Constellation Brands (NYSE:STZ).
Brown-Forman Corporation is a manufacturer, bottler, importer, exporter, marketer, and seller of alcoholic beverages. The company provides a variety of products under a number of brands such as Jack Daniel's, Southern Comfort, Finlandia, Antiguo, Pepe Lopez, Woodford Reserve, Canadian Mist, Early Times, Korbel Champagne, and Old Forester.
Constellation Brands is also a manufacturer of a wide variety of alcoholic beverages through brands such as Arbor Mist, Black Box, Blackstone, Franciscan Estate, Kim Crawford, Mark West, Ravenswood, Rex Goliath, Robert Mondavi, Ruffino, Simi, Toasted Head, Wild Horse, Black Velvet Canadian Whisky, and Svedka Vodka.
Both companies have seen significant success over the past several years. In this article, I will look at each companies current financials, their past performance, dividend, and future outlook to determine which stock is currently the best long term buy.
Current Financials
| | | |
| --- | --- | --- |
| | Brown-Forman | Constellation Brands |
| Gross Profit Margin (quarterly) | 68.03% | 42.51% |
| Profit Margin (quarterly) | 22.63% | 12.17% |
| Return on Assets (trailing twelve months) | 16.80% | 16.23% |
| Return on Equity (trailing twelve months) | 37.41% | 48.24% |
| PE ratio (trailing twelve months) | 30.49x | 8.30x |
| Earnings Yield (trailing twelve months) | 3.28% | 12.05% |
| Price to Book Value (trailing twelve months) | 10.21x | 3.15x |
| Revenue (trailing twelve months) | $2.96B | $4.87B |
| EPS (trailing twelve months) | $2.97 | $9.87 |
While Brown-Forman holds the better margins, Constellation Brands has the better earnings yield and current valuation (based on PE ratio and Price to Book Value).
The Past Ten Years
Looking at the chart below, you can see that Brown-Forman has seen the highest revenue growth over the past ten years. It also has seen the more stable trend, with less large ups and downs over the years.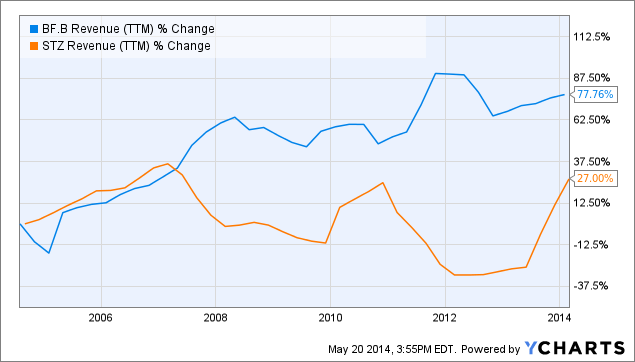 BF.B Revenue (NYSE:TTM) data by YCharts
In terms of earnings, Constellation Brands has seen the highest growth, while Brown-Foreman continues to see the more stable trend.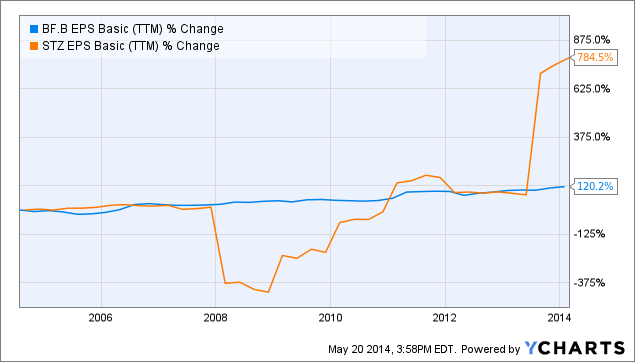 BF.B EPS Basic (TTM) data by YCharts
You can see that Constellation Brands has also returned the highest stock price gains over the past ten years (with a majority of those gains occurring in the past two years).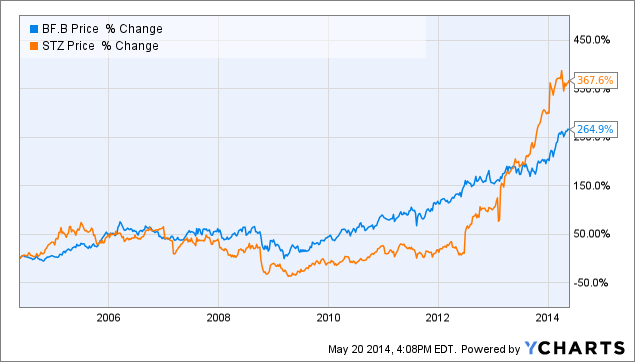 Constellation Brands does not currently pay a dividend. Brown-Forman's dividend currently yields 1.29%. While the yield isn't anything special, the company's dividend growth has been pretty substantial over the past 10 years (with a number of special dividends included).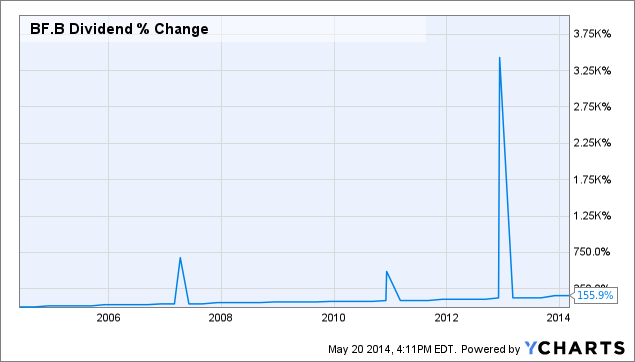 BF.B Dividend data by YCharts
Brown-Forman's payout ratio remains low at right around 35% and as a member of the Dividend Aristocrats list, there is no reason to assume that similar dividend growth will not be seen in the future.
Future Outlook
The future for both companies appear solid. While some industries such as fast food and tobacco have seen revenue problems related to health concerns/risks, the alcohol industry has been relatively not affected by similar issues. Both companies continue to see increased sales.
The acquisition of Crown Imports has been a huge growth driver for Constellation Brands, with brands such as Corona and Modelo Especial delivering great sales numbers. As Corona transitions to a draft beer, sales numbers are expected to continue rising. As Constellation Brands continues to increase its brand portfolio and expand its market to new areas (like China), investors should expect the company's impressive earnings growth to continue into the future.
Brown-Forman also has many positives going for it as it continues to deliver strong revenue and earnings growth. The company continues to grow its brands throughout emerging markets and continues to deliver strong margins, which helps the company remain a strong shareholder friendly stock, as it continues to pay a growing dividend (for 30 continuous years) and buyback shares (0.7 million shares year to date).
Conclusion
I believe in the short term, Constellation Brands will see higher earnings growth, mainly due to its recent transition from mainly a wine selling business to a more heavy focus on beer. I also think Constellation Brands currently offers the more attractive price point. However, I believe in the long run both companies will provide investors will solid returns.
Brown-Forman is a great example of a "slow and steady wins the race" stock. The company seems to do well no matter what the overlying market conditions are like, and while revenue/earnings growth are not explosive, they are consistent and significant. Add in the fact, that Brown-Forman is a dividend aristocrat that has paid a rising dividend for 30 straight years, and it becomes clear why the stock more often than not trades at a premium. I think both of these stocks are solid choices to add to any long term investor's portfolio. As always, I suggest individual investors perform their own research before making any investment decisions.
Disclosure: I have no positions in any stocks mentioned, and no plans to initiate any positions within the next 72 hours. I wrote this article myself, and it expresses my own opinions. I am not receiving compensation for it (other than from Seeking Alpha). I have no business relationship with any company whose stock is mentioned in this article.