I recently penned a series of articles regarding the fact I believe Bank of America (NYSE:BAC) presents an excellent contrarian investment opportunity. In the comments section of the article, there was a barrage of comments debating the current positives and negatives regarding the bank. I have determined the genesis of the controversy is the fact many positive and negative catalysts currently do exist. This has given plenty of ammunition for both bulls and bears to make their case. Most articles I have read in the past have solely focused on one side of the coin or the other, my articles included.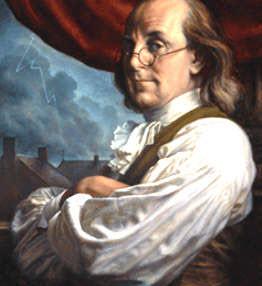 So, I have decided to use the Ben Franklin technique for analyzing difficult situations and making tough decisions as the outline for this article. Benjamin Franklin would make a list of positives and negatives in order to clearly analyze difficult situations. This resulted in him having many successful endeavors. I discovered this from reading his personal letters published in a book by Leonard W. Labaree.
In the following sections, I will use the Ben Franklin analysis technique and do my best to discern reality from repartee and deconstruct the good, the bad and the ugly truth regarding the ensuing Bank of America drama.
The Good, The Bad, and The Ugly Truth Regarding Bank of America
The following is a deconstruction of the pros and cons of the current state of affairs regarding Bank of America from my perspective.
The Good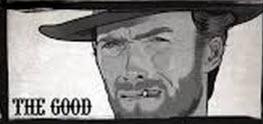 A series of positive fundamental improvements have occurred over the last few years and quarters.
Average loans and leases are up approximately 11% year-over-year with the bank posting $271 billion in 2013 vs. $244 billion in 2012.
Deposits are up nearly 16% year-over-year growing from $221 billion in 2012 to $256 billion in 2013.
A Market Leader
Largest retail deposit market share in the U.S.
Approximately 49 million consumer and small business relationships
No. 3 in U.S. credit cards
No. 1 in online banking functionality and over 30 million online banking customers
Approximately 15 million mobile banking users with more than 10% of deposit transactions now being completed via mobile devices
Vastly improving net income and EPS
Net income was up nearly threefold year-over-year with the bank posting $11.4 billion in 2013 vs. $4.2 billion in 2012. Furthermore, diluted EPS was up significantly year-over-year at 0.90 for 2013 vs. 0.25 in 2012.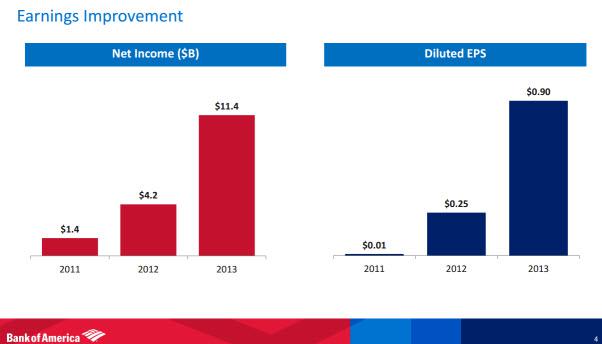 (Source: BankofAmerica.com)
Of the six major banks, Bank of America has the highest projected EPS growth rate of them all by a wide margin.

(Source: Finviz.com)
Non-interest expenses are down
Over the past three years, Bank of America has reduced non-interest expense by approximately 11%. Bank of America has been laser focused on cost-cutting. Moreover, the bank uncovered significant cost synergy savings. I expect this trend to continue for some time.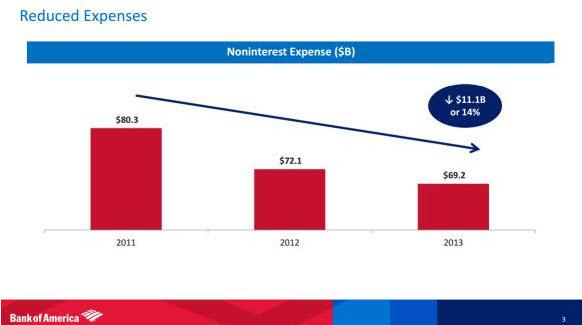 (Source: BankofAmerica.com)
Revenue has stabilized
Revenue has stabilized at approximately $90 billion per year. Nevertheless, an uptick in revenue growth going forward must occur for the stock to move significantly higher. The financial engineering and cost-cutting benefits will diminish at some point.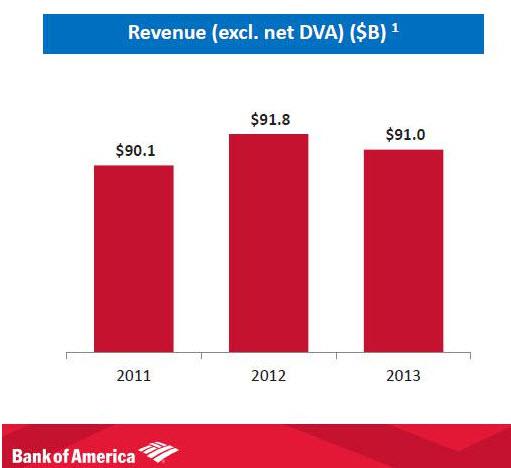 (Source: BankofAmerica.com)
Endorsed by Warren Buffett
When Warren Buffett was recently asked about Bank of America, he stated:
That error that they made doesn't bother me. It doesn't change my feeling about Bank of America's risk management one iota.
Technical Positives
The stock appears to be bottoming. The precipitous 20% drop has the stock trading just above long-term support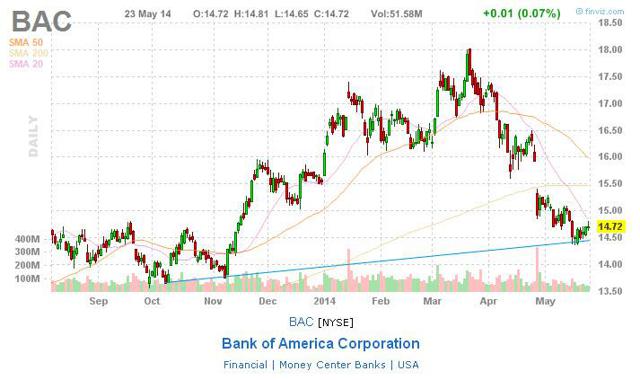 (Source: Finviz.com)
The stock has shown the first sign of strength by trending upwards even though bad news is still being reported.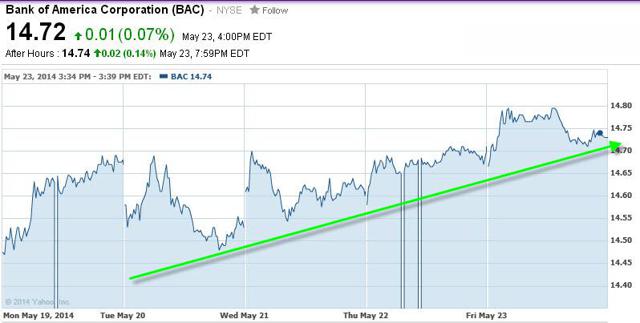 (Source: Yahoo.com)
Nearly oversold conditions
The stock is the worst performer of the six major banks, with the exception of Citigroup (NYSE:C), which is in the midst of a criminal probe right now.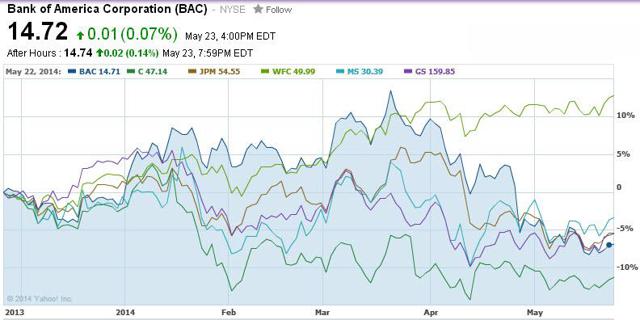 (Source: Yahoo.com)
The stock currently has the lowest RSI of all the major banks at 38. An RSI of 30 is considered oversold.

(Source: Finviz.com)
I have a bunch more positives, yet I will leave those for another article before I put you all to sleep.
The Bad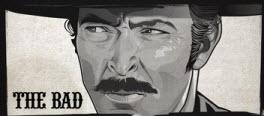 There is no doubt bad conditions do exist for the bank. In the following section, I will list what I perceive to be the major ones. Yet, if you would like an in-depth analysis of the negatives, I suggest you read my fellow Seeking Alpha Contributor Don Dion's articles regarding the bank's woes. Don does a great job of flushing out the potential headwinds for the bank going forward. You can read his most recent piece here.
Capital program pulled
Bank of America actually beat earnings estimates and initially passed the Fed's stress test. Nonetheless, the bank had to cancel its capital return plan in late April due to a regulatory reporting error related to the acquisition of Merrill Lynch.
EPS estimates cut due to potential future legal liabilities
EPS estimates have been cut in half for the balance of 2014 due to the fact the bank has only $2.4 billion set aside for legal liabilities in the face of a potential $13 billion law suit rumored by the DOJ.
Corporate governance weak
Poor corporate governance was brought up as an issue by analyst Mike Mayo. Mayo stated in a recent downgrade note that the governance issue is evidenced by a missing compensation committee head, different time frames in financial charts, and an Annual meeting that ended before all questions were taken. Furthermore Mayo stated:
Bank of America has a chairman who seems to us like a figurehead. CEO Moynihan ran the entire Annual meeting while Chairman Chad Holliday only gave a few mostly nonresponsive answers.
The Ugly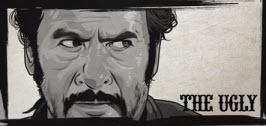 Another extremely incendiary headline came out recently related to the legal liabilities of the big banks. Michael P. Stephens, the Acting Inspector General for the Federal Housing Finance Agency Office of Inspector General, stated recently:
Banks are probably in the "fifth inning" of mortgage investigations. That's partly because the companies have been slow in negotiations and seeking broad settlements. They may be anxious to get it behind them, but obviously not too anxious to write a check. I don't see anything in the near future that's going to wipe the slate clean with all of the investigations.
This statement's implication is the majority of the issues have been resolved, yet we may be only a little more than half way through the process of investigation. This begs the question, "Are there more unknown unknowns out there yet to be discovered?" Things could still get uglier with so many rocks yet unturned my friends, of this I have no doubt.
The Truth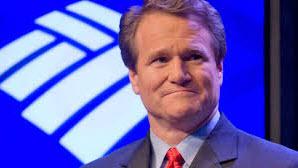 CEO Brian Moynihan has spent the last five years cleaning up the legal mess left for him by the acquisition of Countrywide and Merrill Lynch. I must say he has done a bang-up job. Moynihan has successfully brought the bank back from the brink of bankruptcy to profitability. Some suggest the last settlement should put the rest of the outstanding legal issues to bed for Bank of America. Banking analyst at FBR Capital Markets Corp. and former examiner at the Federal Reserve Bank of Philadelphia Paul Miller stated:
This is the last big check - they've been sued in every direction they could. Banks are an easy target: they're making money, nobody likes them and they can't fight it.
Bank of America has been barraged with an unending salvo of meaningfully deleterious headlines which have taken their toll on the stock. Due to this fact, I submit much of the bad news has been priced at this point. Once market participants' heads stop spinning from the onslaught of bad news and the improving fundamentals become more clear, I submit they will realize the bank is trading at a significant discount on an absolute basis with much of the bad news already priced in. Presently, I see Bank of America as a definitive contrarian buying opportunity.
Final Thought
Great investment opportunities come around when excellent companies are surrounded by unusual circumstances that cause the stock to be misappraised. ~ Warren Buffett
This is a lesser-known quote from Buffett that I believe is quite apropos at this junction regarding Bank of America's current status. If I was long and had a higher cost basis than the stock's price today, I would use this as an opportunity to dollar cost average down my basis. If I was short, I would cover. If I had a high risk tolerance, I would start scaling in to a position now. If I had a low risk tolerance, I would put the stock on my watch list and wait until a trend reversal was confirmed. My hope was to provide a highly polemical deconstruction of the facts in this article. I would appreciate your thoughts regarding your insights on Bank of America in the comments section regarding anything I have missed or anything you wish in add. Hopefully, this article will become the go-to thread for anyone wanting a fair evaluation of the facts. I look forward to an interesting debate.
Disclosure: I have no positions in any stocks mentioned, and no plans to initiate any positions within the next 72 hours. I wrote this article myself, and it expresses my own opinions. I am not receiving compensation for it (other than from Seeking Alpha). I have no business relationship with any company whose stock is mentioned in this article.