Hewlett-Packard (NYSE:HPQ) intensified its mission to win substantial market share in tablets by releasing the $99.99 HP 7 Plus in the U.S. The world's former PC sales champion is selling the HP 7 Plus directly online to U.S. customers. The cheap price tag of the tablet should help HPQ improve its weak presence in tablets.
The HP 7 Plus is a cheap Android tablet that comes with decent enough features to make it acceptable to Americans. The HP brand still attracts a lot of loyal customers so the HP 7 Plus may finally give Samsung's Galaxy Tab 4 good competition in the U.S. market.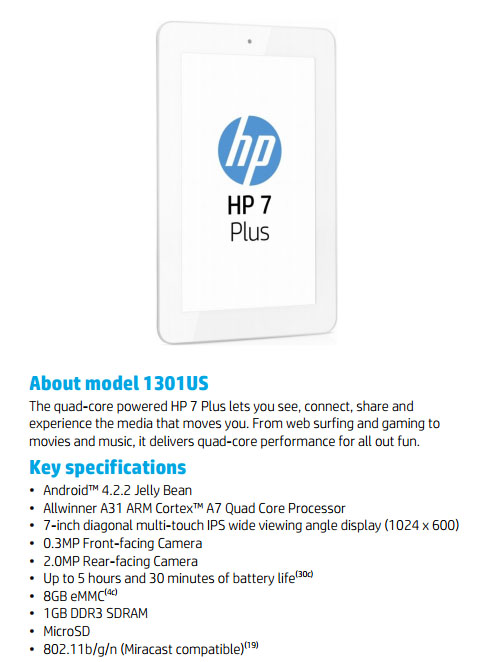 Source: Hewlett-Packard
The HP 7 Plus Has A Great Processor/GPU
The latest HP tablet's 1GHz quad-core A31 ARM SoC from Allwinner and the 1 GB of DD3 RAM make it speedy enough for regular multi-tasking on the Android OS 4.2 Jelly Bean. I would also like to believe that the A31 SoC that HP 7 Plus uses comes with a Power SGX544MP2 integrated GPU for excellent 3D gaming performance.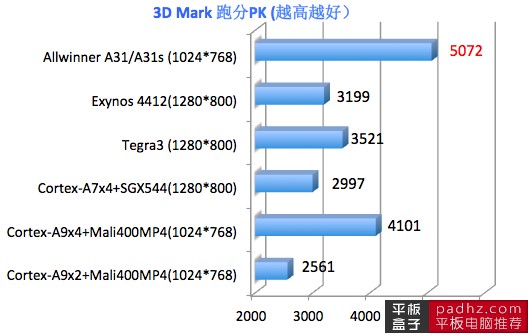 Americans should appreciate the benchmark chart above. The $100 HP 7 Plus, despite its cheap plastic housing, has a powerhouse SoC that's suitable for entertainment and gaming purposes. Hewlett-Packard also gave the HP 7 Plus support for Miracast wireless video streaming to compatible TV sets and large monitors.
Furthermore, Hewlett-Packard is bundling a $20 discount coupon on future HP inkjet printer purchase and a lifetime free 25GB cloud storage at Box for every buyer of the $99.99 HP 7 Plus. I'm not from America, but the HP 7 Plus is already very attractive to me. I hope that HP also brings this product to the Asian markets like the Philippines.
Mobile Is Now The Industry Standard
The future of HPQ's performance in the market is similar to Intel - it will only post substantial upside runs again if the company improves its tablet and smartphone sales. HPQ's misadventures over the last 10 years can be judged by how the stock performed over the last decade.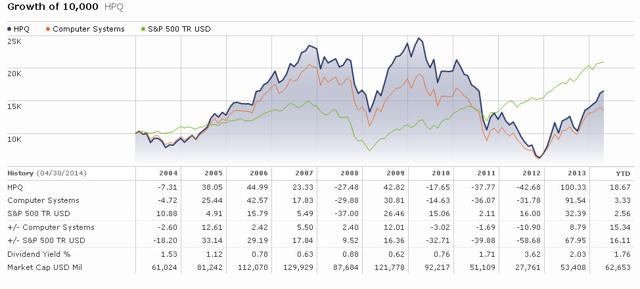 Click to enlarge
Source: Morningstar
It is also important to note that Lenovo, who unseated Hewlett-Packard as the world's largest vendor of personal computers, is now also a top tablet and smartphone vendor. Mobile is the better option for Whitman to reinvigorate HPQ. The tablet and smartphone market is way bigger than 3D printing.
Americans, despite their high income compared to Asian and Latin American peers, are still smart enough to appreciate the value-for-money proposition of the HP 7 Plus. It is cheaper than Amazon's Kindle Fire tablet despite it having the better technical components. The HP 7 Plus also comes with Google Play pre-installed.
Hewlett-Packard should learn from Amazon's great success in Android tablets. The Kindle Fire and Fire HD tablets stole a lot of buyers away from the iPad and the Samsung Galaxy Tab. IDC's report for Q1 2014 tablet sales revealed that Amazon still managed to sell 1 million tablets despite it facing serious competition from $100 tablets from Shenzhen China white box tablet makers.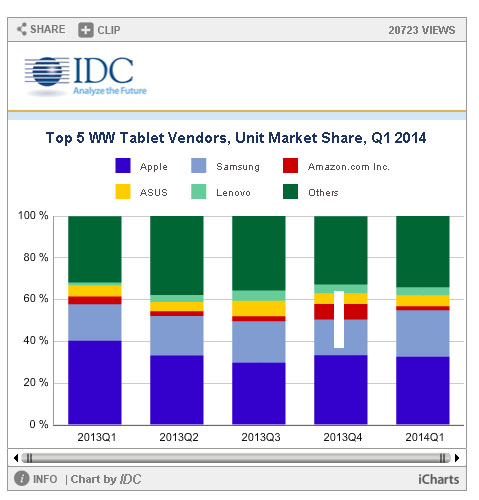 Conclusion
Yes, the HP 7 Plus can accelerate Hewlett-Packard's quest to get to IDC's top tablet vendor rankings for 2014 and 2015. The $99.99 price tag and freebie bundle make it attractive to budget-constraint American buyers. The HP 7 Plus is also a good product to sell in emerging markets. Many Asians will prefer a $100 HP-branded tablet over a $100 tablet with a Chinese brand.
I hope that Amazon's big decline in tablet sales for Q3 and Q4 2014 will be partly due to the HP 7 Plus. Hewlett-Packard has enough money to properly market this $100 Android tablet on a global scale. HPQ can also benefit from Intel's promise of $99 to $129 Windows 8.1 tablets. Hewlett-Packard has a profitable history of selling Wintel machines for the last 30 years.
Hewlett-Packard needs all the help it can get to boost its presence in the tablet and smartphone arenas. HPQ has a Buy recommendation from the high-math and market-comparative algorithm of Alpha Omega Mathematica. HPQ recently received a Buy rating and $40 PT from Brean Capital, echoing the $40 PT from Deutsche Bank last month.
The price target of $40 can be achieved if HPQ sells a lot of tablets this year. Job cuts and better PC and server sales will not be enough to impress investors. Only a win in mobile computing gadgets can move the stock near the $40 price target.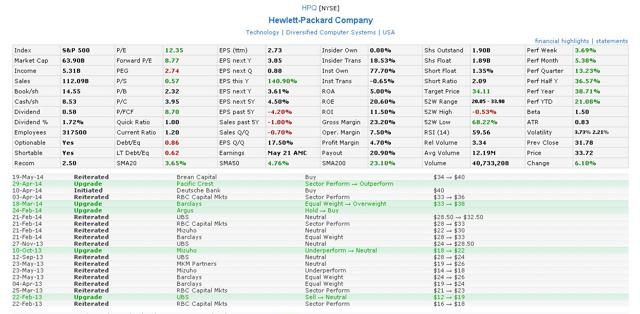 Click to enlarge
Source: finviz.com
Hewlett-Packard also received Buy endorsements from 9 analysts at Barchart.com.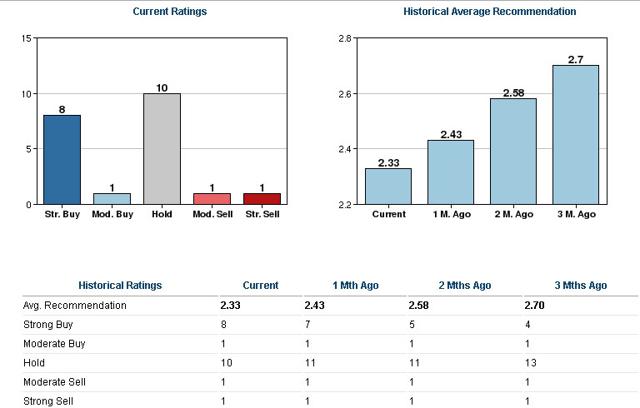 Click to enlarge
Source: barchart.com
Most technical indicators, short, medium, and long-term, at BarChart also point to a Buy rating for Hewlett-Packard.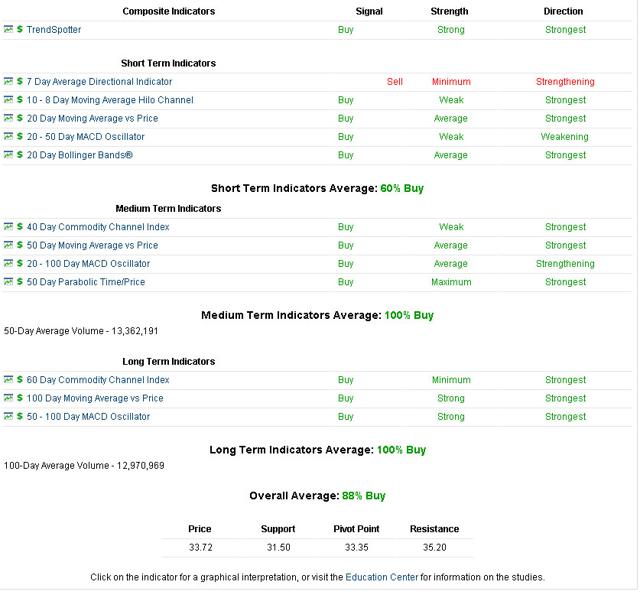 Click to enlarge
Source: Barchart.com
Disclosure: I have no positions in any stocks mentioned, and no plans to initiate any positions within the next 72 hours. I wrote this article myself, and it expresses my own opinions. I am not receiving compensation for it (other than from Seeking Alpha). I have no business relationship with any company whose stock is mentioned in this article.