Of all the horizontal drilling plays, the Mississippi Lime is often regarded as the most disappointing. Between 2009 and 2010, a litany of well-known oil and gas companies entered this play situated between Kansas and Oklahoma: Shell, Chesapeake (NYSE:CHK), Encana (NYSE:ECA), Apache (NYSE:APC) SandRidge (NYSE:SD) and a few others. Among these five big players, only one remains: SandRidge Energy. When others left, SandRidge not only hung around, but picked up the pieces. The company now has over 2 million acres of leasehold in the Mississippi Lime.
The other four left for similar reasons. They saw returns not hitting production targets, and therefore redeployed assets elsewhere. Returns were challenged for a few reasons: A disappointingly low oil cut, very high decline rates, high well costs in a fairly low-populated area and, perhaps most of all, the issue of saltwater in the geology. In some locations, the ratio of hydrocarbons to saltwater coming out of the well was as high as 1:10. Dealing with all that saltwater can be a huge deterrent, especially when other plays are yielding oilier cuts without the saltwater.
SandRidge, for its part, had been caught in a proxy battle which resulted in the ousting of its former CEO Tom Ward, who was also the co-founder of Chesapeake Energy. Much like Chesapeake under Aubry McClendon, SandRidge bet big on certain plays, acquired lots of contiguous acreage, and drilled as many wells as it could.
And as was the case with Chesapeake, SandRidge's new management team was left to clean up the ensuing mess. It turns out, however, that SandRidge has, as one of the few players left in the Mississippi Lime, managed to transform the Mississippi Lime into a reasonably profitable play. Better yet, the market seems yet to fully realize this fact. This article will focus on what SandRidge did in order to find treasure in what so many others forsook as trash.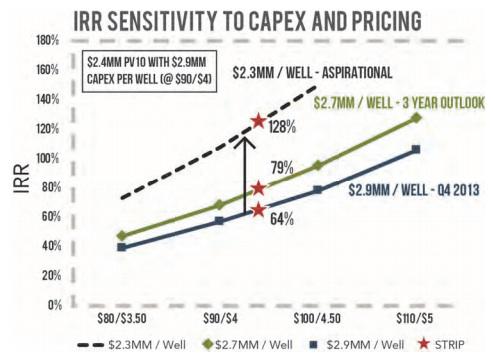 Courtesy of SandRidge Investor Relations
This above rate of return chart encapsulates just how much progress SandRidge has made. Based on today's pricing, the average SandRidge well now provides a rate of return of 64%; a huge improvement over the previous players who vacated the play. While 64% may not come close to rivaling the Eagle Ford or Bakken, such a return is nothing to laugh at. Even better, as SandRidge reduces its well cost, returns will jump to 79% within three years, and even up to 128% in the further future.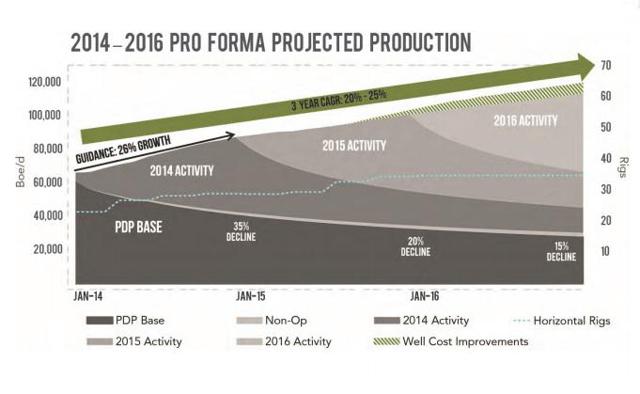 Click to enlargeThe first thing that stands out in this above chart is production growth. However, the more important aspect of this chart is the flattening decline curve of wells already drilled. As technologies improve and the newer wells mature, the decline rate will flatten out to 15% after a year and a half. This allows for SandRidge to 'build on the base' and increase Mississippi Lime production.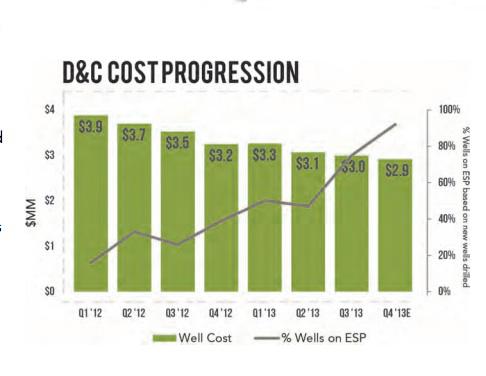 Here is another testament to SandRidge's progress in the Mississippi Lime. This chart shows not only how far SandRidge has come, but exactly why the Mississippi Lime has been such a challenge for so many. It's all in the well cost. If the first chart above shows that returns in the Mississippi Lime are fairly sensitive to well cost, this chart illustrates that, back in 2012, the Mississippi Lime was very unprofitable. At well costs of $4 million, economics in this play were very challenging. SandRidge, as we can see, has solved this problem and is continuing to improve.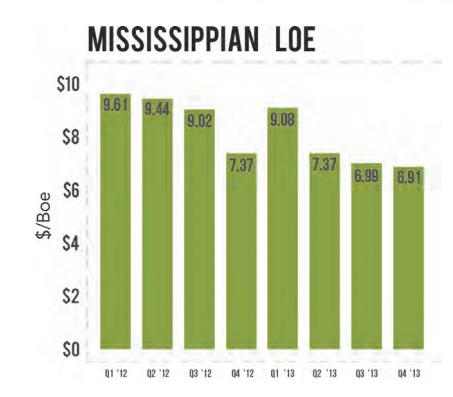 It's not just well cost that SandRidge has brought down, but operating cost as well. Lease operating expenses have come down remarkably: From $9.61 two years ago to just $6.91 today.
How SandRidge did it
SandRidge employed a multitude of different strategies and worked on decreasing cost from multiple operating criteria. Here are some of the most important ways it has done so.
Refocused drilling regimen to maximize EUR
SandRidge has a lot of acreage in the Mississippi Lime. Instead of maximizing drilling, last year SandRidge's new management took a different approach: Focus on the proven sweet spots and avoid the 'dud' areas. In other words, management got picky. The results are best illustrated in the chart below.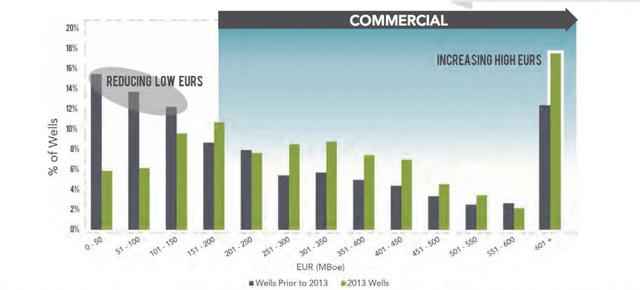 Click to enlarge
As you can see, 'lower return' wells in operation declined steeply when compared to higher return wells. Also worth noting is that SandRidge drilled roughly the same amount of wells in 2013 than in 2012, but spent considerably less capital to do so.
New well design
This year management switched to Dendritic Stimulation wells with open-hole packer systems and artificial lift technology. What does all this mean? In a stacked limestone formation such as the Mississippi Lime, this means a better flow of pressure over the life of the well. This type of drilling creates additional fracture networks near the wellbore, which has resulted in a 15% improvement in EUR over the original well design.
Multi pad drilling
A more common thread among all horizontal drillers is multi-pad drilling. In 2013, 70% of new wells drilled were done on dual or quadruple pads. This reduced drilling times by three and nine days, respectively. The results have been remarkable: $270,000 in savings per well on average. This savings resulted in a $60 million reduction in the company's capital budget without effecting operational results.
Saltwater disposal system
The company's saltwater disposal efforts are perhaps the most important. Recall that, in some parts of the Mississippi Lime, the ratio of hydrocarbons to saltwater is as low as 1:10. For every 100 barrels equivalent of oil and gas, a well will also pump 1,000 'barrels' of saltwater. Dealing with all that water has been a major impediment to operating in this play.
Why? Consider this: Trucking and disposal costs, done privately, come out to $2 per barrel. So, for each one barrel of oil or gas, an operator must deal with as many as 10 barrels of saltwater, hence an additional operating cost of $20 per barrel of hydrocarbons produced.
In order to have profitable operations in the Mississippi Lime, an operator must obviously find a way to deal with all that salt water, and must do so outside of costly trucking deals. A saltwater disposal system, however, requires very large economies of scale. Thankfully, with over two million acres, SandRidge has just that. The company completed its saltwater disposal system, which has more than twice the needed capacity and is operating at nearly 97% efficiency. This means that only 3% of all extracted saltwater needs to be trucked. The need for saltwater disposal also acts as a rather high barrier to entry in this play.
Tank battery cost reduction
Between 2010 and 2012, SandRidge could only connect a single well to a single saltwater disposal facility. The estimated cost was $540,000 per well: Not good, but certainly better than trucking the water. In 2013 this method was changed to centralized facilities which cost $300,000 per well. This year SandRidge will move to a fully shared facility, where all wells will share tanks and separation equipment. The new cost will be $170,000 per well.
Artificial lift replaces gas lift
Many, if not most companies in the Mississippi Lime used natural gas pressure to lift fluids to the surface. Unfortunately, this method added back pressure into the reservoir, which would make continued recovery of liquids difficult once a certain well got to the lower-volume portion of its curve.
SandRidge has replaced gas lifting with electric submersible pumps in the earlier part of a well's production, and beam pumps in the latter part. This has had the expected benefit of more production later on in the well's lifecycle. For example, after the first month of production, wells using new lifting techniques reported volumes 180% higher than the original design. By month three, oil wells were producing three times as much as the original design. Artificial lift has done a great job in mitigating decline and improving well profitability.
Putting it all together

Click to enlarge
YCharts
SandRidge has, amazingly, managed to turn the Mississippi Lime into a profitable geography. Judging from the stock price, however, markets have yet to realize this fact. For a company growing its production by 25% year on year, a per share book value of just 1.7 times is fairly low. Compare SandRidge with EOG Resources, which trades at over 3.5 times book value and is growing oil production by 29%. Of course, EOG has internal rates of return of over 100% on most of its top shale geographies: The Eagle Ford, Permian and Bakken.
SandRidge has a long way to go before achieving those returns, but management believes it can bring its returns up to over 100% if it can bring completion costs down by another $600,000 per well. If management is successful, we may see SandRidge carry a price to book value closer to that of EOG. But even if management isn't successful, SandRidge, with a 25% compounded growth rate and 64% internal rate of return, deserves to go higher than where it is today. SandRidge could be a great turnaround story.
Disclosure: I have no positions in any stocks mentioned, and no plans to initiate any positions within the next 72 hours. I wrote this article myself, and it expresses my own opinions. I am not receiving compensation for it (other than from Seeking Alpha). I have no business relationship with any company whose stock is mentioned in this article.