Up until a few years ago when bearish sentiment started to set in regarding the emerging markets, EM investment was all the rage. The mantra was that countries such as China, India, Russia, Brazil, among others were set to witness higher GDP growth than the West in the coming years - I think we can agree they have done. Hence, it's a no-brainer. Shun the West and invest in the economies of tomorrow, right? Well, maybe - if you have a high tolerance for risk. For the vast majority of investors out there, it's not that simple. I personally think that the average investor like myself should have at least some exposure - for diversification purposes if nothing else. However, it pays to be smart in determining how exactly to achieve this. According to the Financial Times "Selecting Shares That Perform" Guide, emerging markets inherently have a lot of risk, whether due to political instability, market volatility, and liquidity concerns, among others.
From my perspective, investors essentially face two choices:
1) They can either invest in established companies that have a strong foothold in emerging markets and have the ability to reap the benefits while providing lower risk to the investor, or;
2) They can either invest directly in emerging market companies or funds that track the broader emerging market indexes.
Let's start with the first option. In a previous article, I argued that Lindsay Corporation (NYSE:LNN), a mechanized irrigation systems company that provides irrigation and infrastructure products globally, is in an ideal position to capitalize on growth in emerging markets due to the population growth in those countries and the need for irrigation systems to develop land facilities and maintain adequate crop yields. We can see that Lindsay Corporation has seen steady share price growth over the past five-year period, and given its track record of steady dividend increases to shareholders, it holds many of the characteristics of a traditional "buy-and-hold" stock over the long term, despite the inherent short-term volatility as a smaller company.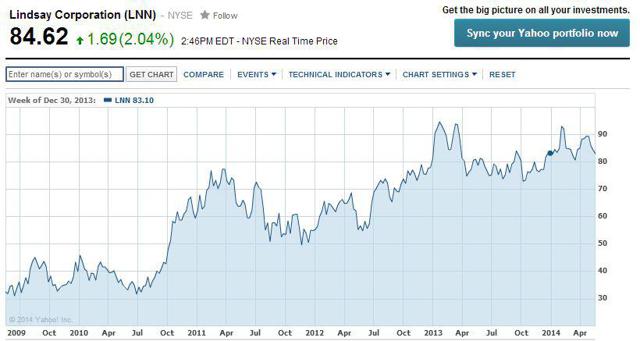 Click to enlarge
However, let's compare the above to China Mobile (NYSE:CHL). We can see that while the share price movements of the stock are less volatile on a total return basis, there has been much less evidence of share price growth over that period. Over the past five years, investors would have needed to judge exactly when to "buy low and sell high" in order to profit from the stock.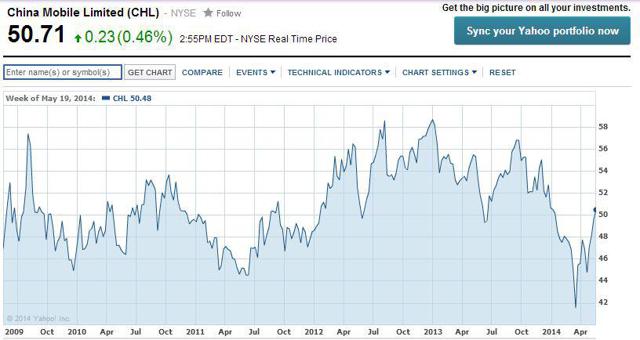 Click to enlarge
This year, the company reached a high of 57.42 in January upon news of the iPhone deal brokered with Apple (NASDAQ:AAPL), and dipped all the way to approximately 42 before rebounding to the current price of $50.71. I personally think that China Mobile is a company that has great prospects given China is one of the world's largest smartphone markets; it would appear that less certain growth prospects inherent in emerging markets makes it more difficult to value a company through traditional means, and perhaps such stocks are better suited to larger, institutional-type traders who have a greater ability to buy and sell on the basis of price movements. While this is just one example, it is my experience that stock prices in emerging markets are rarely as stable as those in the West. Navigating through the volatility may well be something best left to the experts.
I am of the opinion that emerging market investing depends highly on an investor's attitude to risk, along with his/her investment philosophy. For those investors comfortable with navigating the uncertainty, trading emerging markets using more of a short-term approach could prove fruitful. One could even argue that this applies more to institutional rather than retail traders. Even smaller US companies such as Lindsay Corporation typically carry a greater degree of risk than so-called "blue-chip" stocks. However, for investors seeking more stability and long-term capital appreciation, familiar brand names with an emerging market presence might prove to be a better choice. For example, two familiar brand names that come to mind are Chevron (NYSE:CVX) and Medtronic (NYSE:MDT). With market capitalizations of $234.85 billion and $59.98 billion respectively, both companies are considered to be blue-chip, high quality stocks. However, in my mind there are indications that these two companies have an ever expanding emerging market presence, which will allow them to continue growing for many years into the future.
Let us consider Chevron as a first example. Currently, the company is the largest stakeholder in developing the Gorgon Liquefied Natural Gas Plant in Western Australia. With natural gas demand in countries such as China set to double through to 2020 according to Ernst & Young, Chevron's transportation costs to the Asian market could potentially be far lower than its competitors due to its current LNG development in the Gorgon region. In addition, Chevron has an excellent track record of increasing dividend payments over time, with an annualized growth rate of 11.2% over the past three years. For those investors seeking income growth as well as capital appreciation, this could potentially be an excellent choice.
Let us also consider the example of Medtronic. MDT is a leading player in the medical devices industry, and according to Guideline Medical Consulting, growth in emerging markets on a compound basis is estimated to be 15% through to 2020. Again, the company is also considered a dividend stalwart, with an annualized growth rate of 8.6% over the last three years, with 36 years of consecutive dividend increases. According to MDT's Annual Report 2013, revenue in emerging markets has been growing by 17% on a constant currency basis, so there is every reason to believe that Medtronic can capitalize on this growth in the future.
In conclusion, emerging market growth offers a lot of opportunities to even the retail investor. However, navigating through the volatility experienced by emerging market companies is a risky business and one that is probably left to those investors who can take a high degree of risk or those with specialized expertise. For most investors out there, perhaps sticking with blue-chip companies that have an EM presence is the way to go. Sure, you're unlikely to find the next Apple through this approach, but it could potentially offer the best of both worlds. That is to say, steady income yielding investments with a higher than average potential for capital appreciation.
Disclosure: I am long CVX. I wrote this article myself, and it expresses my own opinions. I am not receiving compensation for it (other than from Seeking Alpha). I have no business relationship with any company whose stock is mentioned in this article.