Ocean Rig UDW Inc. (NASDAQ:ORIG)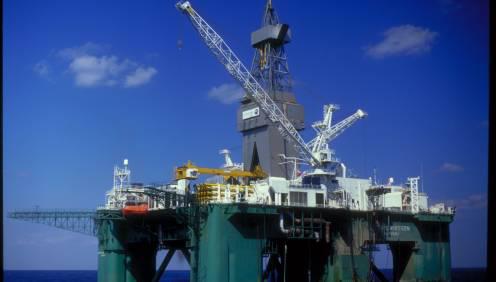 Leiv Eriksson - From ORIG website.
ORIG is an international mid-tier offshore drilling contractor providing oilfield services for offshore oil and gas exploration, development and production drilling. It is specialized in the ultra-deepwater and harsh environment category of the offshore drilling industry. The company is based in Nicosia, Cyprus. Ocean Rig UDW Inc. Is a subsidiary of DryShips Inc. (NASDAQ:DRYS) with an ownership of 59.4% at the end of 2013.
The company has 1,477 employees.
The company owns and operates 13 offshore ultra-deepwater drilling units, comprising of two ultra-deepwater semi-submersible drilling rigs and 11 ultra-deepwater drillships. Ocean Rig Skyros and Ocean Rig Athena were delivered to the Company in 2014, and two other rigs are scheduled to be delivered during 2015-2016; the Ocean Rig Apollo (Already rented to Total in Congo early 2015), and Ocean Rig Santorini with a delivery deferred until June 2016. Two new rigs were ordered recently the Ocean rig TBN1 and TBN2 (TBN: to be named) with a delivery scheduled for Q1 and Q2 2017 at a cost of $685 million each. The design for the 2 new rigs TBN has been discussed by the company and about 10 clients, to find the exact specifications desired, per the conference call.
It is important to indicate also that ORIG decided to join the dividend offshore drillers' club, and will pay a dividend of 0.19/Q per share on May 30, 2014, which represents about 4.6% per annum. The dividend will be determined on a quarterly basis. ORIG is a rapid growth offshore driller, and grew rapidly since 2010.
Fleet analysis updated.
Ocean Rig reports, financial and operating results for the Q1 2014.
Conference call transcript from Seeking alpha.
The last Q1 earnings brought some notable positive changes in the fleet status:
The Ocean Rig Skyros got a 6-year contract until Q3 2021. This new loan contract which is subject to signing final documentation now will bring $1.264 billion in backlog.
ORIG is committed to build two new rigs for Q1 and Q2 2017.
Fleet operated at 85.9% utilization rate, which is lower than the company's average due to a series of BOP related issues with the new-built Ocean rig Mylos on its start-up period.
Excluding the Ocean rig Mylos, the rest of the fleet operated at 94% efficiency rate.
The Ocean rig Santorini is deferred until June 2016 which is helping a lot ORIG to time the next recovery expected earlier than scheduled by the street.
ORIG indicated the backlog portion of each rig, which totaled $4.994 billion. This backlog is quite impressive and is finally confirmed. I expressed some doubt recently because of the $1.264 billion backlog of the Ocean Rig Skyros.
ORIG fleet average direct & onshore daily rig operating expenses is $194,400.
1 - Ultra-Deep Water Drillships. (Updated May 23,2014)
#
Name

Year

Built

Generation

Contract

End

Location

Client

Estimated backlog

$ million

1
Ocean Rig Olympia
2011
6-DP class 3
7/15

Gabon-Angola

Total

271
2
Ocean Rig Poseidon
2011
6-DP class 3
5/16

Angola

ENI

528
3
Ocean Rig Mykonos
2011
6-DP class 3

4/15

In discussion to 2018

Brazil

Petrobas

142
4
Ocean Rig Corcovado
2011
6-DP class 3

5/15

In discussion to 2018

Brazil

Petrobas

168
5
Ocean Rig Mylos
2013
7-DP class 3
9/16

Brazil

Repsol

579
6
Ocean Rig Skyros
2014
7-DP class 3

1/15

Q3/21

Angola

Total

116

1,264

7
Ocean Rig Athena
2014
7-DP class 3
3/14-2/17

Angola

ConocoPhilips

758
8
Ocean Rig Apollo
2015
7-DP class 3
1/15-Q1/18

Congo

Total

670
9
Ocean Rig Santorini
06-2016

Deferred

7-DP class 3

Available

Potential contract in progress

-
-
10
Ocean Rig TBN1
Q1 2017
7-DP class 3 - 12k'
-
-
-
11
Ocean Rig TBN2
Q2 2017
7-DP class 3 - 12k'
-
-
-
2 - UDW Semi-Submersible rigs. (Updated May 23,2014)
#
Name

Year

Built

Generation

Contract

End

Location

Estimated backlog

$ million
1
Eirik Raude
2002
5-DP class 3
4/17

W. Africa

LukeOil

382
2
Leiv Eiriksson
2001
5-DP class 3 or anchored
11/14

Norway

RM Norway

116
Financial snapshot as May 23, 2014.
Here is the 6K filing May 22, 2014.
Conference call presentation May 23, 2014.
ORIG reported a net income of $31.1 million or 0.24 per share.
Adjusted EBITDA of $172.2 million compared to $104.7 million for Q1 2013 or an increase of over 64%.
One time non -cash write-offs loss of $32.6 million or 0.25 per shares in relation to the $500 million 9.5% loan due 2016. The refinancing is a new 7.25% note due to 2019. The refinancing of the tranche B-2 of the term loans, extended to 2020.
ORIG confirmed the new dividend which is 4.3% per annum.
Revenue from drilling contracts were $360.8 million in Q1 2014 compared to $246.4 million in Q1 2013 or an increase of over 46%.
Cash and cash equivalent were $728.5 million.
Total debt $4.41 billion.
Rig operating expenses total $128.1 million.
No un-contracted delivery of new drillship during 2014-2015.
Shares Outstanding at 131.9 million.
Future creation of an MLP (Master Limited Partnership) IPO scheduled before end of 2014.
ORIG backlog at the end of Q1 2014 was still an impressive $5 billion until 2021. The average term of the contract is 2.4 years or 3.7 years, including options.
On the conference call, the company indicated that there will be a significant backlog improvement probably before June. I suspect an extension of the contract for the Ocean Rig Corverado and Ocean Rig Mykonos operated by Petrobas. We will need confirmation of this indication; however, it is encouraging.
Furthermore, a contract was discussed on the conference call, in the Falkland islands with a day rate indicated at above $500k and about 35 days to move the rig from W. Africa; and extra cost due to Argentina dispute.
The rig utilization rate was at 99% in 2014, 72% in 2015, and 39% already in 2016 (waiting for the Ocean Rig Mykonos and Ocean Rig Corcovado discussion with Petrobas, Brazil until 2018.) This high-level utilization rate is indicative of a particularly healthy revenue growth going forward, which will protect ORIG from any market softness, at least until after 2016. Furthermore, by pushing to June 2016 the delivery of the Ocean Rig Santorini and ordering two new rigs early 2017 the company will be ideally deployed to profit from the next positive day rate trend.
Fleet-wide operating efficiency rate or ORIG revenue earning days over the available drilling days, was 85.9%. Due to some BOP issues with the new Ocean Rig Mylos which is in its start-up period. If we put aside this particular rig the rate of efficiency was an acceptable 94%.
Here is the day rate average for the 9-month 2014:
| | |
| --- | --- |
| Name | Day rate $ |
| Leiv Eiriksson | 551,600 |
| Eirik Raude | 575,000 |
| OCR Corcovado | 458,900 |
| OCR Olympia | 589,200 |
| OCR Poseidon | 685,600 |
| OCR Mykonos | 453,900 |
| OCR Mylos | 626,300 |
| OCR Skyros | 571,300 |
| OCR Athena | 636,800 |
Conclusion and recommendation.
I was very pleased with the Q1 2014 earnings and the conference call that followed. It confirms that ORIG is a very good company, highly specialized in ultra-deepwater rigs. With an impressive backlog of $5 billion confirmed at the conference call that may even grow more in the near future.
The rate of utilization of its rigs is an impressive 99% in 2014 and 72% in 2015, which will ideally protect ORIG against any adverse slowdown of the market. Furthermore, ORIG is now serving a dividend of 4.3% per annum, which was the last prerequisite needed to promote the stock to a value investor BUY rating.
YTD chart: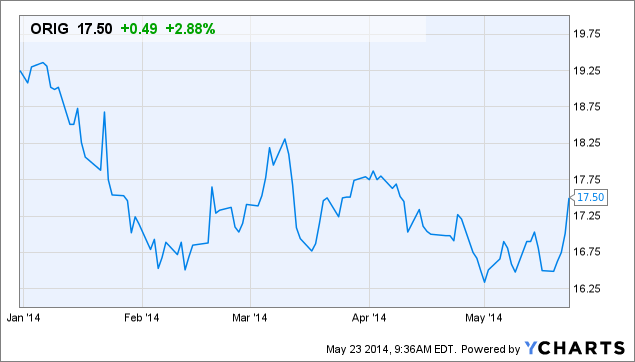 Disclosure: I am long ORIG. I wrote this article myself, and it expresses my own opinions. I am not receiving compensation for it (other than from Seeking Alpha). I have no business relationship with any company whose stock is mentioned in this article.