Two shareholder-value ETFs that focus on U.S. domestic equities have been popular with investors since their inception.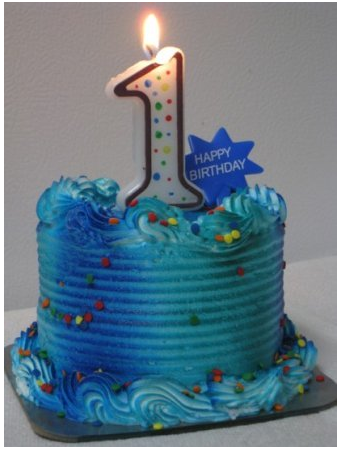 The first is the PowerShares Buyback Achievers Portfolio ETF (NASDAQ:PKW), which is now 7 ½ years old. The second is the more recently established Cambria Shareholder Yield ETF (NYSEARCA:SYLD), which just celebrated its first birthday (inception 14 May 2013). PKW has grown to nearly $3B over its brief history. SYLD is less than a tenth that at $206M which is an impressive start for a year-old ETF from a sponsor that is a relatively minor player in the industry.
First, let's look at a chart comparing the funds to the SPDR S&P 500 Trust ETF (NYSEARCA:SPY) and the iShares Core S&P Total U.S. Stock Market ETF (NYSEARCA:ITOT) to see why these funds have been attracting shareholders.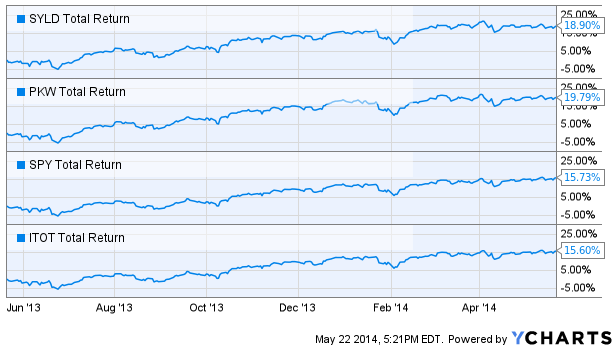 Or, even better, a five year chart for PKW: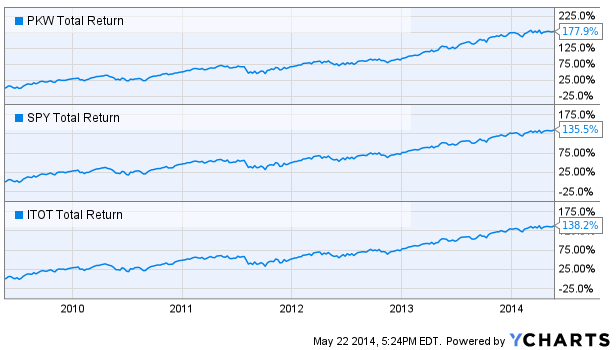 It's clear that there has been alpha to be had here whether one compares to a benchmark of large caps or the whole U.S. market. How do they do it? The approaches are similar but unique to each fund. PKW is a buyback fund. It targets U.S. stocks that have reduced their number of shares outstanding by at least 5% in the previous year. The stocks are weighted by market capitalization subject to a 5% cap. More on this strategy later, but for now suffice it to say that although some may have issues and objections to the approach, there is no arguing with the results.
SYLD is Mebane Faber's love-child in that it implements his more complex understandings of what constitutes shareholder value. The priority here is companies with market caps greater than $200M that return cash flow to shareholders. Buybacks do come into play, with the caveat that they represent a net gain for enterprise value. I think this is an important distinction between this fund's approach and that of PKW's management where there does not seem to be a distinction on the efficacy of buybacks in providing net benefit to the company's shareholders. Along with buybacks, cash dividends are a primary criterion. And a third is paying down debt on the company's balance sheet. The fund holds the top 100 positions based on algorithms implementing these criteria. The holdings are approximately equal weighted
The top ten holdings and sector breakdowns for each give a flavor of how the funds differ.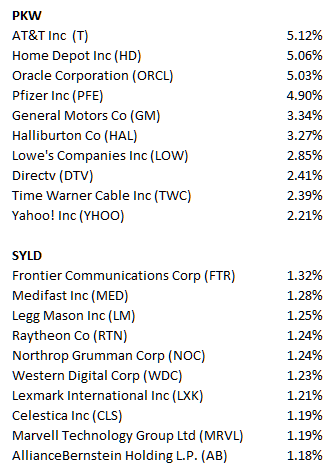 I will note that expenses for PKW (0.71%) are high, especially for a passively-managed index fund. Of course those attractive returns are net of expenses, so one might be inclined to overlook the expenses as long as the fund continues to perform. SYLD's expenses are pegged at a somewhat more reasonable 0.59%.
The real point of this article, however, is not to review these two excellent funds. I've done this previously along with a third shareholder value fund, the AdvisorShares TrimTabs Float Shrink ETF (NYSEARCA:TTFS), and I'd refer the interested reader to that source (found here) for additional information. Instead, I wanted to review the performance records and strategies of the funds as an introduction to two new international offerings from the people that have brought these two domestic equity funds to market.
From Cambria we have the Cambria Foreign Shareholder Yield ETF (BATS:FYLD) which was introduced 3 December 2013. Even more recently, Powershares introduced the International BuyBack Achievers Portfolio ETF (NASDAQ:IPKW) (inception 27 February 2014). Each employs precisely the same strategies of its corresponding domestic-equity counterpart, applying those strategies to equities of developed foreign markets.
Total assets for FYLD stands at $75.7M and for IPKW $15.2M. Expenses are 0.59% for FYLD (same as SYLD). It's 0.55% for IPKW, a more reasonable charge than that of PKW particularly when one considers that international funds tend to carry higher expenses than comparable domestic funds.
Obviously, it's too soon for either fund to have accumulated a record of any meaningful consequence, but in the brief period since the beginning of March 2014, both lag the iShares MSCI EAFE (NYSEARCA:EFA).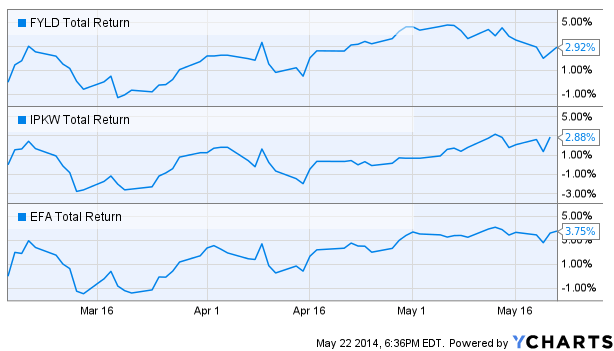 As expected, the holdings differ markedly between the two funds. Looking first at the top ten holdings for each we see: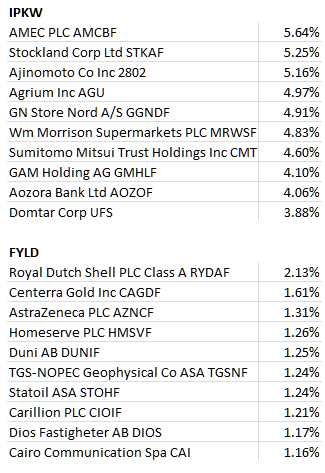 And by sector, perhaps most striking is the much larger allocation of 18% to Industrials by FYLD relative to only 3% for IPKW: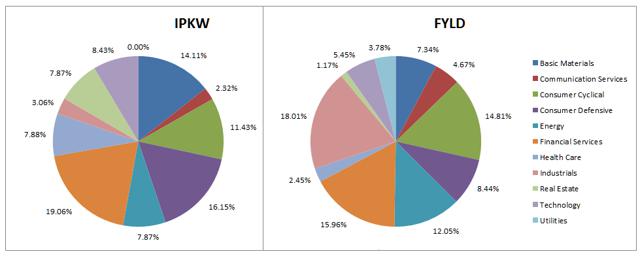 Regional allocations are shown in the charts below. If one combines the European countries in IPKW's holdings, the result is a 35% allocation, almost twice that for FYLD. As allocations for Japan, Canada and Australia are comparable for the two funds, I assume that the bulk of the other category comprises developed Asia and the Middle East.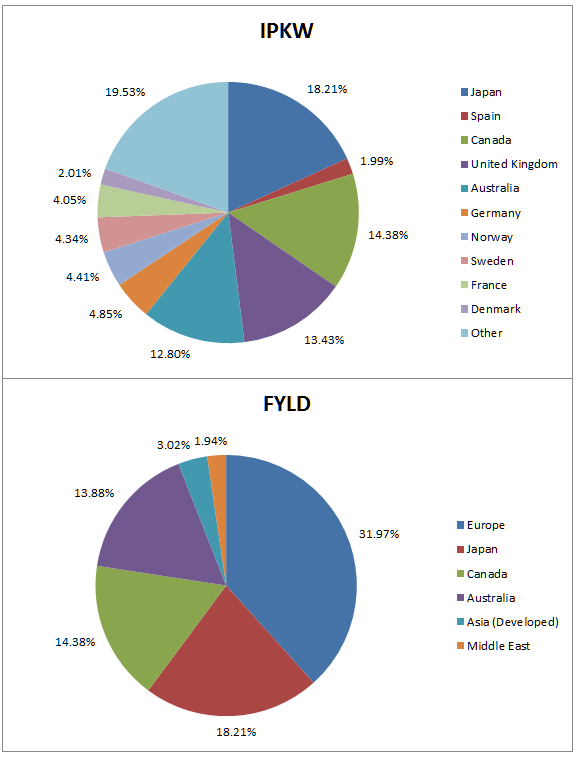 As U.S. markets continue to climb, many investors are looking for opportunities beyond domestic borders. If Powershares and Cambria can repeat their successes with PKW and SYLD in the international arena, these funds will prove to be formidable contenders for those investors' attention. Right now it's too soon to get a clear picture, but to some extent the strategies being employed have shown their value in the domestic funds and investors looking for international diversification could do worse than to look carefully at these ETFs.
Information and data in this article comes from various sources: The fund's websites were a primary source. For SYLD there appears to be an error in accessing the holdings database as the tables on their page listed only international stocks for SYLD, clearly an error. So, for the top holdings, I went to etfdb.com, which is also the source for sector breakdowns. Additional information was sourced from Morningstar and S&P IQ.
Disclosure: I am long SYLD, FYLD, EFA. I wrote this article myself, and it expresses my own opinions. I am not receiving compensation for it (other than from Seeking Alpha). I have no business relationship with any company whose stock is mentioned in this article.