The solar sector has became one of the hottest sectors in the US stock market the last few months. This is especially true for most of the Chinese ADRs.
Several stocks are making new year highs, several are nearing their year highs, and several are breaking out of their recent resistance. Even the recent market meltdown cannot bring them down.
Stocks hitting their year highs are: SOL, SOLF, JASO, and TSL. Stocks in break-out status are: LDK, SPWRA, YGE, and STP.
What makes them so attractive?
Firstly, most of the solar companies reported their recent quarterly earnings far above estimates such as SOLR, LDK, SPWRA, SOLF, CSUN, etc. The following table demonstrated how well their earnings were:
click to enlarge

Note:
- cPrice is the close price as of September 1, 2010.
- PE 10 and PE11 are the PE values based on cPrice and 2010, 2011 estimated EPS.
- BV are their book values
Secondly, their estimates were already revised up significantly since March this year. The following table showed how much the upward revisions are: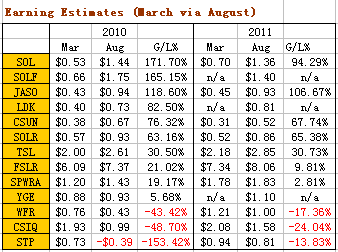 You can see from the table that SOL 2010 earnings estimates have been revised from $0.53 in March to the current $1.44 (up 171.70% ); SOLF revised up 165.15%, etc. Their next year's earning estimates are all up as well.
Even with current near year high prices, they are still not expansive in general. For example, SOL, at new year high, commands only a P/E of 6.28; SOLF, at year high, traded at a P/E of 6.24, only half the P/E of 12 for the S&P 500 average.
Many consider current 2011 earnings estimates as very conservative.
The fundamental strength behind the earning upward revisions is the high global demand for solar products and capacity constrains.
At current prices, we believe that the solar sector presents good long term investment opportunities.
Disclosure: SOL, SOLF, CSUN, SPWRA, TSL