Alloy Steel International (OTCPK:AYSI) is a nano cap company headquartered in Australia that uses a high tech, proprietary process to manufacture protective wear plates for mining equipment. Essentially, the company is a picks & shovels play on the mining industry (particularly iron ore and coal mining, currently), an industry which has of course benefited from the demand for industrial commodities by China and other emerging economies.
Alloy Steel was the subject of a few posts here by Seeking Alpha contributer Michael Alexander, including (most recently) this post from last February, "AYSI's disruptive technology leads to record growth and earnings". Since then, the stock has dropped by more than two thirds. Much of that drop occured after the company's most recent quarter showed lower earnings than shareholders (including me) expected.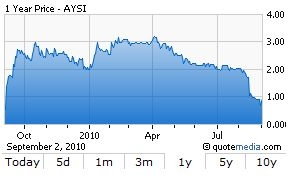 It looks like I overestimated how much the company would earn this year. My mistake. I thought it would earn over 30 cents this fiscal year, but that appears to have been unrealistic given the capacity constraints the company mentioned in our call earlier this week. Nevertheless, the company has already earned 17.2 cents in the first three quarters of this year, better than the 14.9 cents it earned in its previous best year (2008).
My general idea regarding small growth companies is that if I can buy shares at a single digit multiple to a conservative estimate of what the company will earn next year, that's probably a good deal.
Imagine that AYSI earns in all of 2011 what it has earned so far in the first three quarters of this fiscal year (17.2 cents). That seems like a conservative estimate to me (absent macro headwinds from China affecting the mining industry, I would expect the company to add to its 2010 earnings next quarter, and grow earnings by a modest amount or more next year*). If you estimate that the company will earn ~17 cents next year, at its closing price Thursday (93 cents), the company was trading for about 5.5x that forward earnings estimate. That seems like an attractive valuation to me, even given the current secular bear market.
With these thoughts in mind, I added shares earlier this week at .90 per share (my average cost currently is about .95 per share).
*As a quasi-hedge against a decline in iron ore demand from China, I am holding some puts on BHP, which happens to be a customer of Alloy Steel's wear plates.
Disclosure: Author is lng AYSI.OB and is holding puts on BHP